The following feature is a series of articles covering Decibel Festival, which took place in Seattle, on September 26-30th, 2012. Most entries were written the morning after each day, while the memories were still fresh. Featured photos have been taken from flickr's Decibel Festival 2012 pool. Enjoy…
Time, Space and Meditation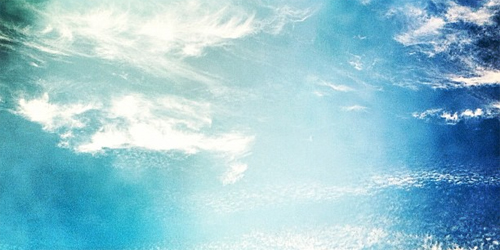 Has it really been a year since my last trip to Seattle? During each voyage to a music festival, I contemplate, with curbed anticipation, on all of the events about to unfold. And even now, once again on the plane from New York, once again with this laptop, a headset, a book (coincidentally I'm reading Murakami again), I'm picturing myself hopping from venue to venue, trying to capture the experience with all of my senses, recording it with my mind, only to be written down as history and shared with you. But this time it will be different. This time I will attempt to be more present, tuned into each frequency of sound, engaged with vibrations, and floating with waves. This time I won't detain each moment for a possible playback in an unforeseen future. This time I'll be with each rhythm and note.
And even though this ninth installment of Decibel is packed with over 140 artists, somehow I'll manage to navigate the impossible schedule, extracting the crème de la crème, for my short but fruitful stay. The only two lingering questions remain: what new beings will I meet on this visit, and how will this journey alter my life? At past events, at a time unimportant and now seemingly distant, I had the honor of meeting with Celer, William Basinski, Taylor Deupree, The Caretaker, Ben Frost, Tim Hecker, Rafael Anton Irisarri, Oval, Atom™, Christopher Willits, Simon Scott, and many, many others, who allowed me a brief glimpse into their lives, and link this encounter to their work, art, and soul. With these thoughts, and now revived anticipation, I put on my headphones, tune to my podcast, and close my eyes.
Arrival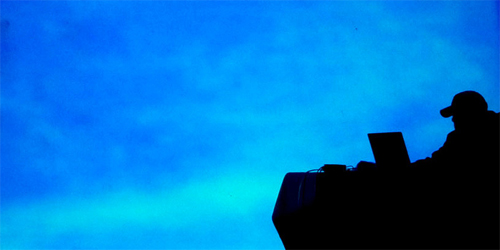 Brock Van Wey @ Optical (Photography © Sonauteur)
The first day could not have been more eventful. There was actually a moment in time, when during the first Optical showcase I looked around The Triple Door and felt as if I never left. As if just yesterday, I watched an Orcas show at this very same spot, with these familiar faces, gathered for good music [and wine]; then in between there was a year of work, of worrying, and never-ending plans; and finally I was back at this same spot, and have picked up where I left off. As I sit here in my hotel room, writing these words, drinking this coffee and fighting some minor jet lag (I still woke up at 8am, after only six hours of sleep), I look back at the first day through prism of illusion. Did any of it really happen? So let's start at the top.
After my arrival and check-in at the hotel, I hung around the lobby, trying to get ahold of Brock Van Wey, who has just flown in from China the night before, with no cell phone or credit cards. And just when I was about to give up on ringing his room every ten minutes, I bump into a tall man in an Ecko hoodie. "Just who I've been looking for," Wey smiled. We grabbed a car to pick up my press pass at the Broadway Performance Hall, and within the first five minutes of our arrival we stumbled upon Rafael Anton Irisarri (this man has been everywhere I looked), and Sean Horton (another noticeable presence all over the festival). After a brief chat about our upcoming plans, Brock and I left to find a bite to eat, only to come upon Robert Henke (Monolake) sitting at a corner waiting for a ride.
So that's how I ended up in a car with Brock, Rafael, and Robert on our way to The Triple Door for a sound check. At the venue we meet Maria Papadomanolaki (Dalot), and finally set out for a quick lunch. So that's my first few hours in Seattle, spent in the company of my favorite artists, and by now friends. Of course I missed a ton of workshops, panels, and even a live scoring of Jean Rollin's "La Vampire Nue" by Demdike Stare (damn it!), but I've forgiven myself for this misfortune, and I hope you will forgive me too.
Optical 1 : Ghosts In The Shadows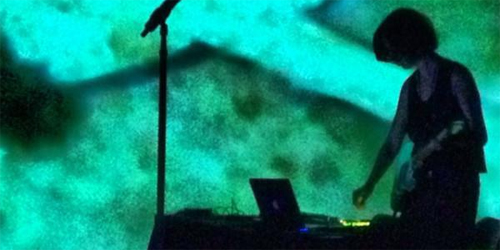 Dalot @ Optical (Photography © Rusty)
Next thing I knew, it was time for the first performance. Dalot was the perfect opening act, and she eased me into soft waves of ambiance and bliss. This was right about the time, when the first sips of alcohol have coursed their way into my tired bloodstream, and I opened my eyes to find myself back at The Triple Door, with a whole new year in between. Dalot's music has slowly stirred my mind, and I returned into the moment, lifting my consciousness awake like a warm blanket after a chilly night. The pulsating tones, sweeping guitar drones, and carefully manipulated effects took me out of the darkness and into the light. I was indeed here, and Maria was playing on the stage. I highly recommend you check out Dalot's Minutestatic released by n5MD. Oh, and there's also a Headphone Commute Interview with Dalot.
Brock Van Wey was up next. Beginning his set with soothing waves, Wey weaved a beatless cocoon of sound that wrapped itself in countless layers of pads, strings, and voice. There was something sad and something happy about these chords – forever unresolved, they carried me into a church of sonic worship, divine in every shape and form. Brock is an extremely prolific musician, and even after multiple releases on Darla, Home Normal and Glacial Movements, this set was previously unheard. And then the bass rolled in, passing through the cushion of my seat, into my body, glass and drink. And for a split second it seemed that everything in the universe moved with the same shuddering vibration in sync. There is a spiritual aspect to Wey's music that I can't describe. And this lack of words is truly appropriate for his seraphic sound. Read an extensive Interview with bvdub to glimpse into this artist's soul.
Robert Henke began his set in complete darkness. Sitting at the center of the room he controlled a surround sound experience which began with metallic water droplets coming from all corners of the place. Next thing I know I was on an alien planet that Henke has devised since his album Silence (2009), which was released as Monolake. Gusts of white noise wind, granular specs, and even insect buzz descended upon the crowd. Somewhere in the distance the church bells rang and echoed on the other side. I looked at Maria (who has joined my side since her performance), and she said, "Resurrection." I felt an itching sensation inside my ear canal, and had to run out for a gasp of Seattle air. I don't know what I heard, and don't know what I felt, but it has had an impact, preferably desirable by Henke. On my way through The Triple Door's lounge I bumped into Tom Meluch (aka Benoît Pioulard), who has just finished up his DJ set (what?) as DJ Honore, only to be replaced by Kelly Wyse (what, what?). This place was swarming with musicians, while Henke stirred an aural hive. Here's Two and a Half Questions with Robert Henke.

Warp Showcase and dB In Dub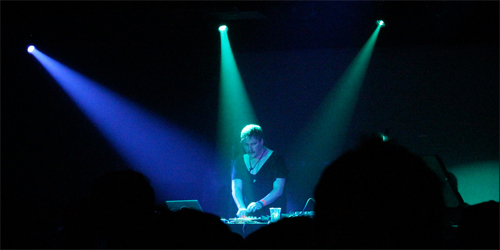 Machinedrum @ The Crocodile (Photography © Patricia Miller)
It was now (only) 10pm, and I had just enough time to jump into a cab and make my way over to The Crocodile for the Warp Showcase where Machinedrum was already ripping it up. Travis Steward has that infectious presence on the stage that gets the entire crowd moving, regardless of what he plays. And Steward played it all! From old skool jungle to reggaeton, to breakcore, jungle, juke and gabber. The contagious beats easily contended with any other ongoing show for the highlight of my night. Machinedrum's Room(s)on Planet Mu is still on heavy rotation on my iPod. Of course, right around the corner, Kimbra was playing to a sold out Showbox at the Market, and Cyanwave was already well into his set at dB in Dub. Speaking of which, I realized that bvdub was just about to start his set, and I've had plenty of elbows graze my stomach and sides to give up on trying to dance in this packed club, and make my way over to Neumos.
The crowd was less dense at Neumos which allowed me to stretch out my limbs and get into the pulsing bvdub groove. During his set, a thought occurred that I must share. Wey has moved to China and lived there for over eleven years, where he teaches English to college kids. I feel that somehow, when Wey left the United States, he captured a specific moment of his life, that is forever recurring in his music. It's full of nostalgia, loneliness and inner blues, that every one of us shares on some level with another similar event in our own lives. In China, Wey is forever a foreigner, living a life beneath a veil of separation from the rest. Perhaps this is some insight that I've learned from him directly. Perhaps it's in his music all along. I always lose myself in bvdub, and I could never get enough of his music. And selfishly, I hope he always stays this way… If the earlier link to an interview with bvdub was not enough, here's another lengthy Conversations with Brock Van Wey.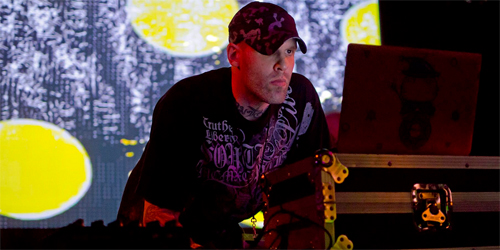 bvdub @ Neumos (Photography © Russ)
At midnight Monolake came on, and shook the fillings out of my aching teeth. Thanks to a pair of earplugs I was able to stand pretty close to the stage and watch his performance, perfectly synchronized with Tarik Barri's visual effects. The floor vibrated beneath my feet harder than I've ever felt before. The tremor quivered through my bones, as the hollow kick dropped into the darkness, and set my body into motion. I've heard Monolake in my headphones plenty of times, but must admit that it sounds better in an open space. The frequencies traverse the room in a particular configuration, specifically designed for a surround sound environment. But it is really more than that. The entire building is transported onto some mothership, where life is alien in space…
And my night was still not over!!! After a few drinks with Rafael, Brock and Maria, an impromptu appearance by the one and only Biosphere has sent me into an orbit. Was I already dreaming, or was Geir Jenssen really sharing a beer with me? At 2am, it was time to vacate the club. I really wish I could have caught Chris Clark's Warp Showcase, but I heard that the venue was really packed, and the bouncers wouldn't let anyone in, regardless of the wristbands or credentials. It was about fire code. My only consolation prize for missing Clark is that I got to shake his hand earlier, when I recognized him in the hotel lobby. Day one was over. And this was just day one! It was time for sleep.
Read more on Decibel Festival
[ preview ] [ day one ] [ day two ] [ day three ] [ day four and five ]