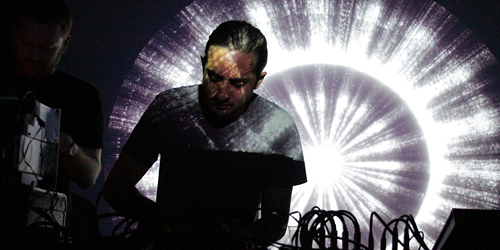 EmptySet @ Melrose Market Studios (Photography © Heather Schofner)
Day three. Friday. Was this only the third day? I have to say, staying up late and dancing all night is hard work, people. I'm running out of fuel! After overextending myself a day prior, I took care of my mind state by simply relaxing all day. Even if the weather was super nice, I had to catch up on a much-needed sleep, and just mope around my hotel room. I made a few more arrangements, finally met up with Mike Jedlicka (a programming director of Portland Radio Authority's Optic Echo program and a same named record label), and Seth Chrisman (aka Widesky) for dinner, managed to bump into Nils Frahm, Tom Meluch (that's Benoît Pioulard and one half of Orcas), Jesy Fortino (aka Tiny Vipers and one half of Mirrorring), and many other artists and friends, so my overall interaction with people on this day was fruitful. By 7:00pm I was back up at Broadway Performance Hall getting ready for TOUCH.30 showcase at Optical 3.
Rafael Anton Irisarri opened the show as The Sight Below, and immediately covered the audience with a blanket of sonic fur. Surveillance images, recorded by Irisarri in different parts of Seattle, and later collaged by Tana Sprague (Lissom), skirted across the screen, as Irisarri unleashed the frequencies in his most intimate performance to date. I'd be lying if I said that I did not close my eyes. But when I did, warm fuzzy glow of pastel colors and textures spread over my being as I drifted with sound. If this is a glimpse into The Sight Below's next album, then you're in for a treat! A very mature production from an extremely prolific artist. And I really hope Touch picks it him up!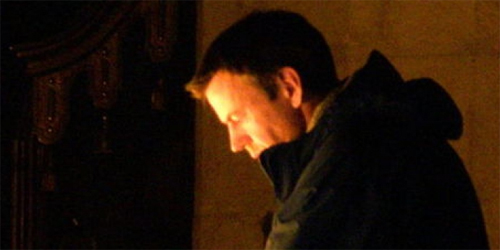 Biosphere @ Touch.30 (Photographer unknown)
Without an intermission Biosphere took on a stage, and immediately dropped into a kick-kick-snare drum-machine pattern with an aural reverberations and din. The snare was exceptionally persistent, and I felt a bit of relief when it finally subsided, leaving the pulsating kick as the drive of the beat. Frankly, a totally beatless set from the master of isolationist ambient would have been better, but I will never turn down a performance by Biosphere, and neither should you. The music swirled around the auditorium, mixing its sonic presence with the beautiful visuals by Jon Wozencroft, depicting British neighborhoods and parks, and I spent more time wafting along the thin surface of consciousness.
It was time for the mysterious Eleh to take the stage behind a set of analog synthesizers. With his back towards the audience and the lights completely off, he set off on sharing the art of deep listening with us. Pure sine waves, refined tones and occasional dissonance resonated throughout the theater. The Optical Showcase started a bit late, and so I snuck out in the middle of Eleh's performance to see if I can still catch Shpongle's Masquaerade. But outside, after studying the map, I realized that the Neptune Theatere is about four miles away, in the University District, so it wasn't going to be a simple pop-in-and-drop-out. Instead, I shared a drink with the always lovely Mrs. Irisarri – and that was better than any consolation prize. I'm sure you will agree. It was now 10pm, and I was ready for the party.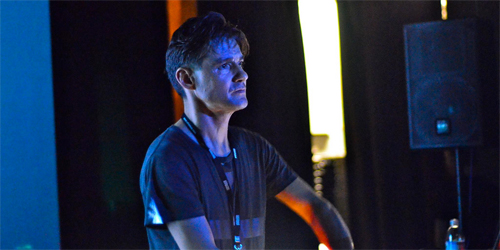 Byetone @ Melrose Market Studios (Photography © Russ)
At Melrose Market Studios EmptySet kicked off the Raster-Noton showcase. This was the same venue as the one where last night I witnessed the Modern Love Showcase, but it somehow took on a totally different feel. Dark, organic, and sinister surroundings took on a sterile, metallic, and digital vibe. This was that surgeon-precision Raster-Noton sound that I was waiting for, and it somehow cleaned out the palette of all previously absorbed frequencies. Kangding Ray dropped hand drawn square-wave bass-lines and meticulously designed kick drum into a 4/4 techno beat. Unlike the night before, the mass started to move with the rhythm, and for a few minutes I lost myself in that post-90's rave-warehouse induced trance, as my legs fell into the bounce of a grayscale cadence.
Before Byetone replaced Kangding Ray, I wanted to run over to The Baltic Room to catch Actress, but on my way out I heard that his appearance was cancelled. I managed to catch a bit of Gulls and Teengirl Fantasy as they spun smokey tunes to a slightly drunk crowd. Meanwhile, at Re-Bar, Oxia just started the set, while Carl Craig was dropping Motor City Masters beats. I couldn't catch it all, and of course missed Erykah Badu's at the Paramount Theater. Ah, but I needed some more of that German engineered sound, and so I walked back to the bunker. My night ended with another hour of perfectly sculpted beats, and aural architecture of sound by Byetone. And after 2am I was too tired to go on. Somewhere after-parties began, with Pezzner and Dixon on the decks well into the morning hours. Instead I got some sleep, so that now, as I write these words the next day, I can walk through Seattle and enjoy its sunny days.
Still to come… Day Four…
Read more on Decibel Festival
[ preview ] [ day one ] [ day two ] [ day three ] [ day four and five ]