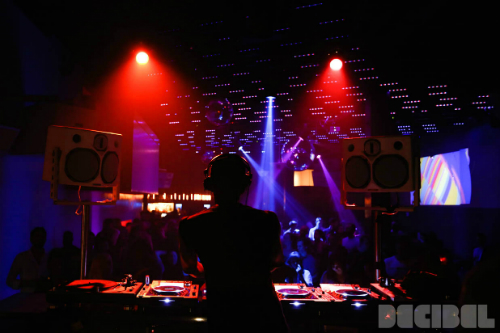 My day started off with a delicious Mexican brunch, courtesy of Red Bull Academy, where I got a chance to hang out and chat with Sean Horton (founder of Decibel), Gabe Koch (founder of Merck Records) and Samuel Valenti IV (founder of Ghostly), so you can definitely say that this morning was pretty fruitful. Writing about music is only one layer within a thick stack of this music business, so it's always fascinating for me to hear the other facets of this multidimensional journey. After some much needed re-energizing, I tried to hit a few conferences at the Broadway Performance Hall, where Rafael Anton Irisarri was giving a workshop on 4.1 multichannel mixing in Ableton Live.
By 5pm I was standing in line at the Nordstrom Recital Hall at Benaroya Hall (home of the Seattle Symphony), to secure a premium seat for the most anticipated showcase of the festival – The Erased Tapes Optical 2 performance featuring Nils Frahm and Ólafur Arnalds. I believe I have succeeded, when I found a spot surrounded by the "reserved" seating. The recital rooms usually play host to Beethoven piano concertos, Shostakovich quartets and on the rare occasion smaller pieces by the likes of contemporary composers such as Ligeti, Riley, Messiaen and Bryars. Of course, watching Nils Frahm perform is almost a religious experience for me. Once again, I feel like I am in the presence of a master, a genius, and a beautiful soul – the words I'm not embarrassed to proclaim.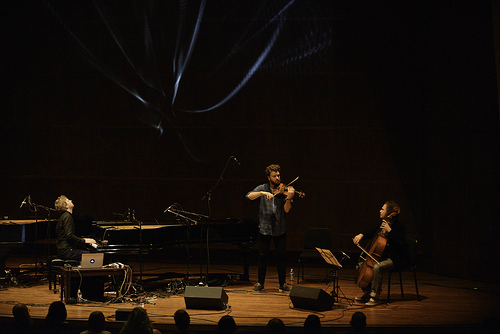 Frahm has a dizzying, kinetic physicality about him, with the ambidextrous ability to play multiple keyboards (piano, Rhodes and Juno) simultaneously. It's a near-celestial barrage of tonalities and harmony, one built of interlocking structures and counterpoint. His fragile and dampened keys give me goosebumps, chills and currents of emotions which I can't describe. I feel that I'm not alone in this experience, because between the notes the audience held its breath and no one moved until his hands were lastly folded… and then… an explosive wave of applause crashed upon the stage, followed by yet another standing ovation. To taste just a fraction of this live experience, be sure to pick up Frahm's Spaces, upcoming on Erased Tapes.
Label-mate and friend Ólafur Arnalds was given an impossible experience to follow, but he did so more than amiably with the aid of cello and a violin. Arnalds' neoclassical chamber music is more restrictive and regimented than Frahm's, yet here, in a live setting, the passages of soloing were extenuated, allowing for more flow to enter their gorgeous refrain. The sound is also very cinematic in nature, and the projected hallucinatory visuals contributed towards my soporific state of mind, taking me to places from which a part of me did not come back. This experience was only heightened further, when unexpectedly Nils Frahm joined Arnalds on the stage, for once in a lifetime collaborative performance which is impossible to forget. Playing pieces from his latest album, For Now I Am Winter (Mercury Classics, 2013) Arnalds was also joined by Arnor Dan, whose falsetto voice soared above the violins, effected piano, and glitchy rhythms.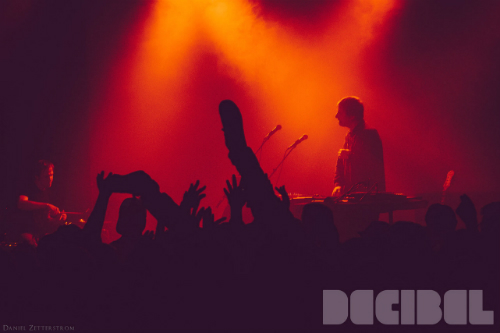 We're now officially at the on-ramp of the festival's weekend. Ghostly International, a Decibel partner since festival's inception, presents a showcase at The Crocodile. The label brings on Seattle's own Jeff McIlwain, whose Lusine project bears a newly discovered high-altitude motoric glide. This is some ultra-streamlined techno, bearing Lusine's previous suggestion of urban beats and structural breakdowns. Here we find him firing on all cylinders, an engine seemingly built as much from the hardware of Detroit techno as from the stripped-down propulsive drive of the German krautrock. The performance is book-ended by Shigeto and Beacon, who, regrettably, I managed to miss. Nevertheless, as I write this, Shigeto's No Better Time Than Now (Ghostly, 2013) is playing through my headphones, followed by Beacon's The Ways We Separate (Ghostly, 2013), and of course, Lusine's The Waiting Room (Ghostly, 2013), all of which I can highly suggest.
My night ended with Machinedrum. Given Travis Stewart's last year performance, I had very high expectations of the show. I then realized that I shouldn't set myself up for a disappointment, and promptly reduced my enthusiasm. This was a perfect setup and approach, because Machinedrum completely blew me away once again. For his unveiling of the world premier conceptual work, Stewart invited a live drummer, swung over a guitar, and picked up the mic. Vapor City is an imaginary soundtrack to various districts within Stewart's own Utopian "city of the mind'. This is a trip built of skyscraper heights, urban greens, ethnic regions, hidden boroughs and dingy side streets. Stewart's expert guidance was saturated with sheer funk and "throw your hands in the air" [clap-clap / clap-clap-clap!] party vibe, as he traversed this meta-space with a blissful groove of Lane Barrington's live percussion. It's a place to which I'm more than ready to return. I highly recommend you do the same with Vapor City, released by Ninja Tune.
Read more on Decibel Festival
[ preview ] [ day one ] [ day two ] [ day three ] [ day four and five ]
©
In addition to the usual in-depth coverage by HC, this year's write-up includes words by Jefferson Petrey, who was kind enough to lend us his ears and pen for the showcases we just couldn't make.