The last two years I have transported myself from the fluorescent lights of New York City to the nighttime seductions of Seattle's charm. So when Decibel Festival announced its Ten Year Anniversary edition, you know I couldn't miss this monumental event. On September 25 – 29, the seaport city of Washington, in the Pacific Northwest of USA, will light up for the tenth time with one of the largest programs in North America, spanning 5 full days and nights, with 130 confirmed artists from 20 countries, 26 club showcases, day-time boat and after-hour parties, educational conferences, film series, and a lot more! And I will be there to cover the festival as an official media partner once again!
Founded in 2003, Decibel has become a unique platform for exposing attendees to leading-edge multimedia art from around the globe. With a focus on live performance, interactive multimedia art, state-of-the-art sound and technology based education, Decibel has solidified itself as one of the premier electronic music festivals and promotional organizations in the world.
This year there are many exclusive label showcases, including Hyperdub Records with Kode9, DJ Rashad and Ikonika; Ghostly International with Shigeto, Lusine, Beacon and Dauwd; Erased Tapes with Ólafur Arnalds and Nils Frahm (yes, performing on the same stage!); Kompakt with John Tejada, Matias Aguayo and Thomas Fehlmann; Sub Pop with Shabazz Palaces, The Helio Sequience, and Kingdom Crumbs; Hessle Audio with Ben UFO, Pearson Sound and Pangaea; and Timetable Records with Nosaj Thing, Lorn and Teebs just to name a few. There are also media sponsored showcases, like the one by Resident Advisor with Actress, Lapalux, Natasha Kmeto and Ghost Feet; XLR8R with Evian Christ, Vessel and Huerco S.; and Mixmag with Kyle Hall, Derrick Carter and Pezzner. Perhaps one day HC will sponsor one as well!
Of course I'll be sure to grab a seat at all the Optical installments, this year showcasing many of my all-time favorite artists including Hauschka, Peter Broderick, and Oliveray (that's Peter Broderick and Nils Frahm together!), the above mentioned performances by Arnalds and Frahm, plus Mivos Quartet, Pharmakon, Oren Ambarchi, The Sight Below and Raime! Whew! I think this year I will also get a ticket for the boat parties, since I'd love to catch Ben UFO, John Tejada, and Kyle Hall during the day (if I miss them at night). And maybe… just maybe… I'll have energy this time to stay up for the after parties and party with Green Velvet, Jimmy Edgar, Max Cooper, and Speedy J among the many! And that's not all! I'm also getting excited about performances by Nicolas Jaar, Ben Klock, Diamond Version (that's Alva Noto and Byetone!!!), Gold Panda, Machinedrum (he always puts an amazing show!), Mount Kimbie, Blockhead, and of course The Orb!!!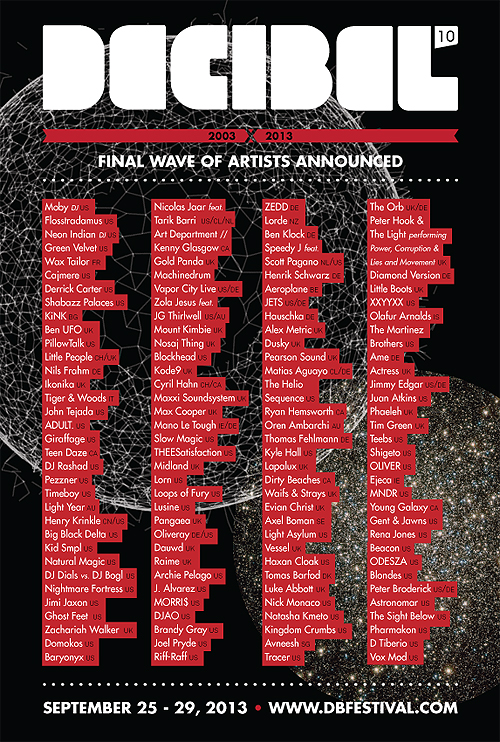 As usual, I'm already drooling over the lineup, stressing out over the tough choices I would have to make, as many excellent events are happening at the same time! I think I got myself all out of breath just going through the roster again. If you think that I missed something, and must absolutely witness, be sure to drop me a note here and I'll check it out! Although you know I won't skip another Nils Frahm performance, this year I'm also going to attempt and experience many unknown to me names – something a festival like this is great for exposure! It is usually through these events that I discover a new artist while getting to know a long time favorite composer in the flesh.
For full lineup and tickets, be sure to point your clickers to dbfestival.com. Also, if you have any doubts about the experience, check out my past in-depth coverage of Decibel 2011 and Decibel 2012. Stay tuned for two exclusive Decibel Festival mixes on Headphone Commute: I've got one from Erased Tapes and another from Ghostly International! Really looking forward to those! There is also a Decibel 2012 Showcase from last year, mixed by yours truly. And last, but not least, check out this Decibel 2013 Collection playlist created on Spotify just for you, compiling over 800 tracks of featured festival artists!