A Winged Victory For The Sullen
Live at the Round Chapel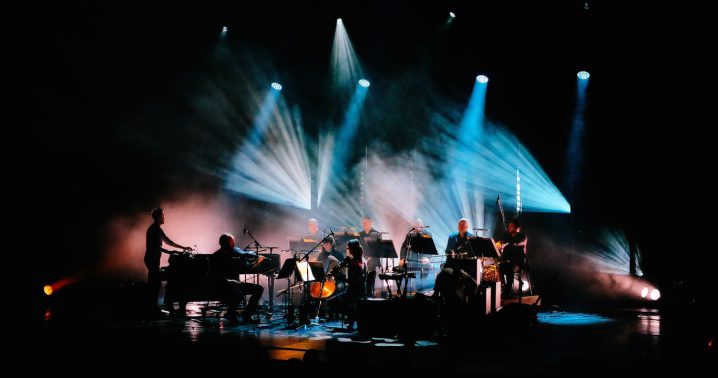 It's not often that I leave the concert, and the music continues to play, all through the night. The pensive chords, accented by the deep Moog bass tremors, reverberating off the Round Chapel's historic walls, drowning in the slow string and trombone swells, intermixed with the drone of the guitar – all stay with me as I drift into sleep, with the memories of bright flashing light, blue and red, soft and strobelike. Dustin O'Halloran and Adam Wiltzie put on a remarkable show, one that I've been looking forward to since I've seen them perform back in 2014 at Utrecht's Le Guess Who? festival. Since then, A Winged Victory For The Sullen has released their third full-length studio album, The Undivided Five on Ninja Tune, which subsequently has been lauded all over the music scene, and, of course, has appeared on Headphone Commute's Best of 2019 lists. On the stage, Adam and Dustin were joined by Francesco Donadello, who has mixed their release at his Voc-Tom studio in Berlin, inevitably becoming a third member of their act [as per the duo, mentioned on the below short documentary on the making of the album]. Add to that a performance by the esteemed Echo Collective, who has played on the records with Jóhann Jóhannsson, Erasure, and of course, AWVFTS, and you've got an unforgettable evening which is hard to describe, leaving behind just the essence of music, slowly receding, pulsating, and floating, slowly dissolving and rising through space. I was also delighted to hear a few fresh pieces [I'm pretty sure they were new], which I hope Adam and Dustin will share with us when the time is right. Meanwhile, I'll happily await with the sounds of The Undivided Five, while you can read this 2020 Interview with A Winged Victory for the Sullen, and of course, watch the making of below.
Robert Henke
CBM 8032 AV at the Barbican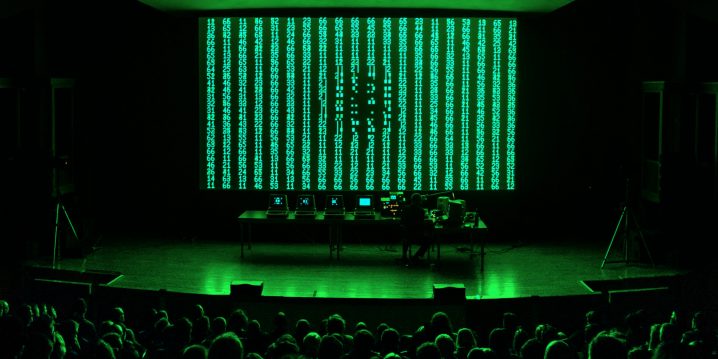 This is not the first time I have witnessed Robert Henke live. I've experienced his immersive audio-visual performances in Seattle [at Decibel Festival], was zonked out of my mind with his laser show in Montreal [look up multiple chapters of Lumière], and now was treated to his unique demonstration of antiquated technology using computers from 1980 at the Barbican in London. Whether this type of graphic and sound generation was even possible [or pallatable] in the 80s is almost irrelevant – what Henke was able to do with the five restored Commodore machines is merely incomprehensible. Although the CPU was running at 1MHz, the 256 possible PetASCII characters flickered around the screen at an impossible rate [even the projector couldn't entirely keep up] creating patterns and visuals which could only be appreciated by the modern mind. Perfectly synced with the generated post-techno sounds [Henke retrofitted these ancients with an updated DAC and fed the output through a rack of early 80s audio effect processors], the show was a mesmerizing marriage of technology from the past, which could only come from the mind of this pure genius. "This work is about the ambivalence between a contemporary aesthetic and the usage of obsolete and limited technology from 40 years ago. Everything presented within the project could have been done already in the 80s, but it needed the cultural backdrop of today to come up with the artistic ideas driving it." See complete details of the show [including a detailed technical breakdown of the video and sound generation] on Henke's current list of concerts, and if you can, be sure to catch this beast in action! Highly recommended!
Belle Chen
Destinations at King's Place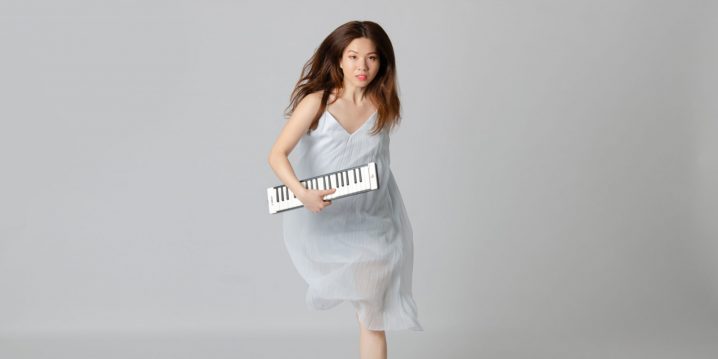 Belle Chen is an Australian-Taiwanese pianist who has already been recognized in the contemporary classical, avant-garde, and sound art scenes by the likes of Brian Eno, James Rhodes, and BBC Radio 3. For the Chinese Arts Now (CAN) festival, which took place in London during February of 2020, Chen was commissioned to put together an audio-visual show, in collaboration with Nick Robertson and Mario Radev. Chen's beautiful pieces and flawless execution traversed the themes of natural environments around the world while drawing inspiration from Mongolian folk songs, works by Claudio Debussy, and jazzy improvisations on the prepared grand piano. She even managed to incorporate a low rumbling rounded synth, as well as a kalimba, and a toy piano into her looped and harmonically-rich compositions, with an accompaniment of real-time projections depicting images of landscapes, flora, and fauna. "Drawing influences from nature and the process of desertification, glacier melt, wildfire, and coral bleaching, the stage transforms into a shifting 'environment' through projections. The pianist live-paints a journey through shifting environments around the world: from the Gobi Desert to the Great Barrier Reef." A delightful surprise for all of your senses. Chen is scheduled to perform in May at the Southbank Centre in London, and I'm already looking forward to the show. Be sure to check out her latest album, titled Departure, out on Eito Music.