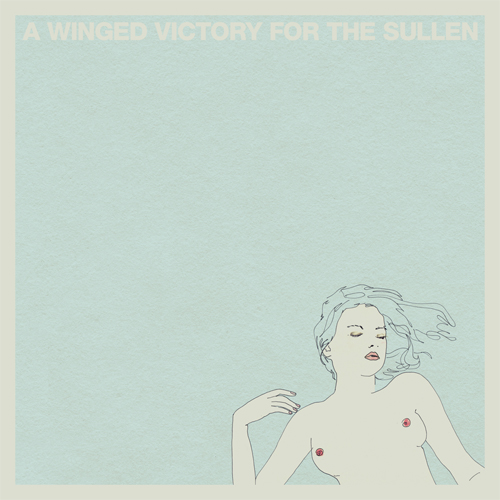 Adam Wiltzie and Dustin O'Halloran must get on very well. They have combined here to release their first collaborative work, A Winged Victory For The Sullen, and done so in spectacular fashion. Guest appearances by the Icelandic cellist Hildur Guðnadóttir and violinist Peter Broderick only excite our neurons further. Delicate and restrained in its approach, this album is undeniably affecting.
The duo agreed to leave their normal home studio comfort zone and develop the recordings with the help of large acoustic spaces, and to hunt down a selection of 9ft grand pianos that had the ability to deliver the extreme sonic low-end. Other traditional instrumentation was used including string quartet, French horn, and bassoon, but always juxtaposed is the sound of drifting guitar-washed melodies.
Wiltzie, one-half of Stars of the Lid, is well versed at producing music that unfolds slowly, gradually enveloping the listener. There are shades of that here, but O'Halloran's contributions add structure and focus to the experience. On some tracks it is O'Halloran who is in the foreground. "Minuet for a Cheap Piano Number Two" is a beautifully haunting piano led piece that aches with sadness.  But elsewhere we find "Requiem for a Static King (Part 1)", a song that would not feel out of place on a Stars of the Lid album.
For the most part, though, the album represents new territory for both artists. Their subtle, contemplative approaches combine to form a work that is deeply moving. At times it feels as if I'm listening to the soundtrack to a film about beautiful characters living tragic lives. If this is the effect Wiltzie and O'Halloran were hoping to achieve, they were certainly not in a hurry to do so. The songs seem to take single, often simple, ideas and meditate on them, allowing them to unfold and develop in their own time.  This concept is never more apparent than in the album's closing, and perhaps strongest, track "All Farewells are Sudden", where less really is more.
Their secret to harvesting new melodic structures from the thin air of existence was for the duo to push themselves to live dangerously, realizing that clear thinking at the wrong moment could stifle the compositions.
A Winged Victory For The Sullen will move most who give it the time and attention it deserves. It represents the perfect blend of two wonderfully gifted musicians who have crafted an album that stands out as one of the very best of 2011. The album is co-released by Chicago based Kranky and London based Erased Tapes Records.
Be sure to read Interview with A Winged Victory For The Sullen
Review by Ben Rutter exclusively for Headphone Commute.