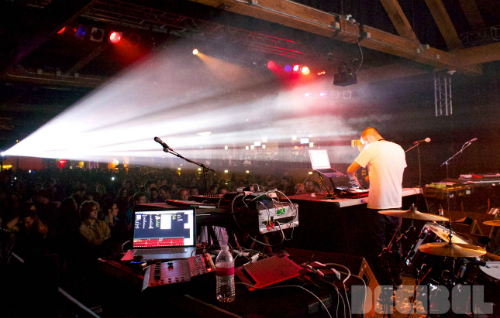 For some bizarre and unknown reason I always have difficulties covering the end of any festival. It is especially exhausting to gather all of my thoughts during the final few days of a sonic onslaught, which slowly gets stretched out over a week. The Seattle weather decided not to cooperate, adding to the fatigue, lassitude and the final burnout. On the fourth day of festivities I found myself waking up (or attempting to wake up) in the hotel lobby, as the torrential rain slammed the stranded pedestrians with its sideways wind gusts. After another long night I was writing the notes (or attempting to write), as the Seattle native Jeff McIlwain (Lusine Icl) was being interviewed for a festival documentary. The proximity to these artists provided an opportunity to run into Thomas Fehlmann, and somehow the day was going to unwind into something better.
The subtitle of the third Optical installment, Night Vessel, implied travel through some undefined and ambiguous spaces, ships docking in the blackness of a shadow, lights on water, and vague distant cities seen from unlit stretches of freeway. Yet what we witnessed with Margaret Chardiet's Pharmakon project was anything but crepuscular. This was a blindingly bright ultra-high definition noise, manifest with explicit compositional punctuation and performative abandon. The roar of her vocal howl only exceeded by the wining, twisting torrent of contact-microphone amplified sheet metal. Chardiet's presence positioned her as a musical godchild of sorts to Japan's performance extremophile, Masonna. And anyone who's witnessed Maso Yamazaki's live incarnation knows what a compliment this is.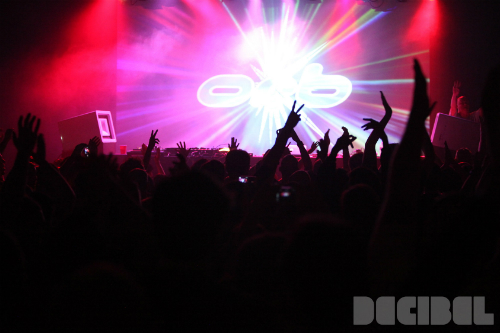 Across downtown at the Showbox, Juan Atkins was creating a marriage of Detroit techno's repetitive phrasing and deep syncopated funk. Drum machine engaged in an endless dialog of call and response with arpeggiated synth, riding the rhythm into futuristic vistas glimpsed in the 80's Motor City. Hamburg met Detroit as Thomas Fehlmann embraced Atkins, handing off the baton to Dr. Alex Paterson as The Orb launched into a subliminal ambient haze. For all the rain and hurricane winds outside, the interior of the club was a humid, light filled, and pulsating urban space filled to capacity with bodies in motion. Building from slower, more spacial ambiance and dubbed out downtempo beats, The Orb brought around some older favorites, including Little Fluffy Clouds.  This was a sound that looked back to that decade past of electronic music's golden cultural ascent, yet didn't deny the technological advances of it's present reality.
The final night's Optical showcase was made weighty not just by being the conclusion of the festival, but by the even more bleaker weather outside coupled with the evening's theme, titled Black Noise. The showcase featured Blackest Ever Black label's current rising (dark) star, Raime, in all-out sturm und drang mode. Keeping to the shadows on the peripheral of the stage, Tom Halstead and Joe Andrews let loose a goliath of strained acoustic instruments, guitar and electronics as a tidal ebb and flow of undeniable gravitational weight. This was set to a backdrop of Dakus Films' ultra high speed footage of abandoned industrial ruin, abstract figurative events and particle driven visuals of water and soil dispersion, synced to the drones, howls and hypnotic tectonic beats. I recommend that you pick up Raime's Quarter Turns Over A Living Line (2012) for a taste of this sinister live performance.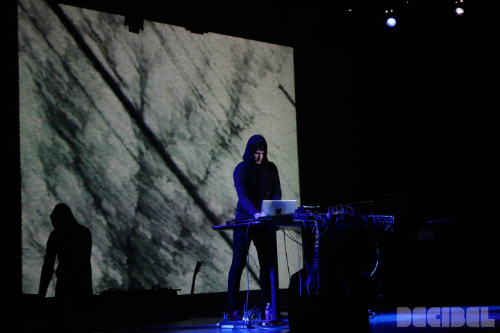 Rafael Anton Irisarri's The Sight Below created an unbroken thread of desolate, elegiac yearning for places and times now past. The opening field recordings of bubbling water, distant birds and deep grumbling bass established a perspective of remove, with a flashback into a space of events untouchable, inaccessible, and somehow incomplete. Hiss and a crackle slowly gave way into more controlled distortion, which slowly drowned out its harmony into a torrent of electric guitar and analog synthesizer rapture. This was certainly one of Irisarri's loudest and most moving performances to date, which I'm hoping one day he would turn into an album. At this point in the evening's proceedings it was announced that due to mechanical issues with his flight from Canada, the showcase's headliner Oren Ambarchi would not be making an appearance.
Ambarchi's performance, however, took place the following night at the Chapel Performance Space, which, with its vaulted ceilings and pristine acoustics, is one of the most reverential spaces for sound in Seattle. The sound explored lower frequency shifts punctuated by nimble resonances plucked from the electric guitar. These were neither limited to the sublimated ambient spaces heard on his recordings for the Touch label, nor the improvisational dissonance of his recent collaborations with Japanese guitar legend Keiji Haino. Instead it was a music encompassing facets of both. Culminating some fifty minutes into the piece with a crescendo of feedback, bass and frequency swirl, the room was filled with a torrent of sound, which slowly faded into soft hum and the silence of a rapt audience. Given the physical, aural, and sensory overload over the course of five days, there have been few festival conclusions that have so perfectly matched the overall cumulative effect of Decibel as this closing chapter. Sometimes the epilogue really is one of the more satisfying components of the story.
Read more on Decibel Festival
[ preview ] [ day one ] [ day two ] [ day three ] [ day four and five ]
©
In addition to the usual in-depth coverage by HC, this year's write-up includes words by Jefferson Petrey, who was kind enough to lend us his ears and pen for the showcases we just couldn't make. I am particularly indebted to his coverage of the last two days, which is most prominent in this final installment.