I have previously announced that Headphone Commute will be officially covering Seattle's Decibel Festival, Sept 28 – Oct 2nd. With only few weeks before the festival, the excitement begins to build up in HC headquarters. I slip on my headphones and research all of the local talent that is new to my ears, and there are definitely more than a few pleasant surprises to be uncovered! This special Sound Bytes entry features reviews of three EPs from Seattle's resident artists that will be performing at Decibel Festival.
Sorry, no embedded track previews are available for the below reviews, but if you have Spotify you should be able to listen to the entire release – just click on the spotify icon in the lower right corner of the cover image!!! Also, check out my Decibel Festival Spotify Playlist!
214 – Eye Thoughts (Outside Recordings)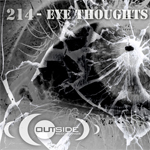 Getting ready for the Seattle's Decibel Festival, I create a Spotify Playlist of every performing artist I can find, and start to listen through every single album. Beginning alphabetically at the top, I land on an artist calling himself as 214. This was my first introduction to the Seattle-based Chris Roman, and I am immediately hooked! Dark electro beats, cosmic space synths and melodic IDM elements make up this release on Outside Recordings. Roman's Puerto Rican heritage and Miami upbringing contribute to his Latin disco based background, "but when his vibe turns to the cold dark comfort of Detroit-esque minimal mind funk, it would seem this man forgets from whence he came." The production on the EP reeks of numerous obsessive compulsive years behind the knobs, and is absolutely top-notch. Every little glitchy frequency spike makes my ears and neurons happy. And the harmonic passages reveal a clear musicianship behind the pieces that embed their melodies into the memories and stay there for days. The overall sound is incredibly refreshing, mind-bending, and even more surprising, considering I landed on this EP for my very first taste of the undiscovered artists of Seattle. Following the six tracks on Eye Thoughts I continue my journey into 214′s 4-track No Northwest EP #1, released earlier this year (2011) on Car Crash Set as a digital EP. A perfect pairing for a cold agitated morning. See if you can pick up 214's debut, Esemplastic (Mikrolux, 2004). Meanwhile, I plan on checking out more releases from Outside Recordings – a Charlotte (North Carolina, USA) based label specializing in electro, glitch and IDM. At Decibel, 214 will be performing on Wednesday, at the Opening Party, alongside Atom™, Zomby, and Jon McMillion.
Ill Cosby – No Northwest EP #3 (Car Crash Set)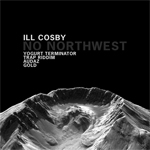 Speaking of Car Crash Set (see above mentioned label in Headphone Commute's review of 214′s Eye Thoughts), its owner and curator, Will Creason, also produces under the Ill Cosby moniker. After a few singles on his own label, Creason steps up to a four track No Northwest EP #3. As a Seattle-based DJ and producer, Ill Cosby has been influenced by an array of bass music. On the EP I hear everything from grime, to ghetto house, to Latin beats, and even Chicago's footwork (check out the track titled Trap Riddim). The release is a third installment from the label's No Northwest compilation featuring artists based in the Pacific Northwest: 214, qp, Cedaa, and Ill Cosby. "As a DJ and host of a radio show on England's Sub.FM, Cosby brings a broad spectrum of electronic music to the function, touching on elements of dubstep, UK garage, electro, house, and beyond." Dance floor fanatics and experimental bass music followers will be pleased with various rhythmic elements implemented in Creason's production. Be sure to check out Car Crash Set complete catalog, with a wide collection of releases by Distal,C.R.S.T, Gremino, and Cardopusher. At Seattle's Decibel Festival, Ill Cosby will be playing at dB In the Park // Frite Nite Showcase, a daytime outdoor event at Volunteer Park, alongside performances and DJ sets by Eprom, Salva, Comma, Danny Corn, Natasha Kmeto, DJ Sonny Chiba and HZ Donut. I always look forward to outdoor events. Let's hope the weather will be cooperative (unlike the 2010′s MUTEK's Piknik in the Park). Come on, organizers, pay the right people for the right weather! Oh, and by the way, the outdoor event is FREE!
Quadrant – Dermaphoria (Citruz / Fokuz)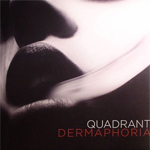 Seattle-based Quadrant is a drum'n'bass collective composed of Leigh Caplan (aka Texel) and Daniel Pollard (aka Cyanide). Although the group is new to my artist collection, the label on which they mostly release is not. Dutch Citrus Recordings has been on my radar for a few years now, pressing quality 12″ fromMindscape, Jade, Falco, Black Sun Empire, and many others from the Triple Vision family. Quadrant's sound is uplifting, light and bouncy… that is until it drops into the depths of growling sawtooth bass. Sprinkled with just a tad bit of vocals, this is the organic style of drum and bass to which I can (and will) dance all night long. With plenty of intelligent twists and turns to give your mind a light-headed spin, the only surprise on the seven-track Dermaphoria EP is that it came straight out of Seattle! Well, technically only Caplan is based in Seattle, while Pollard collaborates on the project from Atlanta. "Not content to be confined to the studio environment, both members of Quadrant are a force to be reckoned with behind the decks, and are widely known for meticulously mixed sets which place equal emphases on dance floor energy and emotional depth." The Dermaphoria EP is simultaneously released on another sub-label of Triple Vision, Fokuz Recordings. Be sure to pick up other releases by Quadrant on Citrus, as well as their debut split EP with Teebee titled Carpe Diem Sampler (Aura) put out by Renegade Hardware in 2006. At the Seattle's festival, Quadrant will be spinning a DJ set on Sunday at Decibel and Onset Present dBridge alongside Kid Hops, WD4D, Introcut, and of course, dBridge. I'll be sure not to miss this one!