It's official! Headphone Commute is covering Decibel Festival 2011! The 8th International Festival of Electronic Music, Performance, Visual Art and New Media will take place across multiple venues in Seattle, WA, from September 28th through October 2nd – that's five full nights (and days) of music! I've already scoped out the locations of venues and the announced showcases, and it looks like I'll have plenty of choices to make, otherwise I'd be stretched pretty thin! For example, on the very first night, there's Beat Prodigies with DJ Krush, araabMUZIK and Shigeto starting at 9pm, while ten blocks away (about 0.7 miles and approximately 15 min walking), exactly at the same time, Decibel Opening Party will kick off with Atom TM, Zomby, Jon McMillion and 214! Plus there's a sick db Drum & Bass Showcase just down the street! Looks like I'll be doing lots of walking!

This will be my first time in Seattle, and during the day (if it won't be too booked with interviews, panels, and workshops), I'll be roaming the city, stopping by at the (now famous) Triple Door, which, by the way, will also open up its doors for a Bit Pop Showcase on Saturday, featuring Dntel, Erika Spring, and Orcas – that's the new project by Benoit Piolard and The Sight Below, which will be doing their world debut! All of that with visuals by Lissom! Oh, and I will FINALLY experience Amon Tobin with his ISAM performed live a the Paramount Theatre! The same night I'll have to run over to Neumos for a Red Bull Music Academy Night featuring Bonobo on the turntables, and performances by Quantic and Opiuo! Meanwhile, at The Baltic Room, The Night Slugs will be throwing their very own showcase! Whew!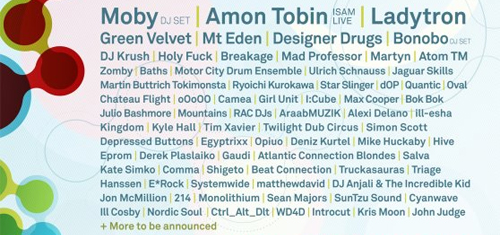 If I survive the first two jam-packed nights, Friday promises to start off calmly, ramping up with Ulrich Schnauss, Mountains and Simon Scott, before I head over to check out Moby, Alexi Delano, Star Slinger, oOoOO, Mux Mool, Kyle Hall, and hopefully have time for Breakage, Martyn and Egyptrixx. Saturday should bring an awesome outdoor event in the park with Eprom, Salva, Comma and Ill Cosby, flowing into Nordstrom Recital Hall for a performance by Oval, Ryoichi Kurokawa and Brainfeeder's Matthewdavid. Saturday night will finally explode with multiple parties: DecaDance hosting Designer Drugs, Green Velvet and Jaguar Skills and Deep Foundations blowing up with Chateau Flight, I:Cube, Julio Bashmore and Deniz Kurtel. I would leave on Sunday, but that means I would miss another night of dB in Dub Finale with Mad Professor, Twilight Dub Circus, Gaudi and Systemwide, while the Flammable Showcase will feature Dop, Kate Simko and Brian Luons… so naturally I'm staying another night!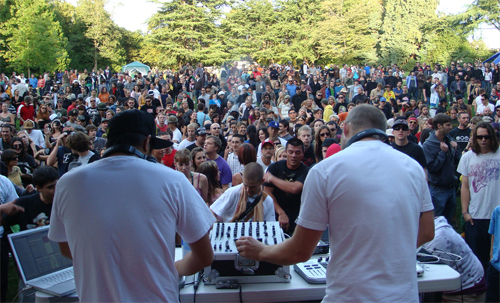 Well, enough name dropping for this preview! And I didn't even list half of the performers! For the entire list and many more surprise announcements check out the artists page on the event's site. For example, I just heard that iTAL tEK, Machinedrum, and dBridge were added to the roster! Also, there are additional, separate performances by James Blake and Trentemøller! Looks like I'll have my hands (and ears) full! Besides the well-known names, Decibel will present me with an opportunity to check out much of the local talent, gathering in Seattle from the West Coast of the United States. Plus, there's a full conference schedule during the days! And of course, besides all of the music, I'll be able interview many artists, and meet many great people who make up this small, but very tight community! Just writing this up got me all giddy and tingly inside! I hope to see you there!