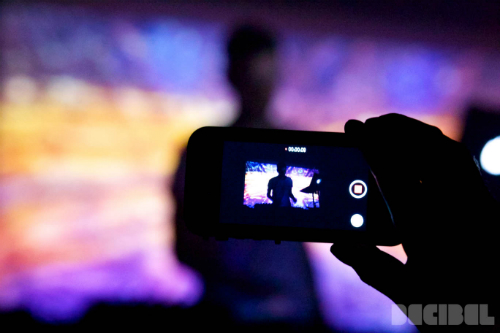 I write these words from the lobby of my hotel. I share this accommodation with Ólafur Arnalds, so forgive me if I get distracted in my thoughts, as we exchange a few words here and there about his ongoing tour. The second day of the festival turned out to be a bit more event packed, a testimony to the fact that it was a start of all of the Optical events, which began at 5:30 in the evening. And staying true to the rules of any festival attendance (the first one: being content with only the showcases you can attend, rather than being upset at all the ones you'll miss), I make my way towards the Nordstrom Recital Hall and settle into the comfortable theater chairs for the show.
Peter Broderick appears on the stage dressed in a suit, a sharp contrast from his plaid shirt outfit in which I've seen him earlier this morning. He's got a full bushy beard, but his voice is gentle, soft and beautiful. Again, I feel myself conflicting with my creed. I thought that I did not like male vocals and the banjo, but Broderick restores a fading faith. The elementary particles of songwriting shine through Peter's music with elegance and grace. The awe with which the audience consumes such simple words is only fueled when Broderick remarks that, oh, by the way, he wrote this song on his way from Portland in a car, and hope that he remembers all the lines. Peter floats between the banjo, the guitar, the piano and the violin, at times layering vocals through live recorded loops, and throughout his performance there is something very folksy Americana in his music which makes me really feel at home. The performed pieces were from his upcoming new album, while Float, a 2008 release, which got remastered by Nils Frahm, is currently being repressed by Erased Tapes.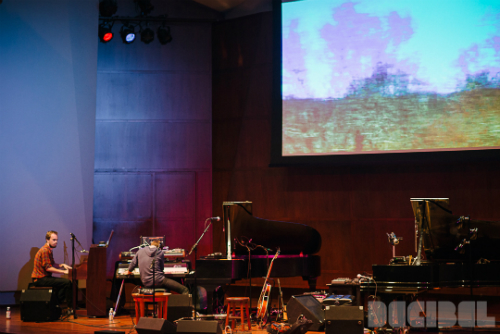 Just when I think that festival has peaked (that's right, only after the very first performance), Nils Frahm joins Peter on the stage. I've always enjoyed listening and watching to these two alone, but having them together on a single stage at once is a true honor! As far as I know, this may have been the very first official Oliveray performance [a name derived from artists' middle names]. The project culminated after Nils and Peter put together a few tracks to promote their tour in Japan. This somehow turned into entire record and now into a full collaborative show. There were many hysterical moments during the show: the two banged on drums, wood paneling of the piano, plucked strings, and at one point the percussive playfulness spilled onto the forefront of the stage and then Nils even smacked Peter's butt (yes, that happened), in time with the beat. But between the laughter the two would plunge into some tender instrumental moments, and inevitably the tears would swell up in my eyes, over the words which simply were abandoned and unsaid. That these two gentlemen, who obviously share a rapport beyond that of the musical, are able to pull off this unlikely balancing act on stage between the absurd and the deeply sincere, speaks to the adroitness of their shared vision. These mood swings made the audience emotional, just in time for Hauschka to take the stage.
Volker Bertelmann spoke about his new work on an commissioned Wagner opera and a film score for an undisclosed horror flick. As expected, his performance was a bit darker than a usual Hauschka affair. And that's a very welcome treat! Largely gone was the jaunty major-key melodicism that can be heard on his numerous albums for Fat Cat. This was a more dissonant, charged and disquieting affair. Aphotic chords collapsed upon prepared piano. The lowest keyboard strings were wired to a pickup that mapped the strikes to dull and hollow kick. The percussive power of the instrument exploded in staccato that sometimes smoothed itself in reverb and delay. The music created a mesmerizing atmosphere, one in which the tense arrangements sprang to life and danced. At one point Bertelmann peeled off the masking tape from the strings, and the instrument howled as if it was in pain. Since most of Hauschka's shows are more than half improvisational in nature, they are thus very different each time. Lets hope that Bertelmann continues to explore these realms long beyond the influences of his current commissions. This was indeed a gorgeous night of collaborations. The only thing that could possibly top it off was if Nils Frahm played the prepared piano himself!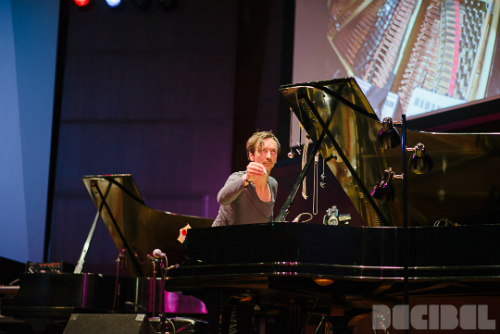 The show ended at 9:30, and suddenly I realized that I skipped dinner. Another side effect of festivals and tours. After a quick bite I made my way to Chop Suey, where Vessel was about to go on. Sebastian Gainsborough started his live performance late and ended early, inevitably cutting his set by half an hour, yet even within the thirty minutes, one was transported into his bleak and industrial world. The noisy wails collapsed into a rolling and thunderous kick drum, punctuated by feedback and growling bass. Check out Vessel's 2012 debut on Robin Carolan's Tri Angle records, titled Order Of Noise. The label's particular brand of warped melodic misery inspired in-part as much by hip-hop's screwed brigade as by smeary distorted abstractions of shoegaze, has brought us many excellent releases by Holy Other, The Haxan Cloak, and oOoOO. It is curiously appropriate that this sound is being referred to as 'drag' – by degrees it all shares a weighty physicality that's as hazily euphoric as it is crushingly abate.
I'll admit that I'm not familiar with Evian Christ's work, but after witnessing his live performance, I'm definitely getting his latest 2013 release, Duga-3, out on Tri Angle Records. The bass plunged into unmeasurable depths, leaving room for the kick and snare to breathe among themselves in spacious and yawning air, with kick, snare. Kick. Snare. Bass. This was the kind of instrumental and experimental hip-hop beat that I've been digging lately, even with chopped up, glitched up, and pitched up vocals. Some times the rap, sped up at four or even eight times of the original, would suddenly drop-drop, dr-dr-op-drop-drop, and flow with the beat. Evian Christ's set delivered on the label's dichotomy with brutal smears of noise pierced through by truncated hip-hop grooves, and the heaviest bass heard that night, the only regret being how few were there at Chop Suey to witness it. The venue was rather empty, although I heard through the text-vine that the line for the Actress show was out of the door.
Read more on Decibel Festival
[ preview ] [ day one ] [ day two ] [ day three ] [ day four and five ]
©
In addition to the usual in-depth coverage by HC, this year's write-up includes words by Jefferson Petrey, who was kind enough to lend us his ears and pen for the showcases we just couldn't make.