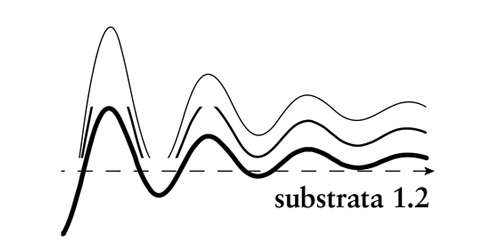 If you're lucky enough to be in Seattle next weekend (August 3rd – 5th, 2012), I highly recommend you attend the second installment of Substrata festival, curated by Rafael Anton Irisarri. Sure, there's the upcoming enormous Decibel festival in September, but as I look over the lineup, the schedule is so overwhelming, that I'm going to constantly stress out over the artists which I'm going to miss. Perhaps you will help me with those choices, but more on that later. What the three-day Substrata 1.2 offers instead is an intimate sound and visual art weekend, with no overlapping performances, spent in the company of your favorite artists!
The idea behind Substrata is to explore varying perspectives of scale though the use of sound, composition and visuals. It features two live performance showcases featuring accomplished and internationally renowned artists working within the cutting edge where structural abstraction meets physical dynamics. 
Substrata presents a unique combination of live performances, paired with a workshop and lecture, concluding with one of the most exciting and innovative offerings of a festival – a field trip with two featured musicians catered to a limited group of participants to engage in a field recording session in the beautiful Puget Sound region. The latter is conducted by Lawrence English and Robin Rimbaud (Scanner), and the few lucky ticket holders will spend a full day in the company of these aural masters. Seriously, what a treat! But I'm getting ahead of myself…
Before I jump into the lineup for the second installment, I wanted to rattle off the artists which appeared in last year's Substrata 1.1. The festival embarked on the West Coast with a splash, unleashing a showcase onto unsuspecting Seattle crowd from some of the most talented musicians on the scene! Substrata 1.1 featured performances from Crys Cole, Oren Ambarchi, Eluvium, Marcus Fischer, Benoît Pioulard, Nils Frahm, Biosphere, and I3O. Last year's field trip was conducted by the one and only Geir Jensen (Biosphere), as documented in a short video clip by Marcus Fischer below.
In 2012, Substrata doesn't show any signs of slowing, dropping an incredible lineup featuring performances by Scanner, Lawrence English, Daniel Menche, Pan•American, Tim Hecker, Loscil, and Widesky! During the day, on Saturday, Lawrence English will offer a lecture, followed by a panel discussion with performing artists. This particular event is free of charge and open to the general public, so if you live in Seattle, you have no excuses! And as already mentioned, the weekend will conclude with a field trip guided by Lawrence English and Robin Rimbaud!
But wait, that's not all! Substrata has partnered with Liminal Space to present a two-day Subliminal installment in San Francisco, just a few days prior – August 1 – 2! That's right, if you're in San Fran, you can join Lawrence English and Paul Clipson on yet another full day field recording trip to Redwood Regional Park, followed by a workshop and a performance from the two artists. And if that's not enough, the second day will feature even more performances from Lawrence English, Illuha, and Gregg Kowalsky!
The Substrata festival will be held at the Chapel Performance Space, on the fourth floor of the Good Shepherd Center in Seattle. For venue, schedule, and ticketing information, visit substratafestival.com