The following article is the second entry in Headphone Commute's in-depth coverage of Decibel Festival, which took place in Seattle, on September 26-30th, 2012. Make sure you read Decibel 2012 : Day One first! Enjoy…
Three Mistakes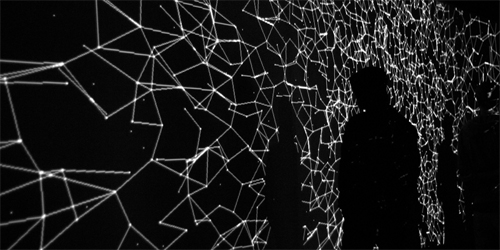 Visual Projections at Modern Love Showcase (Photography © Heather S.)
Thursday turned out to be a small personal misfortune. I managed to make one of the biggest mistakes, and neglect my body and mind, overextending and pushing myself to the limit. If anything, let this tale be a lesson to all on attending a weekend-long festival. It all started in the morning, when my jet lag relentlessly shook me awake. On only a few hours of sleep, and with strong memories of the night before, I decided to adjust to the current time zone, and with my first cup of coffee I set off on my errands and tasks. Mistake. By 11am, I was on my third cup of coffee, still tired, with not much food in my system, cranking away at the laptop, arranging the day's schedule, running to interviews and meetings. And that lingering headache at the back of my temples, surely must be a hangover from last night, right? I was ingenious enough to prescribe myself with a newly devised remedy – Irish coffee. More caffeine and alcohol, what could go wrong? Mistake number two.
At noon I decided to head over to dB Conference to attend a talk by Austin Wintory on The How and Why of Videogame Scoring. Wintory provided an intimate insight into the world of music production behind the game Journey, and the exciting technology-driven age that we live in today. He talked about the ability to compose truly interactive music for the first time in human history, describing the process, motivation and approach. After an hour-long somewhat-stuffy conference session I felt that I needed another pick-me-up, and popped in a Red Bull. Mistake number three. By afternoon I was still incredibly tired, but now awfully jittery and increasingly nauseous. I couldn't really think of food, water, or rest, and so I spent a few more hours bumming around Seattle, until I finally settled down at the second Optical Showcase and ordered a meal. Alas, having learned my previous three mistakes, I steered clear of any caffeine or alcohol. I was done for the day.
Optical 2 : Ascension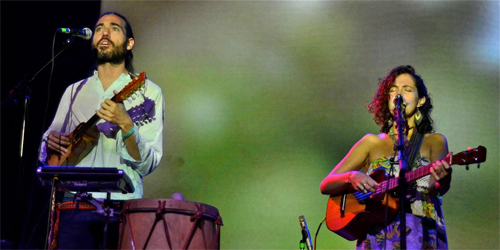 Lulacruza @ The Triple Door (Photography © Russ)
The first performer at Optical 2 was Lulacruza, an Argentinean folktronic duo comprised of Alejandra Ortiz and Luis Maurette. Ortiz played the cuatro (a small Colombian guitar) and kalimba (an African thumb piano), while soothingly singing hypnotic psalms, set to some tribal and South American percussion. Maurette manipulated field recordings, found sound, and various ethnic instrumentation. Then Anenon came on. His entire set was based on his solo saxophone, occasionally recorded and digitally processed live on the stage. The rasping wails of the instrument awakened the beast, covering the brass in a digital breath. This was an avant-garde post-jazz performance that left the audience a little surprised and somewhat off-balance. Brian Simon's latest release, Inner Hue on his very own Non Projects label, was an upbeat downtempo ride, while his live PA resembled a performance by Arve Henriksen.
Due to the above three mistakes, I'm saddened to report that I couldn't stay much longer to witness Julianna Barwick and Maria Minerva, and headed back to my hotel for a much-needed nap. It was now late evening, but the night has not really begun. I sliced off an hour of shut-eye and got up with that wonderful feeling of a 9pm zombie daze. Yep, you know that cotton sludge state, when pillow feels better than anything else. It took much discipline and great strength to will myself out of a cozy bed with a headache in tow, and roll into the cab on my way to a show. I reminded myself that my attendance here should not feel like work, and that I'm supposed to be having fun, as any mini-vacation intends. But I just couldn't miss out on a night full of amazing sound, and with whatever energy I could muster, I arrived at Showbox at the Market, where Starkey has already started his set.
Bass Cadets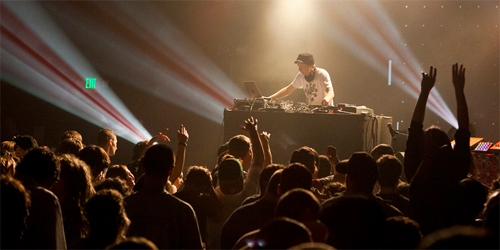 Tipper @ Showbox at the Market (Photography © Eva Blue)
The venue was still empty, and slowly filling in with an all-age crowd, throwing their limbs just a touch out of beat. Starkey played a hip-hop infused set of dubstep drops and slapping beats. The kids seemed to love it, wriggling away on the dance floor, as I watched with nostalgia of my 90's rave days. Could we have predicted this evolution of sound? And what is yet to come? And when I was 18, I wasn't really acting like this, was I? Oh well, I need to let go and let the kids have their fun! Between Starkey and Tipper, a unicorn puppet took on a stage, and dropped vocoded beat-boxing beats, that left everyone smiling. A funny and unique transition by The Fungineers, which I thoroughly enjoyed. Dave Tipper put on a record, gave it a few audible scuffs, and dribbled his staple saw-tooth bass wobble over the audience covered in ooze. I danced with the beat until I looked over at my watch and realized that I completely missed port-royal playing just around the corner at The Crocodile. Damn it! I'll have to catch them next in New York.
At 11pm I pushed myself for one final stretch. Looking over the schedule, I knew that I'd miss Phutureprimitive and Shpongle (maybe I'll catch the latter at the second performance on Friday). I knew that I missed out on Peter Van Hoesen, DVS1, Robag Wruhme, Kuedo, Baths and Star Slinger. Oh, and yes, I completely gave up on even attempting to catch Orbital in concert. I'll leave that to a crowd who hasn't seen them before. Skipping out on all these fantastic acts makes it difficult to forego regrets. But there's just one more show that I must definitely see. And with a flail of a limb, I caught a cab and directed it towards the Melrose Market Studios.
Modern Love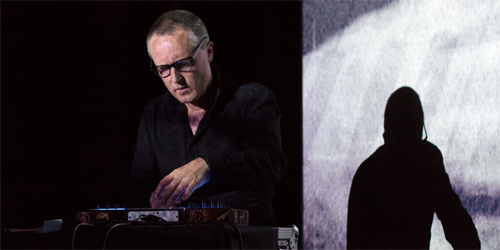 Cut Hands @ Melrose Market Studios (Photography © Heather S.)
Immediately the environment changed. From a brightly lit smoke machine high-school filled club, I crawled into a dark and dank warehouse basement. Yes, this is exactly how I wish to experience a Modern Love Showcase! Cut Hands has just started his set, and the entire subterranean world lit up with shadows of rhythm and noise. This was an otherworldly tribal post-techno that I could only imagine being played at some voodoo ritual in some African village. The possessed crowd faced the big speakers, but no one seemed to move. The evil descended into a screeching nightmare, freezing everyone's joints to the cold cement floor. The suffocating sound pushed me to get some air. I fought hard to stay up, and knew that if I left now, you guys would just murder me for missing out on Demdike Stare and Andy Stott. A little more water, a few brittle breaths. And then Demdike Stare came on.
I could have been crazed with a witch spell, facing the wall in a corner and toward the light. Like the last scene in The Blair Witch Project, the crowd looked forward with stupor and awe. The projected visuals contained images of sacrificial rituals, with half-naked women, Menorahs, and goats. The level of spookiness reached further its limits, as the black smokey monster surrounded the mass. Andy Stott took this slow-moving beast to a whole other level. Hollowed out kick drum was thumping away. The sound sucked out the air of the room, and the music oozed down my stiff and cold flesh. Tiny particles descended from the ceiling and turned into goosebumps all over my hands. The evil is here, and I must retreat. And all joking aside, I had bad dreams all through the night…
Coming up… Day Three…
Read more on Decibel Festival
[ preview ] [ day one ] [ day two ] [ day three ] [ day four and five ]