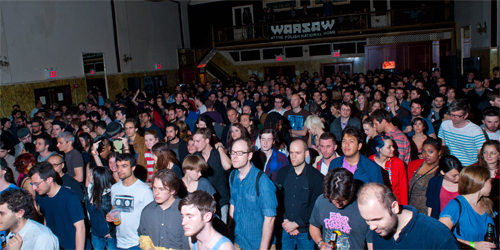 Crowd at Warsaw (© Seze Devres)
On Thursday, the second day of Unsound Festival, I managed to catch Monolake give an in-depth talk at the Goethe-Institut Wyoming Building. As one of the prominent figures in the minimal techno scene, Robert Henke has refined and redefined the concepts on sound design, minimalism, and of course live performance, most notably recognized as the co-developer of Ableton Live production suite. During the panel, Henke discussed the concepts of his latest release, Ghosts, his music production, and the limitations imposed on an artist with the hardware available in the early 90s.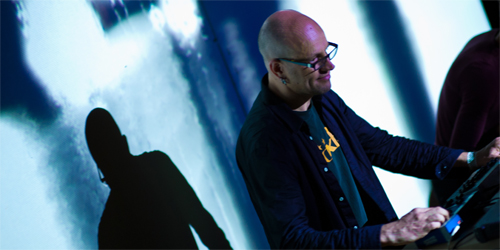 Monolake (© Seze Devres)
Henke compared the past creative constraints to the newly self-imposed restrictions that must be set by an artist on himself, in order to extract every bit of inspiration from each instrument, instead of becoming overwhelmed by the abundance and availability of software plugins. He also spoke of being at the center of his live performance, so that the controlled, improvised, and perceived experience would be identical for the artist and his fans, rather than being veiled by backstage monitors unparalleled in quality to the house sound system. A very inspiring conversation on minimalism, simplicity and the beauty therein. Be sure to check out Monolake's first two albums in the trilogy: Silence and Ghosts, both released on his own Imbalance Computer Music. Highly recommended!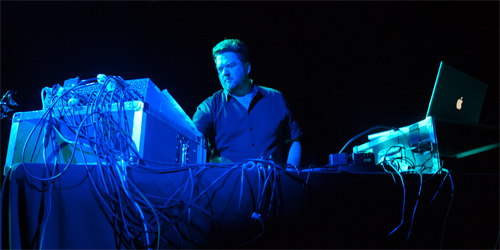 Pole (© Natasha Phillips Photography)
Friday night could not come soon enough. It's been a long week, and after a few late nights I was in dire need of a drink. Thankfully, Le Poisson Rouge was the next venue to host Unsound and furnish a seat with table service. The show started off with Mark McGuire of the Inner Tube project (Spencer Clark could not make it out). Cleveland based McGuire used his guitar to control layered drones, synth driven pads and light percussion to induce a dreamlike melancholia that slowly mixed and drifted with my drink. By the time Stefan Betke began his live performance as Pole, I was properly medicated, lubricated and subdued. Betke's hypnotic dub beats with pulsating bass and delayed minor chords reminded me of why I love this Berlin based artist, along with his trilogy of 1, 2, and 3, albums, and the 2001 followup, R, on his very own ~scape label. The crowed seemed to agree, as it slowly moved with the hazy minimal basslines and rhythm of the beat.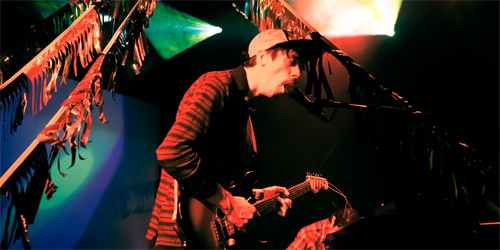 Sun Araw (© Natasha Phillips Photography)
Finally, Los Angeles based Cameron Stallones closed the True Horizons showcase with his Sun Araw performance. The dub infused psychedelia slowly rose with the smoke, 60s delayed vocals, and detached acoustic percussion. Perhaps the multiple alcoholic beverages I've consumed have finally hit the spot, because the overall atmosphere took on a fuzzy, fluffy hue. But then again, Sun Araw's music can have that intoxicating effect without any endogenous depressants – after all, he came up with his moniker as a tribute to the "master of hyper-dimensional living", Sun Ra. Check out numerous releases by Sun Araw on Not Not Fun Records, as well as his 2011 release on his very own Sun Ark Records, titled Ancient Romans.
Read more on Unsound Festival
[ preview ] [ day one ] [ day two and three ] [ day four and five ]