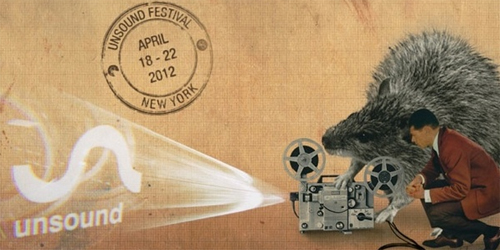 April is less than a few days away, and it's time to get excited about the Spring. But it's not just the warm weather and the prospect of my upcoming vacation that get me all energized and anxious – it's the anticipation of the third installment of Unsound Festival in New York. The festival was originally born in Krakow, Poland, in 2003 as an underground event, and in less than a few years quickly grew in size and global recognition. Occuring every year in October, Krakow attracts a crowd eager to immerse themselves in a week-long musical showcase featuring some of the world's renown artists. Since 2010 the Polish festival found a sibling outlet in New York, cloaking the city with groundbreaking music, from comfy evening lounges to all night stomping clubs. On April 18th, Unsound Festival returns for five days of audio-visual events, talks, live performances, and of course, straight up parties.
Got Spotify? Check out this PLAYLIST collected by Headphone Commute featuring latest releases from performing artists!!!
My personal experience of the festival will commence on Wednesday, when I hope to witness a performance by a Warsaw based group Baaba, playing a live score to a selection of classic Polish animation. The first day will probably end early with performances from female experimental artists, Julia Kent, Jenny Hval and Julia Holter. On Thursday I'm hoping to catch Robert Henke (aka Monolake) for his talk on manipulation of sound, followed by performances from LXMP and Peaking Lights. I'll see if I can take a day off on Friday and stay up late to check out Next Life, Hype Williams and Actress at one of my favorite NYC venues, Le Poisson Rouge.
By Friday the festival should be in its full swing, with panels and discussions featuring visiting artists, festival organizers, and label owners. By 7pm I'm going to migrate back to LPR where the night will kick off with Inner Tube, Pole and Sun Araw. At 10 the crowd should be ready for an all-night party at The Bunker with performances by Zemil7, Laurel Halo, ITAL, Hieroglyphic Being, Demdike Stare and Monolake. Let's hope I can stay up that late! Either way, I should be back in the city on Saturday for a variety of discussions commencing at Goethe-Institut, Issue Project Room and Film Anthology Archives. But at 7pm it's on to West Park Presbyterian Church where I'm hoping to catch an impressive evening with Jacaszek and a collaborative performance between Lustmord and Biosphere! This latter project is called Trinity, and it  explores the development of Nuclear weapons in New Mexico.
If I'm still alive that Saturday night, you'll be sure to find me at Percussion Lab's Bass Mutations evening, featuring Throwing Snow, Teeth, Sepalcure, Distal, 2562, Nguzunguzu and DaveQ. The last set is scheduled to start at 5am, and I'm not sure if I'll make it all the way through. Either way, Sunday should wind down the festival nicely with more free talks, labs, and presentations, concluding with a program of collaborations between Mark Van Hoen & Maria Minerva and Mark McGuire & Bartek Weber. The festival will close at Glasslands with a show by Napszyklat, Maria Minerva, Sun Araw vs. Heat Wave and Eltron John.
For the entire lineup and more information make sure to drop by the Unsound Festival. And don't forget, a lot of events, talks and panels are absolutely FREE, so be sure to get to the venue in time — I missed on of the performances during the first year, because the line for a show was wrapping around the building — this is New York after all…
Read more on Unsound Festival
[ preview ] [ day one ] [ day two and three ] [ day four and five ]