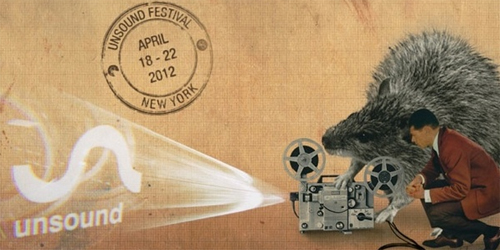 In April of 2012, the world famous Unsound Festival came to New York City for the third time. The festival was originally born in Krakow, Poland, and this year it will celebrate its 10th anniversary in October. Since 2010 the Polish festival found a sibling outlet in New York, cloaking the city with groundbreaking music, from comfy evening lounges to all night stomping clubs. My Unsound Festival experience began on Wednesday, when after a long day of work I took a subway over the bridge to the Brooklyn Academy of Music, to attend a screening of Polish animation from 50s, 60s and 70s, accompanied by a live score from Baaba. The lineup featured eight short films, incorporating graphic arts, clay, puppetry and experimental theater, from Academy Award winner Zbigniew Rybczynski's New Book, auteur Walerian Borowczyk's Banner of Youth, Mirosław Kijowicz's Cages, and Stanislaw Schabenbeck's Stairs.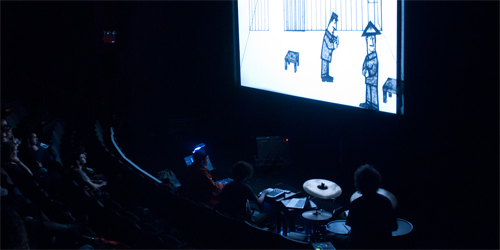 Baaba (© Natasha Phillips Photography)
The underground supergroup Baaba took up the front row, settling comfortably behind a synth, bass, and a drum kit, and performed a mind bending experimental soundtrack to the screening which was perfectly synced up with the action! I was especially impressed by the drummer, Maciej Moruś, who wrestled with the rhythm while keeping his eyes on the screen. This was an abstract, jazzy, and avant-garde score that only enhanced the creative, metaphorical and very cerebral concepts explored by the classic Polish animators. I recommend you get your hands on Baaba's 2012 release on Ladoabc, titled The Wrong Vampire, which is an interpretation of the Krzysztof Komeda's score to Roman Polański's 1967 film, The Fearless Vampire Killers.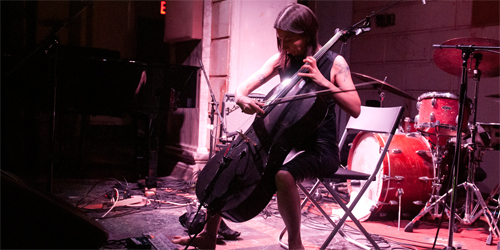 Julia Kent (© Natasha Phillips Photography)
After the show I migrated over to Issue Project Room for The Option Of Silence showcase, featuring a night of female artists working with experimental sounds. The show opened with a performance by New York based Julia Kent, who looped solo cello layers with gentle electronics and mild effects. The black cello sang, growled and hiccupped, as Kent used her right foot's hallux to switch on the loop pedals, phrase samplers, and delay controls. Kent's second full length album, Green and Grey, features more of her staple cello loops and field recordings, exploring "the  intersections between the natural world and the human-created world", and is available for purchase via her bandcamp.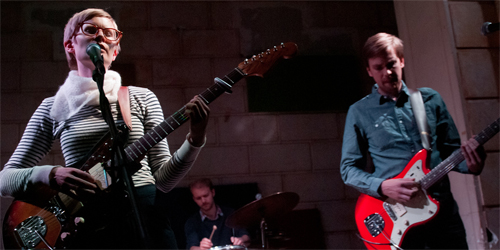 Jenny Hval (© Natasha Phillips Photography)
Next, the celebrated and mildly occult Norwegian Jenny Hval took to the stage with her three-piece band. Hval's 2011 debut on Rune Grammofon, Viscera, took the experimental and indie communities by storm, quickly reaching a spot on many Best of the Year lists. The now famous opening line, "I arrived in town with an electric toothbrush pressed against my clitoris" set the tone for the poetic album and the beautiful performance that she delivered. Hval's presence is surreal. Unfortunately, I couldn't stay for the performance by Julia Holter, something I terribly regret. Her previous show at Le Poisson Rouge earlier in March was captured by NPR, and is available on video here: Julia Holter In Concert.
Read more on Unsound Festival
[ preview ] [ day one ] [ day two and three ] [ day four and five ]