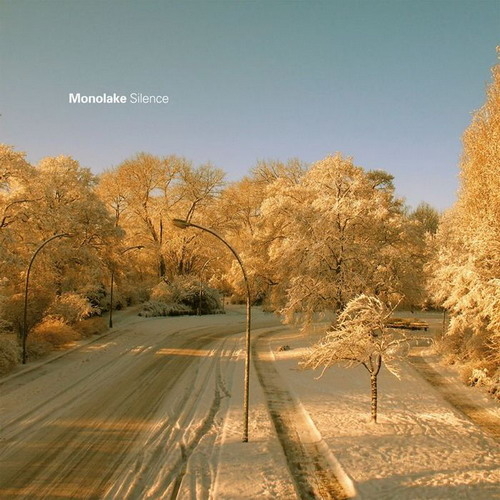 It goes like this. I wake up in my abandoned shelter made of found brick and metal scraps. It's been raining for over a month now. But the water collecting in the corners is undrinkable. It is full of ash and oily fluid. There is only one way out of here. I step outside into the eternal darkness, and climb the nearby unrecognizable object. Far ahead is a column of rising smoke. The electrical storm rolls in the distance. I start walking towards the echo of a machine made rhythm. I feel sad for our abandoned planet. And I don't have any hope for survival.
The liner notes of Monolake's seventh album, Silence, tell a different story. But in my mind, there is my own. Either way – the story is futuristic, full of tension, survival, and hope. The words are reflected in music, composed by Robert Henke during the last year leading up to September 2009. Henke's staple sound has created a whole new branch of style springing off of minimal techno. This metallic, atonal, and rhythm driven mathematical progression captures your nerve endings, and sparks through your cells. The cavernous area of your head that was once possessed by thought is now a plausible site for transmission.
On Silence, Henke moves further away from the four-to-the-floor pounding beat towards a dark, and groovy rolling pattern, that must be heavily influenced by dubstep. That's not a surprise, considering that Monolake's new partner in crime, Torsten Pröfrock, has recently bridged the gap between dubstep and techno by remixing Shackleton's Death Is Not Final as T++.  The influence is contagious. And in this chain reaction Henke creates his own style. And the production? It's pristine! I fought the following thought for a while, and finally decided to break down and directly quote the first part of production notes:
Sound sources include field recordings of airport announcements, hammering on metal plates at the former Kabelwerk Oberspree, Berlin, several sounds captured inside the large radio antenna dome at Teufelsberg, Berlin, dripping water at the Botanical Garden Florence, air condition systems and turbines in Las Vegas, Frankfurt and Tokyo, walking on rocks in  Joshua Tree National Park, wind from the Grand Canyon, a friends answering machine, a printer, conversations via mobile phones, typing on an old Macintosh keyboard and recordings from tunnel works in Switzerland. Synthetic sounds created with the software instruments Operator, Tension, Analog and the build in effects inside Ableton Live. Additional sound design and sequencing using MAXMSP / MaxForLive. Additional reverb: various impulse repsonses via Altiverb. Composed, edited and mixed in Live with a pair of Genelec 8040s. Mastering by Rashad Becker at Audioanwendungen September 2009. Field recordings captured with a Sony PCM D-50.
I'm not going to waste your time here, and tell you about Henke's contribution towards the evolution of sound on more than one physical plane – you can read all about contributions towards Ableton or his own designed midi-controller Monodeck on Wikipedia. What I want to capture here is how this album made me feel. And that indescribable feeling is pretty close to what I felt for the first time when I heard Plastikman's Sheet One back in 1993. Since then I've been jonesing for more. And Henke has finally hit that spot. His Silence is the answer.
Silence is released on Monolake's own label – [ml/i] (Monolake / Imbalance Computer Music), and is available in CD, digital, and 2xLP formats. This release follows Monolake's recent two track EP, Atlas / Titan which was in turn remixed by T++. There is also a 60-minute single track, endlessly permutating atmospheric installation piece released by Robert Henke this summer, titled Indigo_Transform (Imbalance Computer Music, 2009).