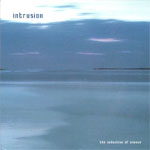 The dub sound of Intrusion is like an early stroll along the empty beach. Waves of white noise and minor chords splash and bounce against the glistening, polished, and rolling bass. The rhythm is measured, natural and hypnotic. The background four-four beat creates a trance-like experience. And the overall emotion is indeed seductive. Although the formula behind the production builds up on the previous successful sound of Echospace, the warmer side of the duo perfects the minimalism by injecting a fusion of Jamaican and South African dub. And it works. I could listen to this album over and over, like a head cleaner, after dense days, heavy nights and exhausting people.
The minimal dub techno sound of Intrusion no doubt belongs to none other than Stephen Hitchell, one half of the above mentioned Echospace, who along with Rod Modell froze our hearts with The Coldest Season (Modern Love, 2007). Where as the latter critically acclaimed album captured the lower spectrum of the virtual thermometer with swishes of wind and falling snow, The Seduction Of Silence is more than a few degrees warmer. This is indeed a lovely twilight stroll under the ocean.
The album is the first full length solo release for Hitchell, inadvertently compiling previously released EPs and 12-inchers. This may, perhaps, be an answer to a solo release by Modell, Incense and Black Light (Plop, 2007), with Hitchell taking his turn to demonstrate his individuality. The album welcomes an appearance by Paul St. Hilaire (Tikiman), where the Dominican artist contributed reggae vocals. The tracks morph into one another with swells of white noise, sometimes clocking in at over 11 minutes long. Tswana Dub is perhaps one of my favorites, having previously appeared as a limited 12″ on Intrusion's sub-label of Echospace.
Recommended if you appreciate the sound of minimal dub from Modern Love and Basic Channel, as well as Yagya, Gas, and of course, DeepChord Presents Echospace. Last minute edit: be sure to pickup the latest release on Echospace [detroit] by Brock Van Wey (aka bvdub) titled White Clouds Drift On And On. This is a double disk release with the second part full of Hitchell's interpretations of Wey's original works. Truly sublime. Back to back!