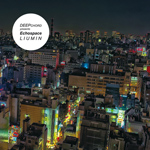 I am always hungry for new music. I think I continue to consume the sounds, so that I can recreate that moment. That moment of when one hears that sound, and is taken away out of this world into another. That moment, reminiscent of your childhood memories, when you would put on your headphones and melt away in the hypnotic beat beyond all thought and worries. It is the music you would turn to, for answers and escape. Remember? I do. And so I search, among the hundreds of albums, for the one that would bring back those memories, and take me to that place. What can I say? I think with Liumin I have found it. Big thanks to Rod Modell and Stephen Hitchell of echospace [detroit].
First of all, I think it's a huge plus, when an album seamlessly transitions from one track to another. That solidifies my reasoning for listening from beginning to end. The tracks flow smoothly, in that velvety, dubbed out, and incredibly hypnotic beat. The duo is not apologetic for letting the tracks evolve over the ten minute marker. Although some may find this rolling rhythm a bit repetitive, I think that it's only after the first six or seven minutes that the mind latches on to the beat and new environments unfold. If there was a science behind this process, then Hitchell and Modell should base their thesis on their work, their magic, and their art.
Incredibly simplistic, yet awesomely complex percussion is drenched in vaporous white noise, as it envelopes the chords that swirl around in the stereo field of infinite dimensions. Complimented with a touch of field recordings captured by Modell in Tokyo, Japan, the kick trends on, falling out of the foreground of the typical warehouse sound system, into the ether of organic pulse. For me, the absolute masterpieces on the album include "BCN Dub" and "Maglev". The latter, in particular, takes me to a mysterious place, elusive in its existence, with hidden doors and passages that only open up somewhere in the middle of the track.
Liumin is the duo's second full length album, releasing under the alias DeepChord Presents Echospace for Boomkat's Modern Love. Of course, both have been pretty active in their Chicago and Detroit dub techno scenes. Rod Modell has recently released Incense & Black Light (Plop, 2007) and a two-track 60-minute dedication to Michael Mantra (Silentes, 2007), while Stephen Hitchell has been busy releasing remixes on Kompakt and Echocord as well as his critically acclaimed 2009 beauty, The Seduction Of Silence on echospace [detroit]. Together, they have been making quite a splash on the scene of dubbed out minimal beats, specifically after the absolutely incredible The Coldest Season back in 2007.
This double-disk release, contains a bonus 80-minute CD with the original field recordings from Tokyo. This second place is only accessible after you've made the journey through the hollow caverns of Liumin, revealing itself like a secret garden hidden deep beneath the earth. This is indeed a surreal, almost narcotic, experience, which, like that most treasured childhood memory, is a  momentous trip. Move over Basic Channel, and let the boys from echospace impress you for a change.
See also Two and a Half Questions with Echospace