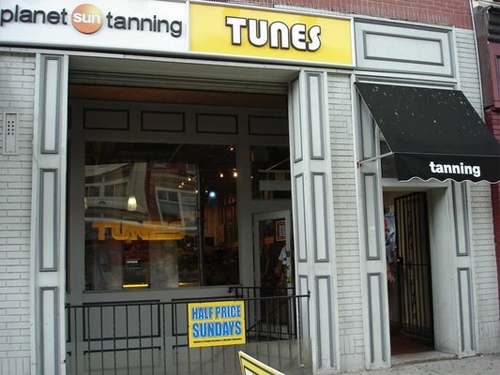 There's a store in my old college town that I visit maybe once a year or two when I'm around. The shelves are stocked with the latest pop-jizz and radio's'hit, but it is the back section, marked in yellow, aged, and peeling "techno/rave" label that draws me in like a magnet. Here, time stays still… Used and then abandoned compact disks are collecting dust with punched out bar codes and crossed out prices. For some reason I always feel like I'm visiting a shelter, about to adopt an unwanted soul. Music from the early 90s is still shrink wrapped, rejected even at the lowest prices. I swear, I think I even recognize a few CDs that I have sold to the store two decades ago, when I was in need of hard cash. And now, reaching into the bins, I pick them back, one by one…
Here is my prized harvest of today:
$3.99 – FUSE – Dimension Intrusion (Warp / Plus 8, 1993)
– Early Richie Hawtin. Seriously?

$3.99 – FSOL – ISDN (Astralwerks, 1994)
– OK, I have like 4 copies already, but couldn't resist.

$0.50 – The Future Sound of London – Far-Out Son Of Lung
And The Ramblings Of A Madman (Virgin, 1995)

$1.99 – Various – Pure Abstrakt (Shadow, 1996)
– A compilation of blunted trip-hop and jazz!

$2.99 – Aphex Twin – Come To Daddy (Warp, 1997)
– Another release I couldn't just leave behind.
What a steal, right? Under $14 for five monumental releases! Even if some of these are almost two decades long, these are still gems worth owning in physical form. Or maybe it's just me… Richie Hawtin's FUSE release contained a particularly interesting note, that I enjoyed reading on a park bench (just like back in the 90s). Here, I found a copy of it online, presenting to you in its entirety. Hope you enjoy…
(this is an image. full text follows below)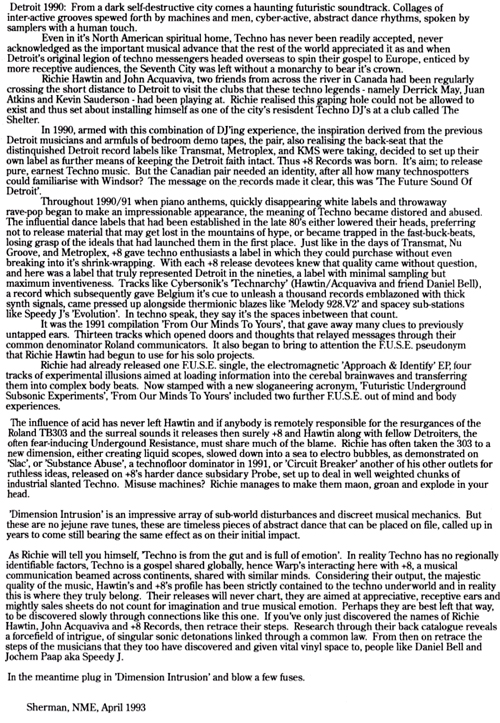 Full Text
Detroit 1990. From a dark self-destructive city comes a haunting futuristic soundtrack. Collages of inter-active grooves spewed forth by machines and men, cyber-active, abstract dance rhythms, spoken by samplers with a human touch.
Even in it's North American spiritual home, Techno has never been readily accepted, never acknowledged as the important musical advance that the rest of the world appreciated it as and when Detroit's original legion of techno messengers headed overseas to spin their gospel to Europe, enticed by more receptive audiences, the Seventh City was left without a monarchy to bear it's crown.
Richie Hawtin and John Acquaviva, two friends from across the river in Canada had been regularly crossing the short distance to Detroit to visit the clubs that these techno legends – namely Derrick May, Juan Atkins and Kevin Sauderson – had been playing at.  Richie realised this gaping hole could not be allowed to exist and thus set about installing himself as one of the city's resident Techno DJ's at a club called The Shelter.
In 1990, armed with this combination of DJ'ing experience, the inspiration derived from the previous Detroit musicians and armfuls of bedroom demo tapes, the pair, also realising the back-seat that the distinquished Detroit record labels like Transmat, Metroplex, and KMS were taking, decided to set up their own label as further means of keeping the Detroit faith intact. Thus, +8 Records was born. It's aim; to release pure, earnest Techno music. But the Canadian pair needed an identity, after all how many technospotters could familiarise with Windsor? The message on the records made it clear, this was 'The Future Sound of Detroit'.
Throughout 1990/91 when piano anthems, quickly disappearing white labels and throwaway rave-pop began to make an impressionable appearance, the meaning of Techno became distored and abused. The release material that may get lost in the mountains of hype, or became trapped in the fast-buck-beats, losing grasp of the ideals that had launched them in the first place. Just like in the days of Transmat, Nu Groove, and Metroplex, +8 gave techno enthusiasts a label in which they could purchase without even breaking into tit's shrink-wrapping. With each +8 release devotees knew that quality came without question, and here was a label that truly represented Detroit in the ninties, a label with minimal sampling but maximum inventiveness. Tracks like Cybersonik's Technarchy (Hawtin/Acquaviva and friend Daniel Bell), a record which subsequently gave Belgium it's cue to unleash a thousand records emblazoned with thick synth signals, came pressed up alongside thermionic blazes like 'Melody 928.V2' and spacey sub-stations like Speedy J's 'Evolution'. In techno speak, they say it's the spaces inbetween that count.
It was the 1991 compilation 'From Our Minds To Yours', that gave away man clues to previously untapped ears. Thirteen tracks which opened doors and thoughts that relayed messages through their common denominator Roland communicators. It also began to bring to attention the F.U.S.E. pseudonym that Richie Hawtin had begun to use for his solo projects. Richie had already released one F.U.S.E. single, the electromagnetic 'Approach & Identify' EP, four tracks of experimental illusions aimed at loading information into the cerebal brainwaves and transferring them into complex body beats. Now stamped with a new sloganeering acronym, 'Futuristic Underground Subsonic Experiments', 'From Our Mind To Yours' included two further F.U.S.E out of mind and body experiences.
The influence of acid has never left Hawtin and if anybody is remotely responsible for the resurgances of the Roland TB303 and the surreal sounds it releases then surely +8 and Hawtin along with fellow Detroiters, the often fear-inducing Underground Resistance, must share much of the blame. Richie has often taken the 303 to a new dimension, either creating liquid scopes, slowed down into a sea to electro bubbles, as demonstrated on 'Slac', or "substance Abuse', a technofloor dominator in 1991, or 'Circuit Breaker' another of his other outlets for ruthless ideas, released on +8's harder dance subsidiary Probe, set up to deal in well weighted chunks of industrial slanted Techno. Misuse machines? Richie manages to make them maon, groan and explode in your head.
'Dimension Intrusion' is an impressive array of sub-world disturbances and discreet musical mechanics. But these are no jejune rave tunes, these are timeless pieces of abstract dance that can be placed on file, called up in years to come still bearing the same effect as on their initial impact.
As Richie will tell you himself, 'Techno is from the gut and is full of emotion'. In reality Techno has no regionally identifiable factors, Techno is a gospel shared globally, hence Warp's interacting here with +8, a musical communication beamed across continents, shared with similar minds. Considering their output, the majestic quality of the music, Hawtin's and +8's profile has been strictly contained to the techno underworld and in reality this is where they truly belong. Their releases will never chart, they are aimed at appreciative, receptive ears and mightly sales sheets do not count for imagination and true musical emotion. Perhaps they are best left that way, to be discovered slowly through connections like this one. If you've only just discovered the names of Richie Hawtin, John Acquaviva and +8 Records, then retrace their steps. Research through their back catalogue reveals a forcefield of intrigue, of singular sonic detonations linked through a common law. From then on retrace the steps of the musicians that they too have discovered and given vital vinyl space to, people like Daniel Bell & Jochem Paap aka Speedy J.
In the meantime plug in 'Dimension Intrusion' and blow a few fuses.
Sherman, NME, April 1993