Here are more reflections from Jon of Silet Land Time Machine and Andre of Locrian. These musings shall appeal to fans of the beauty that is within the harshness of silence and the lullabies of the noise…
Jon / Silent Land Time Machine / Indian Queen Records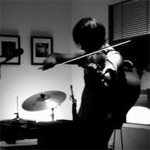 As always: I feel it is of the utmost importance that purveyors of so-called "independent" music realize the importance of the free-flow of information and that it is only through this last bastion of free-expression (the internet(s)) that we are able to circumvent the trend-setting entities (that engage in the subsequent analyzing, optimizing, and honing of market-data and research to create more returns for the following quarter) and actually listen to what we want to listen to. Arguably, that flow was disrupted this year by regulations that the FCC desires, or, perhaps, the legislation that will follow in its footsteps; though politics tends to be messy, I encourage all those who enjoy listening to actual free human-expression to forever be vigilant in examining legislation that surrounds the flow of information (afterall, Hideo Kojima tried to show us what control of information can entail).
That being said, the internets have granted us:
Kemialliset Ystävät – Ullakkopalo (Fonal)
When I bought KY's self-titled album years ago, I set it down after my first listen and said something to the effect of 'what the hell did I just hear?!' and wasn't ready to return for nearly a year. Now KY is the most fascinating of musical projects that I know of, and has warped my mind enough to now seek out the 9 books that Jan speaks of in the liner notes.
Flying Lotus – Cosmogramma (Warp)
Do the Astral Plane might deserve album of the year, too. Really satisfying controlled chaos.
Ous Mal – Nuojuva Halava (Preservation)
Another collage-d-nostalgia gem from Ous Mal; was totally blown away with some of the tracks on this album. Moving between the here and now, and weaving so many layers it is difficult to imagine that all these sounds weren't born together, the Finnish couple really wove another amazing aural-sweater of memories that I never had, but am thankful that I do now…
Scott Tuma – Dandelion (Digitalis)
Year upon year, Scott Tuma logs in another amazing space-soaked journey through his head; I kind of assumed he'd be quiet for a while after the *amazing* Not for No One, but then this comes out and sits in a place all its own.
Prisma – The Cosmic Coil (TIME-LAG)
Straight from the forests of mysterious Maine; two female voices over lots of hazy synths and guitars, chanting, and ends with a beautiful lullaby goodbye…first release from this group, and a really nice surprise. Crazy textured insert and simple & beautiful TIME-LAG packaging…
Grouper – Wide (Weird Forest [Reissue])
Really great vinyl reissue of Harris' album from 2006 (I think?). Self-multiplying voices stuck in stasis in a cave with really great reverb. Really got lost in this, and hadn't heard it until this year…
Yellow Swans – Going Places (Type)
Trance inducing drone + noise; incredible gray-scale explorations that focus on metallic aural-minutia…sorry to have caught Yellow Swans on their swan song, but I was really blown away with their 'final' gift.
Nick Kuepfer – Avestruz (Constellation, from Musiqe Fragille #1)
Western-tinged Montréal-based guitar experiments; funny that this does not sound like an album made by a classical guitarist! Plays with structure nicely, and discards it sometimes, too; awesome thick LP jacket and packaging that Constellation is known for so fondly (comes in the Musique Fragille 3xLP set, which was done awesome-ly).
Max Richter – Infra (130701)
Mr. Richter just kills me with simple processing and string arrangements that are always deceivingly archetypal, which could seem to be bland, but are anything but, and frequently interrupt whatever it is that I'm doing otherwise. A very worthwhile listen each and ever time…really grows on you.
Big Blood – Dead Songs (TIME-LAG)
After following Cerberus Shoals' 90′s transition, seeing their post-millennial psych-out and then onward to Fire on Fire, it was awesome to see some of those same folks hone in on a specific idea and go all the way with it; this is the first "rock" record I've heard in a long time that saturated so well…the closer on this track is amazing, and has an amazing gate-fold jacket.
Other points of relevant listening in 2010:
Prince Rama – Shadow Temple (Paw-Tracks)
Nicest people in the world making the craziest throw-back hollow-earth prog in the multiverse; Paw Tracks seems like a perfect fit, and with AC helping produce their newest record, Prince Rama got a more polished record and it sounds awesome; by far one of the most compelling live acts I've ever experienced, and constantly on tour; check them out!
Smokey Emery – Soundtracks for Invisibility III (Kiamesha Drive)
Live tape-loop manipulations by Mr. Daniel Hipolíto, and the third in his Soundtracks series; hand-made loops of loss and other emotional saturation that bleed not unlike William Basisnki's Disintegration Loops, but one a much more succinct time-scale. Heavy, effectual, and sincere, I'm really thankful that Mr. Emery is local to ATX…
NIKE7UP – Thief in the Night Mix 7″ (Light Lodge)
There is no way of accurately and/or properly describing how much I thoroughly enjoy hearing well-known pop tunes from my adolescence cut up, butchered, and made better than they could have ever been originally! Really compelling & consistently poignant in its approach to critique the status quo by dissecting it; more soon, I hope.
LIVE recordings worth catching ::::::::::—:::::::::::
GODSPEED YOU! BLACK EMPEROR ***LIVE*** at Troxy (12/14/10)
Honestly, I thought a live recording from GY!BE would be something I would only experience in my dreams; surprise, they're playing again and didn't loose a step.
JEFF MANGUM ***LIVE*** at the Schoolhouse (12/5/10)
As if my most intense of listening-wishes were granted, there's also a great recording of Jeff Mangum playing some NMH stuff available for listening; now if only NMH was also touring…
Andre Foisy / Locrian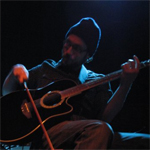 Top 20 Albums of 2010
1) Deathspell Omega "Paracletus"(Season of Mist)
The rest of these are in no particular order:
2) Swans "My Father Will Guide Me Up A Rope To The Sky" (Young God)
3) Agalloch "Marrow Of The Spirit" (Profound Lore)
4) Neil Jendon "Cities in Flight" (Bloodlust!)/"Male Fantasies" (Land of Decay)
5) Monvment tape (Self-Released)
6) Human Quena Orchestra "A Natural History Of Failure" (Utech)
7) The High Confessions "Turning Lead Into Gold" (Relapse)
8) Velnias – "Untitled EP" (Self-Released)
9) Aun – "VII" (Important)
10) On "Something that Has Form and Something That Does Not" (Type)
11) Ural Umbo "S/T" (Utech)
12) Gog – "Heavy Fierce Brightness" (Utech)
13) Mamiffer/House of Low Culture "S/T" (Utech/Hydra Head)
14) Menace Ruine "Union Of Irreconcilables" (Aurora Borealis)
15) Wolvserpent "Blood Seed" (20 Buck Spin)
16) A Silver Mt. Zion "Kollaps Tradixionales" (Constellation)
17) Wrnlrd "Death Drive" (Flingco Sound System)
18) Puerto Rico Flowers "4" (Fan Death Records)
19) Twilight "Monument to Time End" (Southern Lord)
20) Sailors With Wax Wings S/T – (Angel Oven Records)