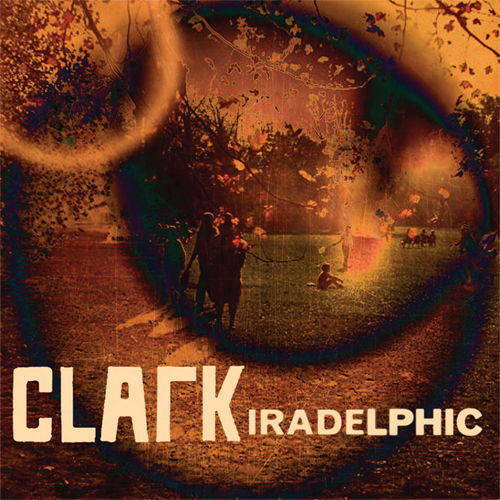 I've been listening to a lot of Clark lately. Although some may snicker at his latest attempt to disengage himself from associations with purely electronic music, it is an utterly welcome direction from my perspective. Hearing Clark take a further step from the digital-only cookie-cutter post-IDM production is something I always wanted to witness. Throughout the years Chris Clark has definitely attempted to fuse whatever instrumentation he found available at the time with his intricately designed atmospheric dark electro sound. His past catalog show such embraced diversions in albums like Body Riddle (Warp, 2006), Turning Dragon (Warp, 2008) and Totems Flare (Warp, 2009). But it is with Iradelphic that Clark has taken the greatest leap to establish himself as not only one of the finest electronic musicians around, but also as one of the non-electronic musicians nowhere to be found.
For Iradelphic Clark steps away from his elaborately approached programmed sound and picks up a few acoustic instruments and even some vocals for a good measure. The audible difference of this resolution is unhindered, as is the unmeasurable source of influences that Clark has picked up along the way. In fact, it's nearly impossible to put your finger in identifying anything concrete that has lended a hand in the development of the album. But what's absolutely clear is that Iradelphic is without a doubt Clark's very own sound, and more importantly, it is profoundly good. Yes, from the very first listen, I knew that this would be an album I would be coming back to over and over again, at different times of the day, in different moods of the year. And knowing that I could always rely on Clark to provide my soundtrack, is exactly what makes Iradelphic so great.
HC on the piano, covering Clark's "Black Stone"

For his sixth full length release on Warp Records, Clark is joined by Martina Topley-Bird (known for working with Massive Attack and Tricky) who contributed her vocals and even composed a piece. On one of the tracks, "Open", I believe Clark is even singing himself. In unison with Topley-Bird, over post-trip-hoppy beats and synth arpeggios reminiscent of hypnotic patterns from Boards of Canada, the duo repeat over and over "…ebb and flow of a thousand lonely outlines." Perhaps music has the right to children after all. But as the guitar and the 60s bossa motifs develop of the following track, "Secret", the journey takes a turn on a less traveled road, with Clark as your trusted guide. Here are the bass drops, the synth growls and the entangled beats, that force the musical tourist to return to this landscape for another longer stay.
On "Black Stone" Clark opens up with a beautiful piano progression that easily contends with some of my favorite solo-piano modern classical pieces. Then, switching gears, he dives into a three-part "The Pining", which begins with lo-fi pads, moves into guitar strums, and then acoustic broken beats that juggle the rhythms and constantly mutating melodies until they all come together in one unbelievable opus. This particular sequencing reminds me of the good ol' Orbital days when the beginning of the track only gave you a glimpse of the entire picture until it all slowly evolved and developed into one major masterpiece. And yes, I'm calling Clark's Iradelphic exactly just that. Definitely one of the best albums of the year so far! Highly recommended if you like Bibio, Plaid, The Black Dog, Arovane, Daedelus and Four Tet.