Celebrating Headphone Commute's many years of content, I am highlighting albums that I covered 15, 10, and 5 years ago. I do this by going back through my archives and selecting a favourite for the current month. But I'm not just copying and pasting the words here; I'm also refreshing these write-ups a bit to bring them up to date, and, of course, I'm listening to all this music! And so should you!
Clark
Turning Dragon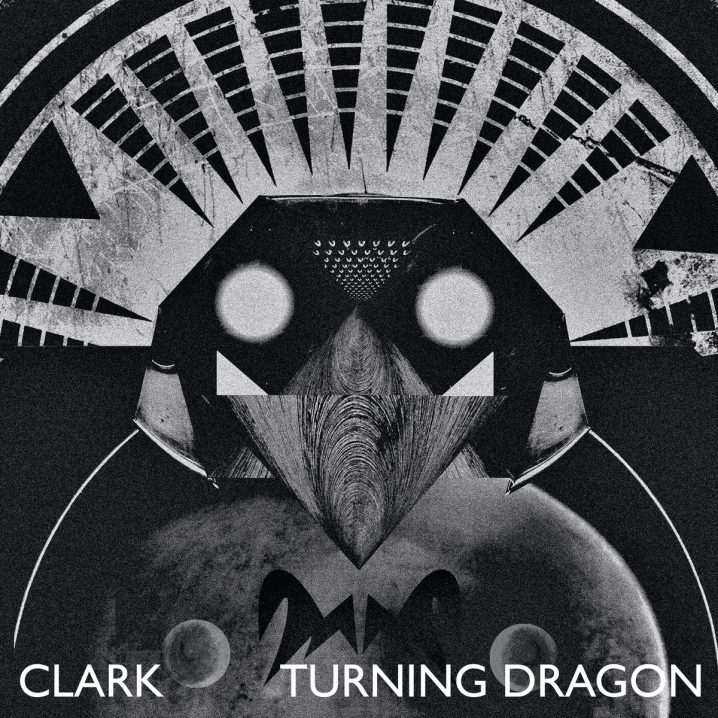 In 2001 we got introduced to Chris Clark through his debut, Clarence Park, picked up by none other than Warp Records. Two years later, we witnessed him evolve with Empty The Bones Of You. Then, in 2006, this Hertfordshire-based (UK) electronic musician dropped his first name and simply went by Clark for Body Riddle. This transformation wasn't over, and in 2008 Clark started Turning Dragon. This is a much harder, banging, compressed thud that keeps the heart pumping and the brain tweaking. Five years in the making (guessing by the fact that the previous LP was simply an archive of earlier and unreleased material), Clark became the front-runner of the experimental drive merging dark IDM and ferocious beats, where the genre truly thrives. The first half of the album employs a welcoming onslaught of pounding 4/4 beats. Turning up the volume, I'm reminded of the early warehouse events where the bass slammed off the cold and dripping walls. But does the four-to-the-floor formula immediately categorize this album as techno? Slapping the latter term may understate the complexity of the production – it is very far from a minimal or repetitive approach. The detail may surprise even the fans already familiar with Clark's perfectionism. Further into the album, Clark breaks up the rhythm and keeps on grinding. This is a delicious concoction of brutal intensity unleashed at full throttle that twists all the neurons and hurts oh so good.
2023 UPDATE: Since the release of Turning Dragon, I have been faithfully following Chris Clark's productions and have appropriately lauded his Iradelphic (2012), self-titled Clark (2014), the score for the British TV crime show, The Last Panthers (2016), and an album titled Death Peak (2017), all on Warp. A few years later, Clark slightly changed direction, stepped up in his production quality, and released two albums for the prestigious Deutsche Grammophon: see Daniel Isn't Real (2020) and Playground In A Lake (2021). Last year, Clark put out a compilation of unreleased archives and rarities to compliment a remastered reissue of Body Riddle. In May of 2023, Clark is taking another turn with the release of his new album, Sus Dog, on which he sings "a bunch of love songs". But don't go on and cringe just yet – this is still the Clark we love [and now with some help from Thom Yorke]. Three singles are already out.
Julia Kent
Character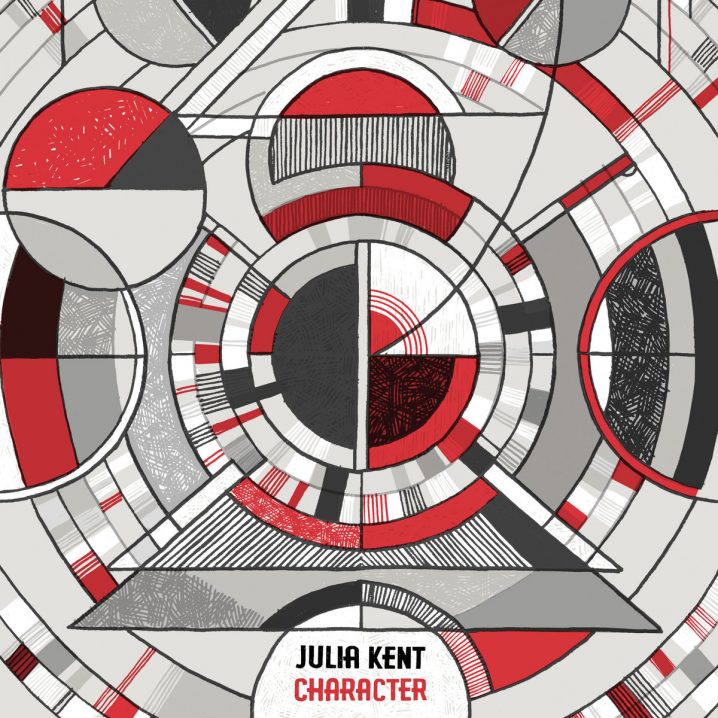 Julia Kent is a Canadian-born, NYC-based cellist who came on the scene in 2007 with her debut solo album, Delay, released on Shayo imprint. Four years later, she followed up with Green And Grey on Important Records. I first became familiar with Kent's sound when she performed at the Unsound Festival in New York in 2012. In 2013 Kent got picked up by the lovely Leaf Label, already home to many of my favourite artists.  Character is a retrospective album. Layered and looped cello strings are complemented by organic found sounds, minimal electronic percussion and occasional piano notes. The soundscape of the record is minor in the chord progression, major in cinematic undertones, and neutral in acceptance of things as they are. There is a certain meditative aspect to the music, which at times rejects its nature and picks up in pace, only to stop chasing, catching its breath, and subsiding again. The pieces become a soundtrack to our daily trepidation, perhaps in facing the fictitious story that we live. Recording alone in her studio, Kent was faced with a reflective narrative – a darkness audible in "Kingdom", a sadness on an "Only Child", a resolution and assertion on "Intent". The approach to looped recordings continues to reveal Kent's pleasure in recurring patterns. The subtle lapse becomes the core of repetition, embracing lovely accidents along the way. This, too, can be reflected in our lives. Sometimes mistakes are nothing more than predetermined outcomes, and expectations are the only rein.
2023 UPDATE: In the decade that followed Character, Kent released two more albums on Leaf: Asperities (2015) and Temporal (2018), both of which I've celebrated on my Best of the Year lists and a published Interview with Julia Kent. There was also a reclusive cassette release with Shinya Sugimoto and Jeremy Young titled Total Fiction (Phinery Tapes, 2017) and a collaborative work with Jean D.L. titled The Great Lake Swallows (Gizeh, 2018). In 2021, Kent scored a film by Jola Wieczorek about women in the Mediterranean titled Stories From the Sea, for which she won Best Music in a Documentary at Filmfestival Max Ophüls Preis. The score is available for streaming on her Bandcamp.
Aukai
Branches of Sun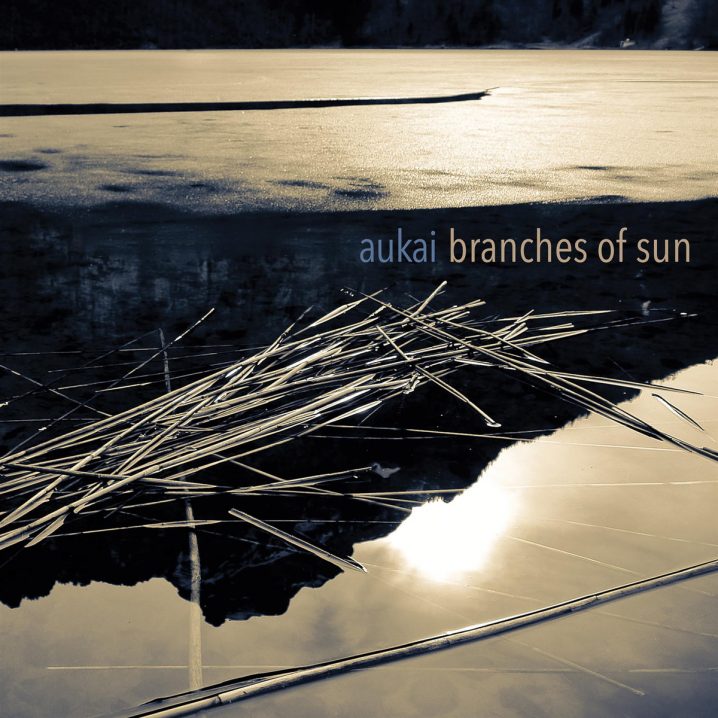 Among the excess of all the beautiful sounds, which seem to impregnate our ears in their constant satiation of overabundance, it's wonderful to be snapped back into reality with a surprising new album of gorgeous textures and stunning atmospheres, and this one landing on my studio desk without the help of a label to add! This is Markus Sieber's sophomore release, under his moniker Aukai, with the self-titled debut appearing back in 2016. This follow-up is described as "darker and more layered than the last one", and I'm more inclined to let it drown me in its sombre world. Sieber's cinematic soundscapes are based around his guitar, with the help of Anne Müller on the cello and a production aid of Martyn Heyne. The meditatively strummed ronroco (a Bolivian nylon-string relative of the charango from the lute family) is submerged in the soft-bowed ambience of the strings, synths, and piano. The shimmering daylight and shadowy melancholy of the album are framed by the titles of the tracks, such as "Turning Days", Distracted by Clouds", "Nightfall", and "Closed Eyes", with the story echoed by the surroundings in which it was composed – the album was recorded "in a small cabin high up in the mountains near the Old Spanish Trail in Colorado last winter, free of any outside human or technological influences." And when I close my eyes, I feel like I'm really there.
2023 UPDATE: I must pat myself on the back a little. I wasn't wrong about the beauty here. Since this release, Aukai went on to become an almost regular on Headphone Commute, with nearly every single one of his releases being picked as a favourite at the end of the year. You must check out Game Trails (2020) and Apricity (2022), which all are self-released by aukaimusic. I may believe to be the first to have discovered him [I doubt it], but Aukai went on to be lauded by many respected music outlets. Again, it's only been five years since this post, so I am sure that we will see much more from Aukai again. I'd say the next thing would be a full-featured film score with this music.