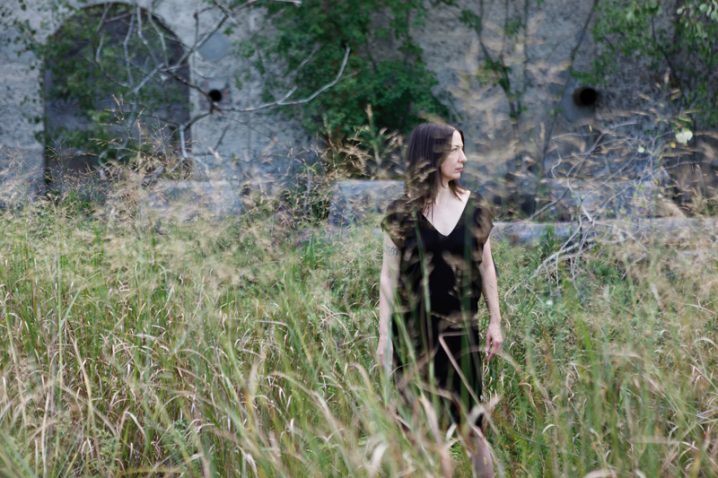 At this point, I am just trying to express the emotions I'm feeling, whether positive or negative, in whatever way I can
Congratulations Julia on the truly breathtaking and exceptionally beautiful new record, 'Asperities'. It's such a pleasure to speak with you again and ask you some questions about this latest chapter in your beautifully storied career thus far. Please take me back to the making of 'Asperities' and the time and place these songs came to life? It really feels that this collection of music echoes the darkness of our times and the world as a whole of late. But nevertheless, in the darkness a deep sense of hope and strive for a better life prevails. The new music I feel captures this emotional depth and really feels (as all your records do) a special and emotional experience for the listener. I also love the many meanings of the album-title which in many ways filters into the album's nine sonic creations.
Thank you so much! Indeed, 'Asperities' was made under the influence of the stresses that I think we're all feeling right now as humans: we seem to have lost empathy for one another as mutual inhabitants of this planet. And the title of course references the sense of harshness that echoes that sensation, as well as a sense of forces, whether tectonic or social, that are in conflict. But, as you say, there is still a sense of hope: there is still so much individual kindness that one encounters in life.
Please discuss the various stages of the album-making process: you recorded, produced and mixed the album in your own New York studio. This solitary process must really help shape the music that is eventually created. Also, I am very curious about the mindset and this concept of a musician's mind when it comes to the creating/composing of music, and your instance, these heart-rendering cello-based compositions steeped in such unfathomable beauty. How do you feel your approach (and indeed the work of your mind) has developed across your solo works and in turn which has led to the creation of the latest masterpiece?
The process of making 'Asperities' was actually fairly rapid, compared to my previous records. I've been playing some of the pieces live over the past year or so, so once I had some time in the studio, recording went quickly. And I tried to keep a sense of immediacy, and let the pieces go, rather than letting things percolate too long and getting stuck in an endless cycle of tweaking, as can sometimes happen when I'm working on my own. It's great to have the objectivity that having someone else mix can provide, but I decided to mix myself, though I was lucky enough to be able to ask Rafael Anton Irisarri to master: I love his music and his sensibility so much, so it was really amazing to have the opportunity to have him do the mastering. I do think this record represents an evolution in my solo work: I've definitely become more comfortable with the idea of harshness and noise and sounds that aren't inherently trying to be beautiful. At this point, I am just trying to express the emotions I'm feeling, whether positive or negative, in whatever way I can.
'The Leopard' is one of the record's most captivating moments, and serves the centrepiece to the record's Side A. In terms of the layering and meticulous crafting of the various sounds & textures, can you talk me through the construction of 'The Leopard'? Also, I love how these intricate layers forever feels as if it's one swarming ocean of sound (rather than many different isolated parts), something that has proved a great hallmark to your sonic creations. I love the reverb and heavy bass sounds that serve the pulse to this track, and creates a foreboding, menacing atmosphere whereas the counterpoint of strings forms a sea of sadness and pain. It's such a moving, transporting piece of music.
Thank you! It's so interesting that you would point to 'The Leopard', because it had a particularly interesting genesis. It began as something I developed playing live for a dance piece: a very dark and powerful piece dealing with bearing witness to war and the inevitable repetition of conflict. I called it 'The Leopard' because there was a visual reference to the animal in the piece, but then I started thinking about the Lampedusa book, which also references conflict and social change, and has such a strong and evocative atmosphere. We ended up not using the piece in the dance performance, but I kept developing it, and eventually it evolved into what you hear on the record. I hope it conveys a sense of foreboding: that's definitely what I feel when I play it. And I feel as though there is a tension within it between repetition and things that are trying to break free.
I am very curious to learn more about the electronic aspect of the music. Certain pieces like 'Terrain' contains sublime electronic textures that coalesce so effortlessly with the strings. What signals in you to incorporate more electronic-oriented sounds to be added to the cello-based compositions. A beautiful sense of motion and journey is inherent on tracks such as 'Terrain' and elsewhere dotted across 'Asperities'.
On this record, some of the pieces actually began first with electronics rather than cello, which I think made for a different point of departure, and created an interesting synthesis. And, in some cases, I was trying to see if I could erase the boundaries between the electronic and the organic textures, through processing and through blending the sounds.
The cello instrument is an extension of your own self and indeed your true voice, something that rings true when thinking of you and kindred spirits such as Caoimhín Ó Raghallaigh (fiddle), Lubomyr Melnyk (piano), Arthur Russell (cello) and so on. I also love how you bend the possibilities of the instrument to your own needs, for example a plethora of treatments to the cello is at work throughout 'Asperities'. Please discuss the cello instrument, your first discovery of this beloved instrument, and indeed the voyage you began with this instrument back with debut solo LP, 'Delay' and even much before? Being so fortunate to witness your live performance, it was very special to visualize your cello-based compositions unfold and emit its magical spell.
Oh, that is more than kind of you to mention me with Caoimhín and Lubomyr! They are great artists and I've been really fortunate to encounter both of them. And Arthur Russell is of course my hero: he really expanded the boundaries of the cello in such a personal way. The cello is, and always will be, my voice: it has such expressive possibilities. I've had a slightly troubled relationship to the instrument: I stopped playing for a couple of years after music school, because I was really disheartened by the whole process. But then I discovered another musical world, one that was freeing and creative, and I've been lucky enough to be able to continue on that path. The cello at this point feels really like an extension of myself.
You have been heavily involved with score work for dance and film in the last couple of years, Julia. I wonder how does the music-making process vary depending on the particular medium? I can imagine some of this score work must have filtered into the overall makeup of 'Asperities'?
Yes, definitely the work I've been doing with dance and theatre and film has influenced this record a lot. I've found the process of making music for dance and theatre particularly interesting, because, in certain cases, I'm creating music live in reaction to movement or text or image, and that can be so inspiring and so immediate. I especially like working with dance: there is a sort of nonverbal communication that can happen with dancers on the stage that is really powerful.
The immense power of instrumental music – and your music typifies this simple truth – is the expression of emotion without words. I would love for you to share your thoughts on this whole idea and the journey you feel that has unearthed as a result of your musical path? Have there been other musicians, artists and records you feel that have truly moved and inspired you and has helped shape your own musical landscape?
I do listen primarily to instrumental music – a lot of it electronic – and I find so much of it moving and inspiring. I think artists like Stars of the Lid or Kyle Bobby Dunn or William Basinski or Rafael Anton Irisarri or Markus Guettner are so conceptually and sonically powerful, and convey so much emotion in a relatively abstract way. And Oneohtrix Point Never and Tim Hecker and Haxan Cloak and Blanck Mass: it's really an endless list of amazing music. But I think my own musical landscape is a fairly personal one: I really feel as though I've found my own way over the years, as one does.
Lastly, Julia, the penultimate track 'Invitation To The Voyage' feels like a very important piece of music on the new record, somehow akin to the approaching sun-lit horizon, reflecting hope and redemption. Please talk me through the various stages of this song's inception and gradual development?
'Invitation to the Voyage' of course shares a title with the Baudelaire poem, but I also was thinking about the Watteau painting 'Embarkation for Cythera'. I'm not particularly a huge fan of Watteau, but I've always been slightly haunted by that painting: it's almost like a vanitas, with a sense of the ephemerality of life and of pleasure. You wonder if all those beautiful, frivolous people in fact made it back from Cythera? Or knew where they were heading in the first place? An invitation to a voyage conveys a sense of adventure and possibility, but there are some voyages from which one does not return. So I feel as though the piece is balanced between a sense of hope and a sense of elegiacness, and that it's bittersweet in the way life is.
As a p.s.: I wrote all of the above before the most recent awful events in Beirut and in Paris and in Syria and elsewhere and who knows what else will have happened before you read this?… I don't have any words other than: be kind and take care…
©
Interview by Mark Carry of fracturedair.com
Republished with permission