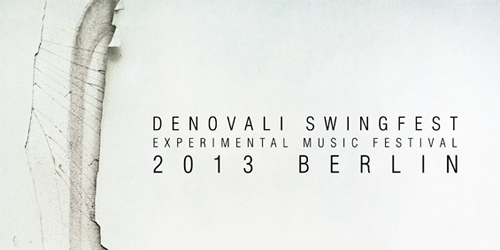 I arrive in Berlin in the morning. Stepping out into the brisk April air, the snow still covering untouched mounds of slow melting earth, it's hard to imagine that only seven hours ago I was still in New York. It's hard to believe that only twenty-four hours prior I was still working on my last drink at a lounge in Times Square, discussing music, movies, and cognac with Clint Mansell. Kicking off my four-day mini-[musical]-vacation abroad, I began my long weekend with Mansell's live performance at the Church of St. Paul the Apostle, where Peter Broderick made a surprise virtual appearance on the video screen, Emily Wells performed her upbeat piece from the Stoker soundtrack, and the Sonus Quartet played my favorite blood-chilling passage from Requiem For A Dream. This North American leg of my trip ended with an after-party at which Darren Aronofsky sipped mysterious cocktails, Praveen Sharma (one half of Sepalcure) spun Autechre on CDs, and Jean-Christophe Chamboredon told me the history of his Milan Records, which was launched in 1978 by his father, Emmanuel… and now, twenty-four hours later, I am walking the morning streets of Berlin.
For me, listening and writing about music is one thing, but to experience it live and meet the people behind these sounds is a whole other, which is exactly why I took the plunge and transported myself for a two-day experimental music festival organized by Denovali Records, with a few additional meetings scheduled during the day. It is these specific experiences which create the memories that make up who I am, and indeed define my constantly evolving joy of living with music. It is during these rare moments when I find myself lost in sound, and then becoming aware of my presence at Ben Frost's physical onslaught in Montreal, or Nils Frahm's piano lovemaking in Seattle, or William Basinski's slowly decaying loops in LA, and feel that I am truly here, and this is happening right now. With these thoughts on my mind and slight anxiety for the upcoming events, I recall my past mistakes of festival over-exhaustion and musical fatigue, and decide to retire to my hotel for a long four-hour jet lagged nap.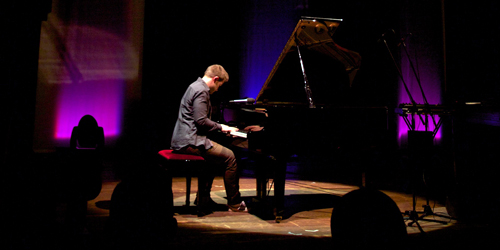 Carlos Cipa (Photography © Giorgos Giannoutsos)
I wake up at three in the afternoon. With the six-hour time difference between New York and Berlin, I felt like I've caught up on the missing sleep, and with the first show starting at seven, I hit the streets in search of breakfast. After a cup of hot coffee and warm apfelstrudel, I set off to explore the streets to find a record store or two. Berlin is a fascinating city, with an eclectic array of architecture, upscale shops, multicultural restaurants and many galleries and museums. Everyone is extremely pleasant and polite (almost to the point of mild irritation), and I felt that I was the only impatient pedestrian crossing the streets on all the red lights. The city is swarming with fully stocked book shops, happily unleashed dogs, beer drinking sports fans, and many artists and musicians. After visiting Rotation Boutique, which stocks design clothing next to quality techno on vinyl, I make my way over to Radialsystem V, an 1881 industrial pumping station converted into a performance and art venue in 2006, where I meet Timo Alterauge and Thomas Hack of Denovali Records.
For the opening act, Carlos Cipa takes the stage, and without any [unnecessary] ceremonial proceedings the festival begins with his performance. Cipa is only twenty-two years old, but his poise and grace behind the piano suggest a much older soul. Having studied classical piano for ten years, Cipa became influenced by Eric Satie and Claude Debussy, and recently performed alongside acts like Murcof, Blueneck, A Winged Victory For The Sullen and even Moritz von Oswald Trio. Cipa's compositions are undeniably rooted in classical music, with intricate progressions, fluttering trill melodies and romantic-period harmony. There's nothing abstract, atonal or minimal about the gorgeous musicality of his works. Cipa's debut full-length on Denovali, titled The Monarch and the Viceroy, is accessible to fans of modern and contemporary classical music alike, and with his notes I slowly begin to melt into my chair after a very long first day.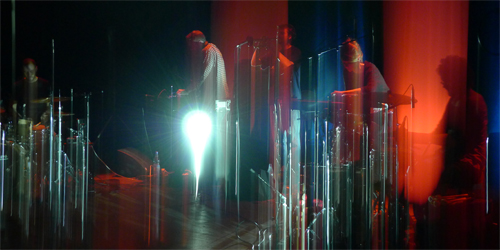 Hidden Orchestra (Photography © Julia Illmer)
For the second performance, the lights dim to a near darkness. Thomas Bücker gets behind the laptop and begins to paint cinematic landscapes on my mind. I've been dreaming about seeing Bersarin Quartett live ever since I heard his recorded performance at Moscow's Dom (you should be able to download the recording for free from Denovali Mailorder). For the continuous hour-long show, Bücker is joined by Benjamin Kövener on the drums who perfectly executes intricate rhythms and beats [Kövener also produces under the moniker Exchampion]. Although part of me wanted this session to be complimented with some picturesque visuals, the other part was thankful to the total darkness in which my imagination ran free – I don't ever want to have a permanent thematic association with any of my favorite albums. Be sure to read Interview with Bersarin Quartett and my review of II. This was definitely one of my favorite performances of the festival!

After a brief break, during which I was able to grab some beer, coffee and even more beer (in that order), the show continued with a performance by Hidden Orchestra. Led by Joe Acheson, the band featured not one, but two drummers – Tim Lane and Jamie Graham – ripping through some James Bond sounding upbeat rhythms and chilled out downtempo jazzy grooves. Besides the above three musicians, the band included Phil Cardwell on the muted trumpet and Poppy Ackroyd, who performed behind the keyboard and electric violin with her elegant gestures. For a while I was transported to the late 70s, with smoke machine smells and psychedelic visions. It was a bit difficult witnessing this music sitting down, as I wanted to get up and dance to the beat [something one of the audience members decided to finally do]. I highly recommend you check out the two full length albums by Hidden Orchestra: Night Walks (2010) and Archipelago (2012) both released on Tru Thoughts and Denovali.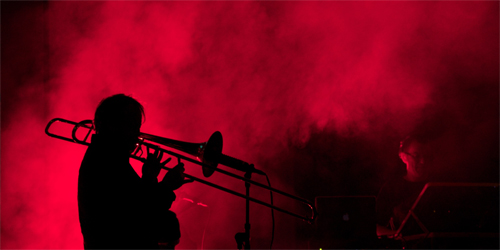 TKDE (Photography © Giorgos Giannoutsos)
For the final showcase of the night, The Kilimanjaro Darkjazz Ensemble took the stage. I've been a fan of this doom jazz collective for many years now, but even I was not prepared for their live show, which was gloomy, nebulous and dark. This was an almost beatless performance [in fact, I thought the band should have included a live drummer], full of windy swooshes, spooky wails and otherworldly cries. Behind the ensemble, the screen projected the visuals in abstract color gels, reminding me of someone else's nightmare. I started to drift into my own reverie, the jet lag and a long day finally catching up. At midnight my first day in Berlin was coming to an end, and I still have not had a chance to grab dinner. With this thought I decided to call it quits, but you can still check out Interview with The Kilimanjaro Darkjazz Ensemble and Headphone Commute reviews of Mutations EP and Egor recorded under the band's "live improv alter ego", The Mount Fuji Doomjazz Corporation.