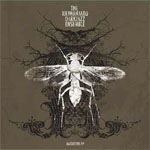 Coming in with slow jazzy percussion, deep rumbling bass, and all acoustic instrumentation, The Kilimanjaro Darkjazz Ensemble enters from the shadows of ghostly vocals and crackling dust. Violins, trombones, and jazz trumpets howl and growl, along digitally effected beats and bit-crushed atmospheres of decay. Darker than future jazz, yet lighter than doom jazz, the purveyors of sound composed of both digital and electro acoustic, are no strangers to the scene. The seven member ensemble includes Jason Köhnen, who has already added his trademark sound to our collections with numerous releases as Bong-Ra on Planet Mu, Ad Noiseam, and Sublight Records. Plus, the entire troup has already put out their live improv recordings as The Mount Fuji Doomjazz Corporation with two full length albums, Doomjazz Future Corpses! (Ad Noiseam, 2007) and the recently released Succubus (Ad Noiseam, 2009). A few words from the label's site:
A bridge between their first album on Planet Mu and the forthcoming second one on Ad Noiseam, the "Mutations EP" is The Kilimanjaro Darkjazz Ensemble's coming of age. Profound and organic but dark and impressive, it is a perfect rendition of the ensemble's live shows and the proof that there is still something fresh to be done at the meeting point of post-rock, jazz and drones. A deeply emotional and original trip.
At only 40 minutes long, the eight-track EP is a profoundly mature collection of abstract and experimental jazz riffs that get the heart pumping with anticipation of buildups that break into cinematic soundscapes of beauty. Like an abandoned farmer's house in a post-war eastern european silent film, the evoked environment of sounds is a little eerie and at the same time melancholic. I'm especially impressed with the jazz drumming by Gideon Kiers that lightly gets processed through FX. The above mentioned Jason Köhnen strums the fretless and the double bass, while the beautiful Nina Hitz works the cello.
This is a serious record worth being promoted to an LP. With Succubus just hitting the streets in June 2009, the upcoming Here Be Dragons album is currently being mastered, and is due to be released sometime in September 2009. I'm glad that the ensemble's live performances could be rendered on a recording for a headphone experience – I only wish that I could catch them live next time they're in town. Don't forget to grab that Succubus! Recommended if you like Jacaszek, Blackfilm, Deaf Center, Triosk, Bersarin Quartett, Skalpel, and Kashiwa Daisuke. Other noir-jazz and experimental jazz groups to check out: Bohren & der Club of Gore, Kammerflimmer Kollektief, Dale Cooper Quartet & The Dictaphones, and Contemporary Noise Quintet.
myspace.com/tkde | tkde.net
myspace.com/adnoiseam | adnoiseam.net