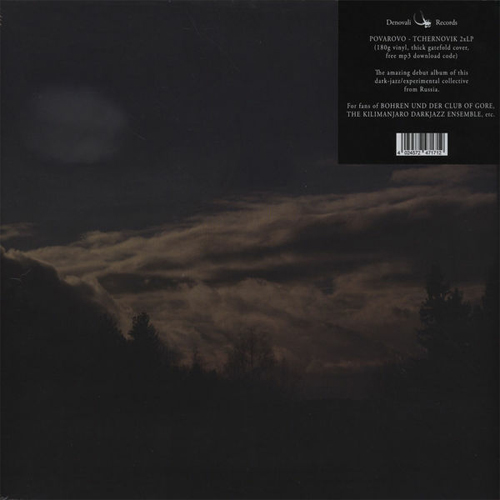 Denovali continues to impress. Many of the releases seem to simply tell the label's story through the roster of artists – from melancholy Birds Of Passage and Brother Sun, Sister Moon; to ambient electronica of Hidden Orchestra, Field Rotation and Bersarin Quartett; to post-rock shoegaze of Thisquietarmy, Blueneck, and The Pirate Ship Quintet; and of course the jazzy doom of The Kilimanjaro Darkjazz Ensemble and their alter ego The Mount Fuji Doomjazz Corporation. But it is especially with new and previously unheard acts that my ears prick up, trust in the curation of the catalog to the founders, and immediately fall in love with the selection. Such is the case with seemingly anonymous Russian group, Povarovo, and their debut release, Tchernovik.
[gigya src="http://denovali.com/shop/player.swf?playlist_url=http://denovali.com/povarovo/album.xspf&embed_type=widget_standard" embed_type="widget_standard" wmode="transparent" allowfullscreen="true" width="300″ height="80″]
The album credits all of the programming, double bass, cello, bass and voice to 8449494, while keyboards and guitar are played by 2o1; saxophone, clarinet and trumpet by Fish (attributes as a '<><'  sign); and voice by jkt. The group's site depicts an image of a Russian town by the same name, covered in snow. And the label's site doesn't offer much insight into the story of this collective. At least we know that all the instrumentation on the album is 'real'. Even though that is mostly all of the information that we can gather, and the mystery of the release continuous to shroud its covers, it is the music that tells the story all on its own. And that's the only thing that matters.
"charms with it's deformity
enslaves with it's weakness
being witnesses of it's birth by a chance
we are just a conditional support on it's way
from a light and cloudy bloom to a dark and sad wilting
this way seems to be infinitely long but in fact it's just a small and flickering dot in a nonexistence"
– Taken from 'About' section on Povarovo's page 
Moving at the pace of a gentle giant, the slow jazzy rhythms of Tchernovik lumber and waddle along the roads of wintery village, pulling a heavy load tied to a sled. With influences from the above mentioned The Kilimanjaro Darkjazz Ensemble, Bohren & Der Club of Gore and without a doubt, Kammerflimmer Kollektief, Povarovo inevitably falls into that doom / drone / noir jazz genre dominated by even heavier hitters, such as Earth, Sunn O))), and Nadja. Yet somehow, throughout the album, the group maintains a little balance, emotional lightness, and even grace to the jazzy arrangements, sprinkling elements of neo-classical composition, uplifting progression, and that undeniable Russian romanticism. After all, this lyrical music comes from the land of Pushkin.
Tchernovik is a very first release from Povarovo, and as such promises to lay the groundwork for this amazing debut. Originally self-published in 2007, the album gets picked up by Denovali in 2012 and introduced to the rest of the world through its wide and deeply penetrating reach. This is precisely the kind of 'service' that label performs best for the artist. This is exactly why getting signed on an established entity is so important. Meanwhile, before the debut publication on Denovali, Povarovo released a self-titled followup, which got picked up by a Russian dark-ambient and experimental label, Aquarellist. So be sure to dig through those archives as well.