Release Notes
Label: Denovali
Release: An Excellent Spiritual Serviceman
Date: March 3rd, 2023
It's time that I check in with Denovali once again. This independent German label really knows how to curate its releases that span a variety of genres, ranging from ambient to experimental, drone to jazz, and contemporary classical. Regardless of the style, the quality of the output is always top-notch, and since 2006, I've managed to highlight many of their albums. Whether it's Blueneck, Dictaphone, Subheim, Hidden Orchestra, Bersarin Quartett or the beloved The Kilimanjaro Darkjazz Ensemble [and too many others to name!], somehow Denovali just seems to hit all the right notes. If for some reason, you are new to this imprint, I highly recommend you spend a lot of time digging through the catalogue, and please, don't forget the earlier releases! So when I get a promo from this label, I always take my time to listen through. [Note to artists and composers: whether you love it or hate it – this is the value that a "label" can really add to your music – in this case, they literally put their stamp of approval on the release, and that alone is worth my attention.] Contemporary Noise Ensemble is new to my ears, but from the first track, I am instantly mesmerized by their fresh and upbeat take on funky jazz that falls somewhere between Ninja Tune's earlier Skalpel, Jaga Jazzist, Xploding Plastix, and even a bit of Propellerheads. If those artist names mean anything to you, then you know what you're in for with An Excellent Spiritual Serviceman. And now, the track premiere!
As mentioned above, the project is new to me, but as I dig deeper, I find out that one of the members is none other than Jakub Kapsa, who appeared on these pages under his Kuba Kapsa moniker a few years ago with Supersonic Moth. Here, a previously extended arrangement of brass instruments is replaced with sprawling synths and electric bass. Meanwhile, Bartosz Kapsa [and, you've guessed it, they are brothers!] is absolutely killing it on the jazzy drums! Reduced from the sextet to a duo, the newly formed ensemble delivers a cohesive, fun and powerful shot in the arm of the elemental funk through the fusion of instruments and genres. And it gets my head bopping here!
The album takes you on a journey through jazz, space rock, funk and electronic music with a destination in the form of a rock song which is as well the title song of the album. The Contemporary Noise Ensemble still impresses with maturity and class.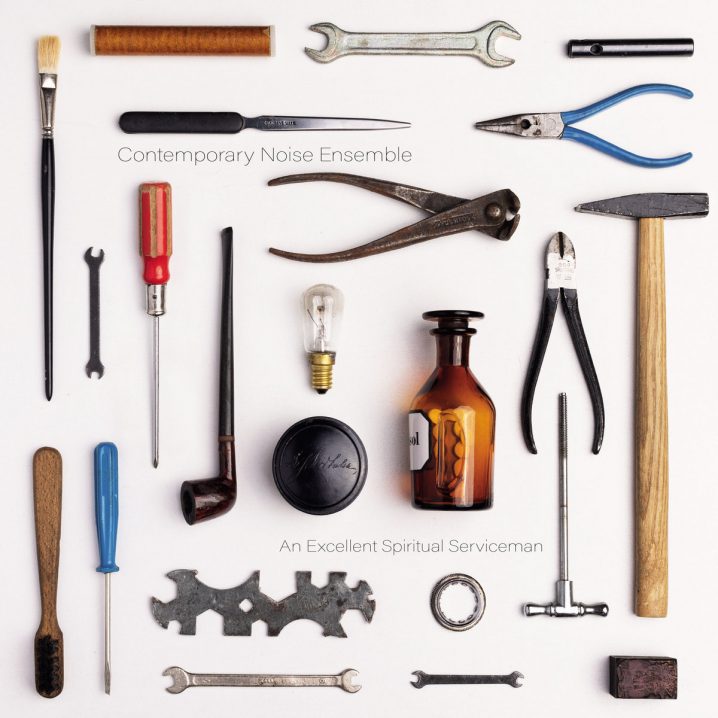 Once again, the album is out tomorrow, March 3rd 2023, via Denovali, available as a digital release, as well as on a CD or black and clear editions of 2×12 vinyl.