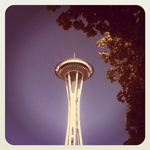 My second day at Seattle's Decibel festival began with a leisurely stroll down a sunny 5th Avenue, towards the Space Needle. I had to get some of the tourist attractions out of the way, and was actually heading for the Experience Music Project (EMP). At the museum, I spent some time checking out the famous Guitar Gallery, as well as the special exhibitions on Jimi Hendrix, and of course, Seattle's own Nirvana. The portable iPod rental as an audio guide was a very nice touch – I actually got to hear some of the great guitars behind the glass, like the flamenco, the lap steel, and the original Gibson.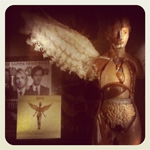 I skipped the Battlestar Galactica and Avatar exhibitions (don't hate me) and started a long slow climb up the hill towards FRED Wildlife Refuge, where the presenters held panels on dealing with publicity and press, legal and licensing issues, as well as social networking and special marketing techniques. I stayed for Christopher Willits' Max for Live Workshop, and then walked up and down Pike Street, where I stumbled upon Zion's Gate record shop, stocked with rare vinyl and out of print CDs. With the recommendation from the store's proprietor, Steven, I finally broke down and picked up Scientist's Scientific Dub (Clock Tower, 1981) and upgraded my digital copy of Clubroot's II – MMX (Lo Dubs, 2010) to a limited edition CD.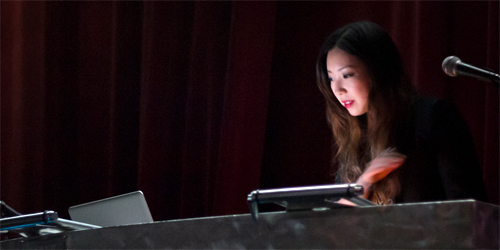 Tokimonsta (Photography by Olyheather)
By 8pm, I comfortably settled into a seat on a balcony at the Paramount Theatre, and promptly fell asleep for half an hour (if you can tell, I did a lot of walking). I woke up with Brainfeeder's Tokimonsta just taking the stage, playing a set of experimental hip-hop, dubstep and glitch. The venue was not originally designed for such low frequencies, and the sound was often overwhelmed by the large concert hall's reverb. I believe the bill listed Jennifer Lee as a live performance, but I could swear I heard some James Blake samples and Dr. Dre beats in there. The crowd could not settle in, and the usher did his best to direct the audience, dazed and confused with the aroma of ganja, most likely alien to the theater's past events. He couldn't possibly comprehend why the people kept standing, talking and walking, and generally refusing to accept the rules designed by the aristocrats of the ancient times.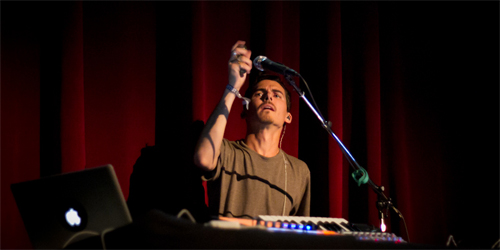 Eskmo (Photography by Olyheather)
Sadly, Will Wiesenfeld (aka Baths) fell ill and could not make it to Decibel for his performance. I spoke with the promoter and he conveyed the major disappointment and true sadness that Wiesenfeld experienced from this unfortunate setback. Luckily for the paid attendants of this absolutely sold out show, ESKMO took the place, who couldn't have been a better opener for Tobin (besides Baths, of course, with all due respect). With the release of ESKMO's self titled album on Ninja Tune in 2010, Brendan Angelides and Amon Tobin officially became label mates. They even collaborated on an ESKAMON project together, see Fine Objects release on Angelides' own Ancestor Media imprint in 2010. On the stage, Brendan twisted, struck and sang, adding his own vocoded vocals to the delays of ripped paper, clanks of opened soda cans, and various eclectic percussion. The empty space of the theater was filled with raw, thick, and dense vibrations of ESKMO's powerful sound, building up the anticipation for the main event. [See Headphone Commute's review of ESKMO and our Interview with ESKMO]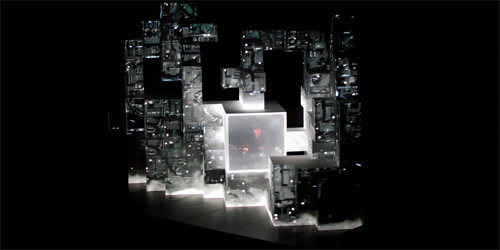 Amon Tobin (Photography by Olyheather)
Before the curtains officially revealed the hidden set, Decibel's founder, curator and president, Sean Horton, took the stage and riled up the crowd for the US debut of Amon Tobin's ISAM Live – a visionary spectacle that has recently received high praise from its debut at Montreal's MUTEK festival earlier this year. And Amon Tobin delivered. A three dimensional sculpture, housing Tobin inside one of the cubes, used projectional mapping with perfectly synced visual effects to the stuttering onslaught of Tobin's experimental glitching sound. A truly unique visual experience, this multidimensional installation seemed to shape-shift, rotate, and slam into each other, to the rhythm of the music, as if Amon was controlling an abstract transformer, buzzing with electricity, industrial textures, and rising vapor. Describing this spectacle with words defies even my vocabulary and imagination – it's suffice to say that adjectives like "breathtaking" and "revolutionary" understate this once in a lifetime event. [See Headphone Commute's in-depth review of ISAM]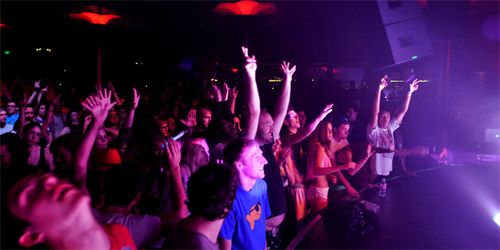 Crowd… (Photography by Chris Van Wick)
By midnight I felt a sensory overload, fatigue and drain. Before the show ended and the enormous crowd spilled outside, I ran out, grabbed a cab and directed it over to Neumos, where I managed to catch the end of Qantic's DJ set. And I'm glad I did – the crowd smiled and danced to the sexy latin beats juxtaposed with heavy bass and jump-up rhythms. Will Holland seamlessly merged funk, jazz, reggae and cumbia into one roaring sweaty party. I popped a Red Bull (ding!), found a spot near the door with a cool breeze, and joined in the fun. For a taste of these carnival trip-hop broken beats, be sure to check out Quantic's numerous releases on Tru Thoughts – especially Apricot Morning (2002) and Mishaps Happening (2004). Highly recommended!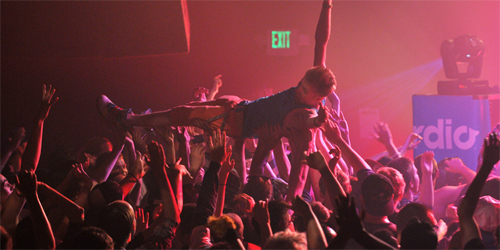 Crowd… (Photography by Chris Van Wick)
When Opiuo took the stage, the crowd was primed for his happy glitch-hop beats, and immediately fell into the groove of his bass-heavy, slightly elastic and mostly spastic sound. I've been playing Opiuo's Slurp and Giggle (Addictech, 2010), non-stop prior to the festival, and it was a pleasure to finally hear his tight production on a large sound system. I'm sure the crowd would agree. The night finally came to a climax when Simon Green took the stage and dropped his famous Bonobo beats! Even though it was mostly a DJ set, Green incorporated plenty of my favorite Bonobo's tracks from Days to Come (Ninja Tune, 2006) and Black Sands (Ninja Tune, 2010), keeping me dancing late into the night, until my legs fell like jello, and my head like a brick. By two in the morning I was ready to collapse, hoping to save some of the energy for the next three days. My only Thursday night regrets included missing Ladytron, Bok Bok, and Holy Fuck.
Read more on Decibel