If you haven't heard me rave about MUTEK yet, well, now is the time. I am absolutely excited to be attending this year's 11th edition festival, taking place in Montreal, Canada in less then a week – on June 2nd through 6th. I am also deeply honored to announce that I will be covering the festival as the member of the press, and will return not only with many memories, but also hours of interviews with some of my favorite artists. The ones that I am really looking forward to hearing and meeting in person include Ben Frost, DJ Koze, King Midas Sound, Marsen Jules, Minilogue, Moritz Von Oswald Trio, Mouse on Mars, Nathan Fake, Overcast Sound, Shed, The Caretaker, Tim Hecker, and Vladislav Delay among the many others! Check out the entire List of Artists scheduled to perform! I am also looking forward to being introduced to much of Canada's new talent, and hope to uncover a few gems to share with you when I return.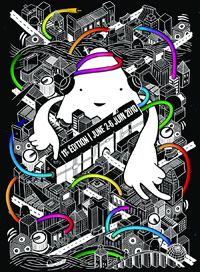 Since its creation in 2000, MUTEK, a non-profit organization, has been curating the annual summer festival to promote the development, evolution, and creativity in electronic music. In 2009 MUTEK saw over 20,000 people in attendance, and hosted many world renowned musicians, such as Plastikman, Gas, Carl Craig, Murcof, Pole, Apparat, Modeselektor, Gui Boratto, Jamie Lidell and Ricardo Villalobos. The success of the festival has brought much attention to the city, and the organization has been awarded the Grand Prix du Tourisme Du Quebec in the "Festivals and Touristic Events" of 2009.
I've had the privilege to interview Alain Mongeau, the founder and artistic director of the festival. In it, Monegau reveals that MUTEK is a morphing of two words: MUsic and TEKnology, with a notion of MUTATION to blend the two. It's not all about electronic music at the festival – there is a large connection to visual and technological arts as showcased in the A/VISION series. Another series, EXTRA MUROS, will showcase a number of outdoor installations and interactive performances, using Montreal as an urban canvas for the artists. MUTEK's DIGI SECTION, will include workshops, panels, and presentations covering Physicality of Sound (with Ben Frost and Tim Hecker!), intimate interviews (The Caretaker and Mouse on Mars!), and Ableton Live workshops.
This year, MUTEK features over 50 Canadian and International acts, hoping to "raise the standards of the five-day showcase by striking an equilibrium among [its] many historical strengths". I am once again, extremely excited and honored to set forth on this adventure in just a few days, to make many memories with some old buddies and newly found friends!
Be sure to read my Interview with Alain Mongeau