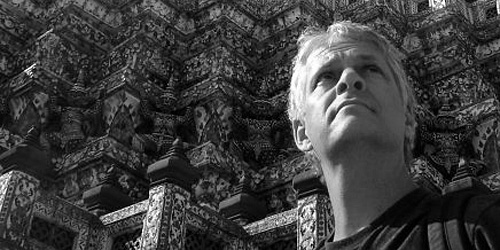 Alain Mongeau is the founder and artistic director of MUTEK, the International Festival of Digital Creativity and Electronic Music of Montreal, Canada. I've had the privilege of interviewing Alain prior to the MUTEK's 11th edition, taking place on June 2-6 of 2010.
Tell us about your involvement with MUTEK. Were you there since the very beginning?
Yes, I masterminded the festival and have been involved since the first edition, in 2000. I first drafted the project in 1997, so it took a few years before I could actually find a way to make it happen
Where does the name MUTEK come from?
Well, there's the connection between MUsic and TEKnology… but also the underlying notion of MUTATIONS that drives it, the festival's mission being to track the mutations of an art form where music, sound and new technologies meet… the subtitle of the festival for its many first years used to be that: MUTEK – Music, Sound and New Technologies
Do you recall the very first year? What were some of the challenges in pulling off the festival and how has MUTEK evolved in over a decade?
Well, the festival was born out of a new cultural complex back then, called Ex-Centris, which was to be dedicated to film, new media, digital culture… it was pre September 11, a lot of optimism and a certain sense of naiveté in the air… Personally I think I more or less knew what I was doing with MUTEK, but nobody around could really grasp the whole thing. The first edition was a critical success more than anything else, generating a strong response internationally, to a point that everyone around was really surprised… like they woke up one day realizing that there was something there.
The first edition was entirely funded by Ex-Centris, so in a sense it was an easy thing. The real challenge started right after that, with trying to secure outside support. 10 years later it's still very much one of our main challenges, like a day-to-day thing. We really had to start at the bottom of the ladder, and build a foundation step by step. Ex-Centris has been a great help during the first 5 years, but it gradually withdrew from the project, the complex's self imposed mission back then being to jump-start initiatives, not to sustain them on a long term
The festival grew really quickly over the first 5 years, between 2000 and 2004, its attendance growing 5-folds in that period, reaching a certain level that didn't change until last year, for the 10th anniversary, where we witnessed a 70% increase in attendance, crossing the 20,000 line.
I think that in all those years the festival remained true to its original nature, as if all the ingredients were already present in the first edition and only needed to be nurtured in order to allow them to grow. I think there's still the same balance between experimental and more accessible projects, between new/emerging and more established artists, between local/national and international content, between music and digital art, etc… To a certain extent it still operates as a niche festival, attracting audiences from all over the continent and beyond to Montreal… Last year 56% of the audience came from outside of Montreal… proving that, just as when we started in 2000, a festival like that could only hope to be successful if it caters to a more global and dispersed audience, making sure that people converge to the festival on a yearly base.
How do you think MUTEK's non-profit status affects the focus of the festival?
The fact that public funding supports the festival certainly affects the focus of the festival. I think that in a sense, you're encouraged to take more risks content wise… Actually it depends where the money comes from. On one side we receive support from different arts council that encourage risk taking in terms of content. On the other hand we also receive support for our effort in tourism, so there it's our performance in terms of attractiveness that is encouraged… We have to find a balance between these different forces.
What is obvious however is that still after 10 years, we're not big enough to attract any significant support from the private sector. So even if we wanted, I'm not sure we could become more commercial, present bigger and more mainstream headliners, etc… It seems like 2 different sets of logic, that more or less exclude each others.
Tell us about a group of people who are involved in creating an event on this scale.
We're a very small team of maybe 3 or 4 people during 60% of the year, and then when production starts we could grow to a team of 75 people on board + another 75 volunteers, and year after year we also host a good number of interns. So it's a pretty radical operation, to constantly recruit and form new people, constantly adapting and reinventing the wheel. We're lucky because most people love their working experience at MUTEK, and when possible some return.
What effect has Mutek had on the Canadian electronic music scene?
Hum, another good one… In a sense over the years MUTEK has become an act of resistance, a stronghold for electronic music to maintain a presence in Canada. It's hard to evaluate its impact precisely but if you take the festival out of the equation I think it leaves a huge gap. Over time its function has changed, of course. For instance I think that during our first 5 years of operation MUTEK made Montreal a point of convergence for many artists from all over the country, thus creating an interesting critical mass in the city. At the same time the rest of continent's interest in the scene seemed to decrease, and the American isolationism during the Bush years made it more and more gloomy for the artists to hope make a living in North America. So after a while we slowly witnessed a migration towards Europe, to the point that to a certain extent, the scene collapsed also in Montreal the same way it did a bit everywhere on the continent. The festival's challenge is double now, on the one hand it needs to pay more attention to the next generation of producers, to re-root itself adapting to a constantly shifting reality. On the other hand, it needs to reassert its leadership in the city and in the country, and even on a continental level, working towards making things attractive enough for our migrated artists to return home.
How do you go about selecting the performing artists?
It's a complex process… so many layers of elements to take into consideration. We're constantly scanning the planet for things we might find relevant. And we have a call for proposals also, so we get tons of material submitted to us. We scan through everything and try to create a program that, over 5 days, will surf between different types and levels of experience. We try to maintain a balance between local, national and international artists, between newcomers and more established names, between music and audiovisual performances, between experimental and more festive elements, etc… But I think there's one common thread in anything that is programmed, which is that we seek artists that have a vision, that aim to push the envelope as opposed to being formulaic.
Are there any particular artists that have used MUTEK as a platform to launch their careers?
I'd say that most of the Montreal artists have benefited from the festival to a certain degree… especially in terms of international exposure… Akufen, Deadbeat, Guillaume Coutu Dumont, Stephen Beaupré, Ernesto Ferreyra, The Mole, Mossa, Tim Hecker, Artificiel, Skoltz_Kolgen, etc… Not that they wouldn't have made it on their own, but the festival certainly helped speed up certain aspects of the process
How many people do you expect to attend the 11th edition, and how will you cope with the growing numbers?
Our aim is to match last year's anniversary edition in terms of scope and attendance, which is an honest target since last year we witnessed a 70% increase in comparison to 2008. So for the regular program I guess that would mean a cumulative audience of about 20,000. And that excludes what numbers we might reach with our first free outdoor concert at the Place des Festivals, downtown Montreal, with Senor Coconut and his Orchestra.
What is the relationship between the auditory and visual performances at the festival?
Well, some programs focus specifically on performances that explore the relationship between sound and visuals. Most of the elements of the A/Visions series, and some of the Experience and the Ectoplasmes3 series also. Then, we specifically equip all venues with a pretty elaborated technical set up that will host visual elements in order to enhance the notion of an immersive experience, the idea being that the public is surrounded by media.
What are some of the new things you are trying out this year?
Our first free outdoors concert at the Place des Festivals… quite a big test for us. After a 3-year hiatus, we're also bringing back the "happy hour" series, called "Experience" this year. It's basically a national showcase for new artists or for artists with new projects.
Tell us about the venues selected for this year.
It's the same configuration as last year. The festival's HQ will be at the Monument-National, and we're using the Society for Arts and Technology across the street, and the Metropolis 3 blocks away, for the more nocturnal elements of the program. Plus our weekend outdoor concerts organized jointly with Piknic Electronic at the Jean-Drapeau Park.
Tell us about one of the most memorable experiences from the past years.
Well, the 10th anniversary as a whole was quite something. It forced us to look back at 10 years of trajectory, measuring what had been accomplished. So many people converged to the festival, artists, friends, festival die-hards… all in all the whole festival was just a back-to-back alignment of highly emotional moments. It was like living history in a sense. A feeling that was formally underline when, in March 2010, MUTEK was granted the 25th Grand Prix of the Montreal arts council. That prize is the highest distinction a cultural organization can dream of receiving in Montreal… So although the last 10 years have been a lot of work, at times with extremely rough patches, we resurface after a decade with our heads high, more and more recognized as a major contributor to our city and our scene, and that's a good feeling.
See also Headphone Commute's preview of MUTEK 2010