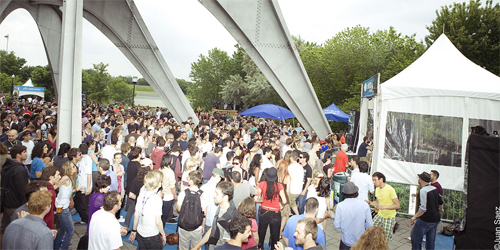 Piknic. Photo by Juan Saez courtesy of MUTEK on flickr
My morning started off with a Brunch for Professionals put together by the MUTEK crew. Big thanks for that – I've got to chat and meet up with some journalists, folks from Serato, and Ableton. It started raining in the early afternoon, and instead of taking the boat to the first Piknic at Jean-Drapeau Park, I walked back to the Monument-National. I missed the outdoor performance by Krill.Minima, Minilogue, DJ Koze and Paul Kalkbrenner, but I think you'll forgive me, because instead I was interviewing Tim Hecker, Ben Frost, and Carl Michael von Hausswolff after their sound check at the SAT.
So let's get right to the final A/Visions showcase, subtitled Live Wires. At first I was surprised that the venue for this installment got moved from the comfortable theater setting of the Monument-National to the concrete standing-room-only club of the SAT. But during the performance, I realized that the volume levels achieved by the SAT sound system were far superior to those of the vast reverberation hall of the theater. The room was packed, and getting to the front by the stage meant avoiding a few angry stares and using my "media" credentials for a sneak peek of a photo opportunity. Later on, I settled comfortably at the back of the venue, where the sound was just as dense, enjoying every frequency penetrating my flesh.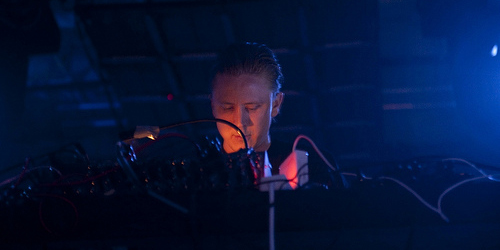 Vladislav Delay at SAT. Photo by Caroline Hayeur, courtesy of MUTEK on flickr.
Sasu Ripatti, who earlier performed at the museum as Uusitalo, unleashed his glitchy percussion set as Vladislav Delay. Rhythmic pulses erupted in the cacophony of sound and blasted through the crowd, as I stood behind the house sound engineer's mixing board and watched the spikes on his frequency spectrum analyzer. I caught a glimpse of this auditory canvas once again, when Carl Michael von Hausswolff took the stage, but within a few minutes of his set I had to escape outside. I've got to be honest – I love sine waves, but I love my ears just a tad bit more. If it wasn't for my good friend's latest tinnitus ailment, I would have probably stayed through his performance.
But even outside I could feel the power. The low frequencies penetrated the concrete walls, and vibrated the windows, asphalt and even the trees. I wonder if any insects or rodents survived this sonic warfare. The security guards kept taking outdoor breaks, sticking their fingers into their ears and moving their jaws. Rafael Anton Irisarri ran over to the street and placed his hands on a nearby parked car. Even its body was vibrating, he reported, and I wondered if it was possible to set off the alarms this way.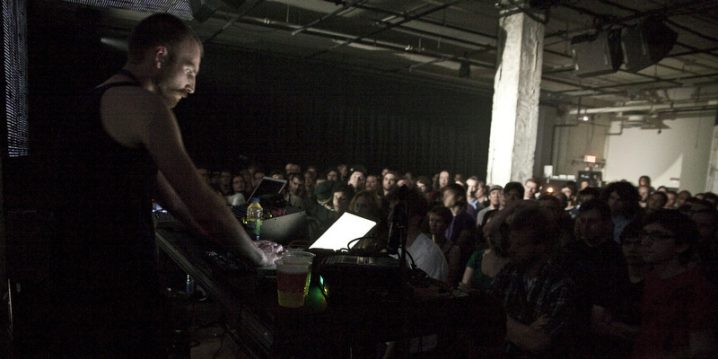 Ben Frost at SAT. Photo by Valerian Mazataud courtesy of MUTEK on flickr.
Tim Hecker's set was more serene, but still at incredible decibel levels. This was an altogether different performance from his album work, which I'm used to absorbing in a calm environment. Once again, it was a  unique experience, unlike anything possible in a studio setting. The sound traveled through the tightly packed crowd, cement walls, and water drenched air outside. His set ended just in time for Ben Frost, who, in my opinion, is the master of decibel levels and the balance between noise and music. Frost did not disappoint. Humans inched even closer to the stage, like the moths sucked into a fire. This was an amazing performance, and I think that experiencing it in a church would be the only thing to top it off.
Towards the end of Frost's set, I literally ran over to Place des Festivals to catch a free outdoor show by Señor Coconut and His Orchestra. Uwe Schmidt got the whole crowd dancing on the street and I really wish I could have stayed a bit longer (perhaps this show should have been on Sunday?), but instead I had to turn around and run back again to the SAT, where Tim Hecker and Ben Frost played together, for a once in a life time performance! After a few hours of wide spectrum of frequencies bombarding my ears at extremely loud levels, I became fatigued, and had to escape to my hotel room for a little break. Unfortunately, by the time midnight came around, I couldn't bring myself to get out for one of the largest night party of the festival. I was exhausted and collapsed, regrettably missing out on Move D, Henrik Schwarz, Dixon and Attentat, among many others, playing at Metropolis and Savoy until 6 in the morning. Sorry, I'm lame.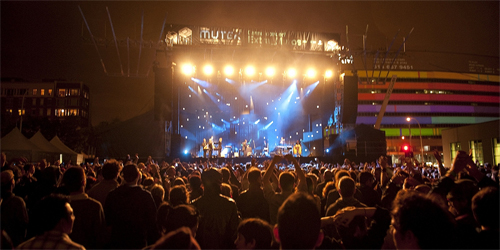 "Around the world", Señor Coconut and His Orchestra at Place des Festivals.
Photo by Caroline Hayeur, courtesy of MUTEK on flickr.
At his point in my review, I might as well cover Sunday, since it was pretty much uneventful for me. The entire day was cold, rainy and bleak, and I spent running around for a few more interviews, becoming even more tired and wet. Piknic 2 got moved inside the Metropolis, but in the afternoon the night club was empty and kind of sad. I really wish I could have enjoyed the lineup outdoors, but one can only blame capricious nature for not falling inline with the plan. As if these circumstances weren't enough to ruin my last day, I had to leave Montreal early, missing out on the applauded set by the Moritz von Oswald Trio. And I'm totally cool with that – I've got more than enough memories, which I will summarize in my last installment of MUTEK.
More links: