Day two of the Montreal based festival of digital creativity and electronic music began with workshops, panels and Q&A sessions. Derek Walmsley of The Wire held an intimate discussion with Drew Daniel and Martin Schmidt of Matmos. In that hour a lot of topics were covered, so I'll leave it to the magazine to publish the transcript and/or audio for your enjoyment. Additional panels of interest included a discussion titled "Beyond The Sequence: Finishing It Off" with Uwe Schmidt (Atom Heart, Atom™, Señor Coconut, etc.), Guillaume Coutu-Dumont, Vicente "Original Hamster" Sanfluentes and Dave Aju. I missed another Q&A session with Kevin Martin of King Midas Sound, The Bug and Razor X, but that's because I was running around interviewing artists after their sound check. More on that later…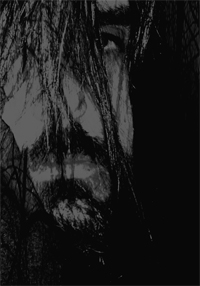 At Expérience 2, a four-member group, If Then Do, orchestrated a glitch-based torrent of experimental sound, drenched in "writhing, seething, calculated clock-ticking audio hallucinations". I'll admit that I missed the second performer, Sébastien Cliche, in exchange for a fast-paced meal, but I made it back in time to catch Martin Dumais and Julie Leblanc, together performing as Aun, for an hour of textured drones, dark ambient swells and a hint of apocalyptic images, of an audio-visual world premiere of "Black Pyramid". Be sure to check out Aun's Motorsleep on Montreal's Alien8 Recordings, as well as his previous releases on Oral.
The night peaked at the second A/Visions installment, subtitled The Cult of Longer Memories. Freida Abtan opened the show with her beatless electronic explorations, at times reminding me of earlier Autechre glitches, and manipulations of her own voice, reciting abstract poetry and evoking lost ghost's songs. The incredibly striking visuals of melting colors and morphing textures, displaying women hanging bird cages dressed in peacock coats, tied the performance together with a hallucinogenic knot.
And then The Caretaker took the stage. Displaying a cut-up collage of his own documentary of the past trip across Europe, James Leyland Kirby of V/Vm watched his memories flicker across the screen. With his incredibly wild blond hair, dark sunglasses, and a bottle of whiskey, The Caretaker, at times shook his head in disbelief at the way the story unfolded, as the samples of old ballroom 78-rpm records from the late 20's slowly swirled through his alcohol drenched cranium in search of forgotten and suppressed memories. The repetition of fuzzy and crackling record sounds created a haunting atmosphere of dusty attics and abandoned family videos. But Kirby didn't stop there. At the end of his performance, with a bottle of Scotch in his hand, he faced the audience and sang "The Way We Were" through a raspy robotic effects chain that distorted his voice and brought back what at once was so beautiful. I will never forget this.
The showcase closed with one of the originals of the early noise-industrial acts, Nurse With Wound. The group pushed the sound system and the audience to the limit, with a current of guitar shrieks, mind-numbing drones, and unsettling howls, that can only be experienced live, in all of its physicality. The visuals captured my attention again. A collage of short films displaying images that I'm sure will haunt me later: blood and guts poured out of the walls and fell onto the sheets and food of unconcerned home dwellers. The house was then set on fire, and still, a character reading a paper just tapped it away, as if it was a harmless insect. Similar behavior continued when the scene was submerged in water. Lets hope I won't have nightmares.
At the end of the night, I rushed over to Metropolis to catch the end of Nathan Jonson performing as Hrdvision, just in time for Jon Hopkins to take the stage. And although I climbed up high on the balcony of this large theater-shaped club, I was still blown out of my chair when Hopkins dropped that bass. I then spent the entire time mesmerized at the immensity of his glitchy cinematic sound, and, more importantly, Hopkins' performance on the stage. In the age of laptops and box-shaped controllers, it's rare to witness anything exciting in the club. Not so this time. Hopkins is a virtuoso of his [3 Kaoss?] pads. I've never seen anyone move so fast across the two dimensional matrix to jitter, stretch, and release the hungry kick in time with the moving rhythm. Hopkins stole the night. Be sure to pick up his latest, Insides released on Domino in 2009.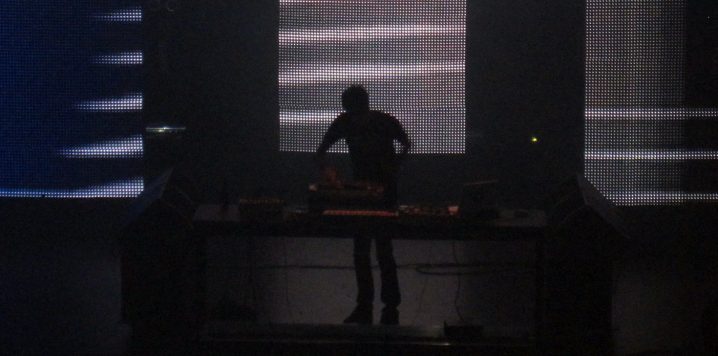 Jon Hopkins on the decks
And although Jon was an opener for Mouse on Mars, it was almost difficult for them to follow up his cutting-edge sound. Nevertheless, the duo captured the audience with a selection of their favorite tunes, and a few new tracks from their upcoming album. The club moved with the beat of this sound delivered by one of the pioneering groups of electronica. Once again, after a sensory overloaded day, my mind and body gave in, and I had to bail for the night, unfortunately missing out on Nathan Fake's set. I also completely missed Bowly, Chris Hreno and Mossa playing in the other room at Savoy. Sorry, boys, there's only so much I can process in one day! But if you were there, be sure to send me your mini review!