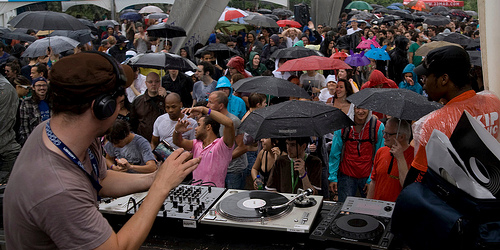 DJ Koze at outdoor Piknic. Photo by Myriam Rafla courtesy of MUTEK.

A few days have passed since I attended MUTEK, and I am now able to reflect on the five days I spent in Montreal. Overall, what pleased me the most, was the ease with which the festival unfolded. There was no overwhelming drama, major technical difficulties, or other issues that could have possibly made this a disappointing experience, given the vast scope of the festival. Yes, the weather was bad in the last few days, but the crew was prepared and moved the entire outdoor Piknic into a club setting on a day's notice. Thumbs up for organizing that!
The location of the festival was ideal, and the numerous venues were literally within a city block. When multiple events were going on, it was easy to walk across the street into another performance. The security crew were super nice, and barely noticeable, stamping your hand on the way out, and checking the wrist on the way in. Again, a super smooth transaction that could have been a stressful situation. And whoever thought of building Chinatown right next to the festival deserves a special award! The array of Asian delights satisfied my empty stomach and equally vacant wallet. Big thanks to Banh Mi Cao Thang for the amazing Vietnamese sandwiches at three bucks a pop!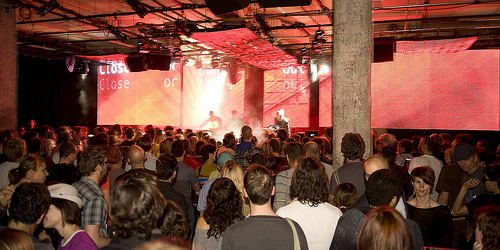 Brandt Brauer Frick at Nocturne. Photo by Caroline Hayeur courtesy of MUTEK.
The crowd was friendly and the people were beautiful. With the exception of a few drunks here and there, who put on a free comedy show stumbling in front of moving traffic, I was surrounded by a mature audience that appreciated the variety of showcased music. All of the artists I have met and interviewed were professional, patient, and respectful. Some may wonder why I even bother mentioning this, but those who have dealt with difficult individuals know what a mark it could leave on the overall experience.
I loved the outdoor wireless broadcast, enjoyed the panels, and wish I had more time for the workshops. The schedule was a bit tight, and I wish that I could have attended the Ectoplasmes³ series – I missed every one! The Saturday night party, Nocturne 4, could have started a few hours earlier, but otherwise the programming was pretty tight, and should have kept the pass holders satisfied. Big points for a variety of free programming for the public – a great exposure of the new talent and electronic music to the city!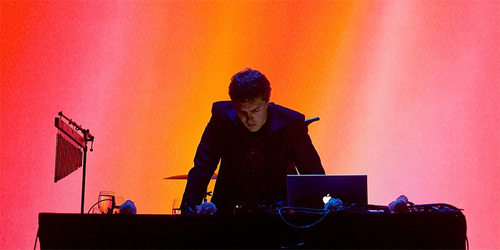 Marsen Jules at A/Visions. Photo by Caroline Hayeur courtesy of MUTEK.
My absolute favorite was the A/Visions series, with performances by The Caretaker, Marsen Jules Trio, Vladislav Delay, Tim Hecker, and Ben Frost to name just a few. My newly discovered Montreal based talent includes Bernier + Messier, Gemmiform, Thierry Gauthier, and Aun. My favorite dance sets where I actually moved my feet include Jon Hopkins, Overcast Sound, Demdike Stare, and Ikonika. And the award for the most permanent memory goes to the hooker on the corner of Saint Laurent and Rue Ste Catherine, who tried to entice me with her running mascara and ripped up pantyhose. You're beautiful, honey, but I'm not a fan…
And just so that I don't look like I'm always positive, my most disappointing experience featured the Days Inn. With the rotting elevator carpet, hay filled pillows, coin sized soap, and most importantly, unpredictable internet, it's no wonder why I spent most of the time outside. Maybe I'm spoiled, but I expected just a tad higher quality for the $140 a night. At least the valet returned my car safe and the room didn't have bed bugs [that's a whole other story]. Oh well… A mattress and a hot shower is always better then a tent and a baby wipe.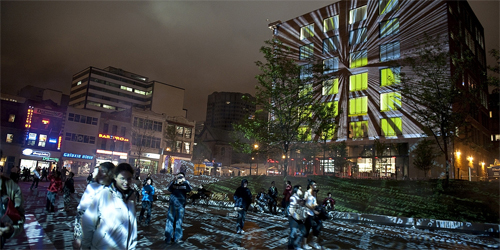 Time Drifts by Philipp Geist. Photo by Caroline Hayeur courtesy of MUTEK.
My big thanks go out to Morgan Steiker and Mara Gourd-Mercado for making my journalistic experience at MUTEK go as smooth as possible. Without your perfect schedule, up-to-the-minute updates and top-notch coordination I would have been completely lost! It's a pleasure watching you at work. Now stop trying to obsess over every detail and get some sleep! Overall, MUTEK jumps to the top of my favorite electronic music festivals. And given my availability next year, I would be happy to jump in the car for a smooth six hour drive, to be fully surrounded in music among some of my favorite artists. Five stars. Thank you, thank you, thank you!