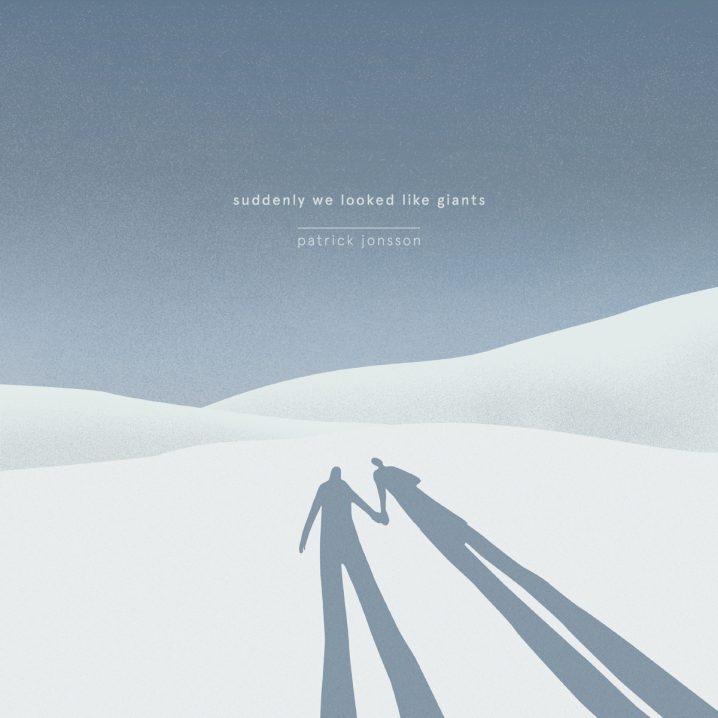 It takes just one listen to recognize how good this record really is, and then it takes another two or three plays to dig into its depths, to hear the familiar motifs, and to truly fall in love. And you can be sure I listen to a record more than just a few times before I recommend it on here! Coming out of the shadows of his long TV and film career, Patrick Jonsson propels himself onto the top of my rotations with his studio album debut, Suddenly We Looked Like Giants. Having composed more than a few soundtracks, including the score for The Alienist, Dog Days, Virunga and The White Helmets, this Swedish multi-instrumentalist indeed knits cinematic tapestries with complex textures, slow-building electronic rhythms, and deep-listening modern classical passages, but it is his overall feel for the dramatic atmospheres, introspective emotions, and nostalgic melodies that grabs me by the strings…
Just listen to the shimmering opening, and the title track, which was named after Jonsson found himself standing in a vast open space in North Sweden, as the sun began to set during the short winter days, and the shadows grew across the snow-covered valley. Suddenly, the perception of the self and our humanity became visually distorted by the angle of the light, and the minuscule existence of our very lives turned to grand and to majestic. This single momentary feeling was expressed in music in the studio, from which the piece and album grew into a reflective modern classical arrangement, of very sentimental themes. Piano progressions are carried by the violins, deep tonal bass, and polished electronics with sparse echoes of a synth.
I've been writing music for films for quite a few years. I absolutely love diving into a story world and writing musical themes for characters and creating unique soundscapes for different settings and atmospheres […] For a while now though, I've been wanting to write my own solo project. Turn the scoring process around and onto myself […] The album is inspired by my childhood home in Sweden and explores the idea of human nature in parallel with the natural world […] using imagery from the natural world of the sun disappearing…

– Patrick Jonsson
Released on a brand new London-based Phases Records (an in-house label of Believe, and independent distributor), which seems to represent acts like Max Cooper, Paddy Mulcahy, and Stray Ghost, Suddenly We Looked Like Giants promises to be a monumental record for the fans of the orchestral, and the theatric, and of course, the splendid works by the likes of Max Richter, Ólafur Arnalds, Dustin O'Halloran, Clint Mansell, and the late Jóhann Jóhannsson. In fact, I'm a little bit excited to have found a new name to be added to the list, and I truly believe that once you listen to this record you will feel the same. Highly recommended!