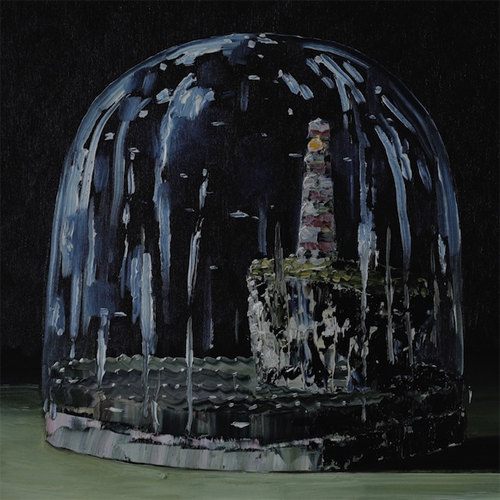 Although appearing on our radar in 2012, The Caretaker's latest opus was actually recorded prior to his 2011 lauded release, An Empty Bliss Beyond This World, which was featured in Headphone Commute's Best of 2011 : Music For The Film Behind Closed Eyelids. Released on his very own History Always Favours The Winners, Patience (After Sebald) is actually a soundtrack to filmmaker Grant Gee's documentary of the same name, about a German writer WG Sebald.
Crafted in that very special style of ghostly shadows and dusty grooves, the music serves as a beautiful backdrop to the film, and my own every day movie. Here's more on Gee's documentary:
"Patience (After Sebald) is a multi-layered film essay on landscape, art, history, life and loss by the acclaimed documentary film-maker Grant Gee. It is an exploration of the work and influence of German writer WG Sebald (1944 – 2001), told via a long walk through coastal East Anglia tracking his most famous book The Rings of Saturn. The book mixed history, travelogue, memoir, meditation, fiction and images to explore the personal, public and often overlooked histories of Suffolk."
The soundtrack comes on the heels of another release by James Leyland Kirby, Eager To Tear Apart The Stars, where Kirby explored the sounds of bright piano and enigmatic synth chords, following in the footprints of his earlier 2009 classic, The Future Is No Longer What It Was trilogy of LPs, as well as the newly developed series if Intrigue & Stuff released in three volumes in 2011. But unlike Kirby's work under his real name, Patience (After Sebald) is truly The Caretaker's album.
Sourced strictly from the very earliest recordings of Franz Schubert's 1927 piece "Winterreise" the twelve tracks on the album loop, fade in and out, drowned in noise, hiss and static in that abandoned ballroom Caretaker fashion. Once again, evoking early memories, both real and imaginary, the carefully selected passages of Schubert's song cycle for voice and piano, are perfectly triggered around beautiful phrases, leaving the melody hanging before its resolve, until it snaps back into original dominant tonic. At times the smudgy, muddy and muddled recording sounds as if it was lifted off of Edison's phonograph cylinder… at times they remind me of a long forgotten repetitive piano practice. Either way, the obscure production process in which Kirby soaks the sounds leaves a mystifying trace on ones psyche, aching to play the album over again…
As is the tradition with Kirby's previous two releases, as well as the Persistent Repetition Of Phrases (2009), the cover art of the album features another specially commissioned painting by Ivan Seal. A limited edition pressing of 700 LPs (first 300 are on blue vinyl) is followed by a CD and digital release in February of 2012.  Kirby is very thankful for all the digital purchases, as the profits go directly to support the artist, so if you're feeling generous, be sure to point your clickers to his bandcamp for a full album preview and hopefully your purchase.
This just in! Kirby releases a companion to the album as a FREE download! "It features a couple of alternate versions and exclusive audio which was used as part of the soundtrack to the above mentioned film but which didn't make the physical release of the album."  Download Extra Patience (After Sebald)
Read Conversations With The Caretaker conducted in 2011 following Headphone Commute review of An Empty Bliss Beyond This World.