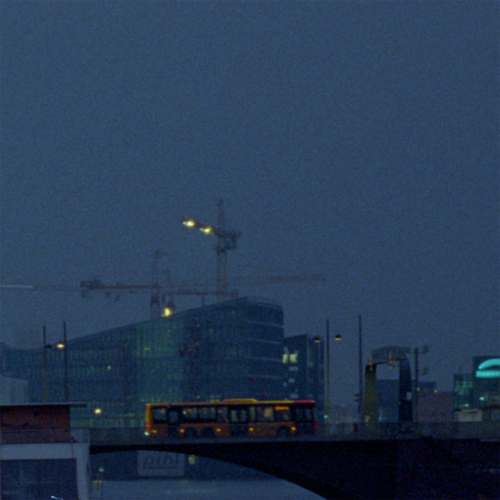 Jóhann Jóhannsson almost snuck past me last year. If it wasn't for this release appearing on his very own NTOV label, I would have thought that he stopped composing scores altogether. It's not always that a soundtrack gets printed and marketed as an album, so I am incredibly grateful to Jóhannsson for sharing his works. But Copenhagen Dreams is not the first score for Jóhannsson. What may have started as 'imaginary' soundtracks with IBM 1401, A User's Manual (4AD, 2006) and Fordlandia (4AD, 2008) eventually culminated into a release of a score for The Miners' Hymns (130701, 2011), and now Copenhagen Dreams, a documentary film portrait of Denmark's capital by Max Kestner. But did you know that Jóhannsson has recently won the prize for best composer (shared with Peyman Yazdanian) for his score for Lou Ye's film Mystery? And what about his theater piece for Ganesh Versus The Third Reich?
The story of Copenhagen Dreams is that of a lonely city. Perhaps being populated with half a million dwellers is only a shadow of the its mysteries and secrets. Alone it watches and observes as busy commuters rush for errands through its morning streets. Alone it listens to the sounds when everyone's asleep. Alone it deeply sighs as life within unfolds. But this soundtrack may not reflect the thoughts of Denmark's capital alone. There are other lonely cities, all over the world. And when you walk the streets of your own hometown perhaps you'll listen to its story with these sounds.
"The tone of Kestner's film constantly shifts from the mundane to the lyrical, from the technocratic jargon of architects to the everyday banter of commuters and coffee house guests, from dry factual inventories to poetic meditations. I tried to reflect this in the music and to make the music the poetic voice of the city, so the music becomes a character of its own which binds the various levels of the film together."
On Copenhagen Dreams we hear gentle orchestral arrangement swaying in between the note drops of a singing piano. There are the city's bells, and the city's lights reflected in the music. There is the melancholy of the people's fragile lives. There is the sadness of the passing time. As when we all grow up to be alone, our fate is finally accepted. These inescapable thoughts are echoed in nineteen short pieces of the album. Sometimes in solo piano songs, sometimes in cinematic tracks with voices. And although Copenhagen Dreams is undeniably heartbroken, it's not a requiem for the city's soul. Because its life goes on through us. As your hometown's heartbeat runs with yours.
If this is your first acquaintance with Jóhann Jóhannsson, I highly recommend you dive into his past works. Feel free to start with Englabörn (Touch, 2002) and work your way forward. But if you're long time fan already, be sure to seek out yet another soundtrack, Free The Mind, released on Jóhannsson's NTOV this past August of 2012. No wonder this album made it on my Best of 2012 lists. Jóhannsson can't go wrong!