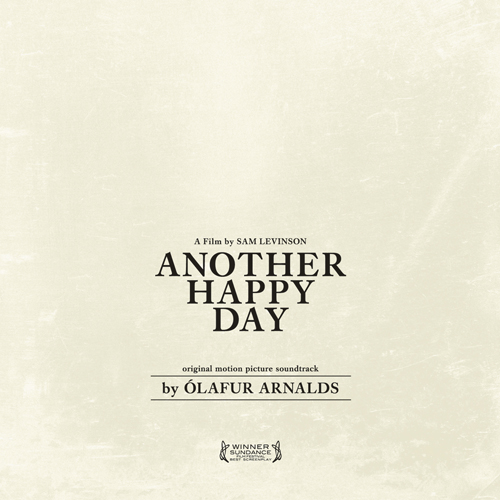 Why does the music by Ólafur Arnalds makes me want to cry? What is it about that specific arrangement of notes, rhythm and chord progression that brings the tears to my eyes? How can melancholy, sadness and pure heartache radiate from sound and seep so thoroughly through my heart? Perhaps it wouldn't be a surprise that he is a perfect candidate for a movie soundtrack, as is the case with Another Happy Day, a film by Sam Levinson, a Sundance winner for Best Screenplay. Having not seen the film, and judging by the music alone, I wonder if it's truly about a happy day at all…
"In mid-December 2010 I was on a holiday in China when I received an email from Sam Levinson about the film. We got on the phone at like 4 in the morning Beijing time and ended up talking all through the night, instantly connecting. He told me that they had been listening to my music while making the film, so the film was already very influenced by my music. However, it was not until Ellen Barkin – the beautiful force that she is – had pestered the producers for a week, calling them every day about how I am the right one for this film, that they finally gave in. The only catch was that it had to be done two weeks later, in the first week of January. So I ended up scoring nonstop all throughout Christmas, making my mother mad in the process." – Ólafur Arnalds
I've been following the works of Arnalds ever since his 2007 debut, Eulogy For Evolution, released by Erased Tapes Records. Since the first note, I knew that this was a young artist to keep my eye on, with his delicate and majestic touch for modern classical composition with a minimal sprinkle of electronics. In 2009, Arnalds once again proved to the world that Iceland may have something in the water after releasing Dyad 1909 and Found Songs. Every year since, we were lovingly cradled by the latest album from Óli, all packaged by the wonderful London based Erased Tapes.
In October 2011, Arnalds started working on a Living Room Songs project, releasing one song per day for an entire week. The music was played, recorded, and even filmed live in his Reykjavik living room. This is an amazing project for many reasons! First of all, the music is as always absolutely stunning. Second, it was incredible to witness a daily new track. And last, but not least, the videos showed Arnalds at work with a small group of friends on the strings playing live! Thankfully to Erased Tapes, Living Room Songs were released as an album (which also included illustrations for each song).
Throughout the Another Happy Day soundtrack there's a central theme, explored and finally exploded in all of its intensity in "Out To Sea", and echoed in the themes of preceding tracks. Re-listening to Arnalds' earlier works I can tell that his production, composition, and overall musicianship have improved over the last four years, and I'm looking forward to many more years to come! The album is released on a CD and a double LP on February 28th, 2012, on the ever gorgeous Erased Tapes! Jump to Arnalds' home page, where you can watch a documentary on this musician, and download some sheet music in PDF. Absolutely essential!