Here's the second installment of Tones, Drones and Earphones which started in part one, where I covered Cut Iowa Network, Locrian and The Golden Sores. Hope you have a blast with the rest!
Yellow Swans – Going Places (Type)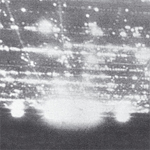 Released on the beloved Type Records, run and operated by John Twells (Xela), Yellow Swans spearhead the development of sound, as it's concerned with noise, drone, and power electronics. But in their latest release, Going Places, it's not all about distortions and sheer cringing fuzz. There's clear structure, texture, and even pulsating rhythm behind each track, allowing the foreground instruments to carry out the development, while the background noise soars to new heights. Based out of Portland, the duo of Pete Swanson and Gabriel Mindel Saloman describe their music as "powerful rendering of free rock, black electronics, and white light vibrations." Their latest work is a product of over a decade worth of music, released on CD-Rs, cassettes, and vinyl, coming to an end. In April of 2008 the band announced their decision to split up, concentrating on finishing up their final album. Even the title suggests that they might be going places, and the same-titled last track fades away, like a burning rocket into deep space. Farewell, my devastated friend. The album is available for purchase directly from Type. It's also available for streaming from Type's SoundCloud. If you are at all curious about the capacity of noise, start off with Yellow Swans and then work your way into darker territory…
Aun – VII (Important)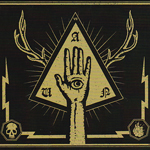 To continue the exploration of noise in this unique installment of Sound Bytes, I turn to Aun. I met Martin Dumais a few weeks ago in Montreal at Mutek. His captivating doom ambient performance, complimented by the visuals from his partner, Julie Leblanc, only inspired me to check out his latest, titled VII on Important Records. This is indeed the seventh full length album from Montreal based Dumais, where he explores his black metal roots infused with dark ambiance and post-doom-everything. But unlike his beatless guitar driven swirls, VII is an album worthy of moving your entire body to. I think it's due to percussion, since this release features an appearance by Michel Langevin (aka Away), the drummer from the Canadian metal band, Voïvod. Snarling guitars rip through the fabric of psychedelia infused with "gut wrenching ultra downtuned avant black dirge". On "Broken Hills", Langevin suddenly kicks in with his drums, and the thick de-tuned riffs are now cut with crystal clear cymbals and snares, and the album takes on a rhythm, structure and progression. Excellent. Check out Aun's 2009 release on Alien8, titled Motorsleep. Recommended for fans of KTL or Bowery Electric.
Aidan Baker – Liminoid / Lifeforms (Alien8)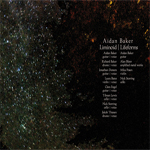 I couldn't possibly return from this voyage without mentioning one of the most prolific artists, Aidan Baker. Look, I couldn't even begin to rummage through Baker's discography, so after reviewing Fantasma Parastasie, which he released together with Tim Hecker in 2008, I settled on his latest for the Montreal based label, Alien8. This is a two-track release, with Liminoid broken up into four distinctive parts, while Lifeforms is a single 30 minute piece. It starts off quietly, with lucid textures, soft guitar strums and distant drones. "Incorporating composed and improvised segments, the piece uses elongation of sound and layered polyphony in an attempt to create a liminal and/or numinous state". In an almost apocalyptic setting reminiscent of the darkest hours of Godspeed You! Black Emperor, the ensemble of guitars, violins, cellos, and drums, engulf the beauty unleashed by the romantic classical orchestra with that of a skilled master of drone and noise. And then the vocals come in! Lifeforms is a whole other beast. Unfolding from a continuous string bowed drone-chord, the cellos are plucked around the 10 minute marker, and then, half way through the piece, the strings drop out in lieu of pulsating metallic sounds, played by Alan Bloor (aka Knurl). Commissioned by The Penderecki Quartet in 2003, this is indeed a symphonic masterpiece, that lifts me out of the abyss into the aural bliss. This may be Baker's best. Highly recommended.