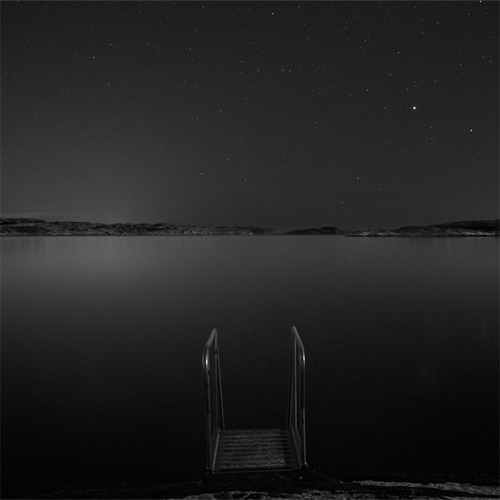 In 2009 Ian Hawgood released an album titled Wolfskin on Jonathan Lees' beautiful hibernate label. The album contained "a series of sketches inspired by childhood dreams and nightmares." The inaugural label release billed the work as "a cathartic and cleansing collection of soundscapes, created by guitar and piano…" And it seems that Hawgood wasn't finished with this project. His latest release, Wolven, subtitled "A Modern Interpretation," is not just one, but two disks exploring these original sketches even further. Co-published by Hawgood's yet another label (reserved for very personal works), Koen Music (aka KOMU), the double disk release contains interpretations by, well, his musical friends, while the second disk is set aside entirely to three tracks by bvdub!
More than just a compilation, a remix or a collaboration project, this curated selection of pieces unfolds like a family oriented affair, designed to mix, mingle, and melt the individual contributions into a single cohesive blueprint for a particular state of music in this place and time. On select five tracks featuring Ian Hawgood and Aaron Martin, I am taken away by the elegance of ambient textures and classical cello. It seems that these two have played before. If not, than this could be a teaser for the grace to come. The solo translations and readings into Hawgood's music by Dag Rosenqvist (aka Jasper TX), Spheruleus, Pillowdiver, y0t0 and Hakobune, offer a glimpse into each artist's unique aesthetic, tone and color of sound. For example, my favorite piece, Pillowdiver's "Wolven IV" is a haunting lofi drowning of frequencies in barely breathable white noise. It's simply stunning!
Which brings me to bvdub. With over an hour in just three tracks, this second disc could have been a separate release altogether. This sort of reminds me of Brock Van Wey's 2009 release, White Clouds Drift On And On (echospace [detroit]), where on the second disk Steven Hitchell, aka Intrusion (and member of Echospace together with Rod Modell) contributed his own interpretations of individual tracks, which I often listen to as an entire separate album. The highlight of this chapter is the 30+ minute "Red Rugs Of Infinite Grass (Titans Of Dahlia Hold You To The Sky)" – at this point it's not even a track but rather a continuous evolution of interwoven layers, elevating the listener beyond the state of aural bliss. Rich harmonies with deeply engraved textures merge together into one enormous chord, and once again, bvdub does his magical bvdub thing, that is better described with sound.
"Wolven doesn't just portray the original recordings from Wolfskin in a different light – it also takes another look at the concept of dreams and nightmares. This time, the album strives to literally tread the pathways in Ian's dreams – not without its terrifying moments along the way but always accompanied by a comfort pillow to keep you from harm. The dream-like serenity of Wolfskin remains, joined this time by kaleidoscopic visions of stars, night and never ending bottomless lakes filled with stars, both actual and reflected. Despite the obvious darkness, a child-like innocence prevails."
It's appropriate that this release is credited to Ian Hawgood and Friends [although, as I earlier implied, it could have been Ian Hawgood and Family], as the music captures a communal approach of production and consumption of this particular scene's output. Add to that a mastering touch of Rafael Anton Irrisari and you have a project that spans nearly every continent of the world. For a similar compilation of remixes and reworks, check out Ian Hawgood's Slow Films In Low Light (Home Normal, 2010) collecting interpretations by The Remote Viewer, Hannu, The Green Kingdom, Library Tapes, Chihei Hatakeyama, Danny Norbury and many others. Highly recommended for followers of hibernate and Home Normal releases, and of course fans of bvdub.