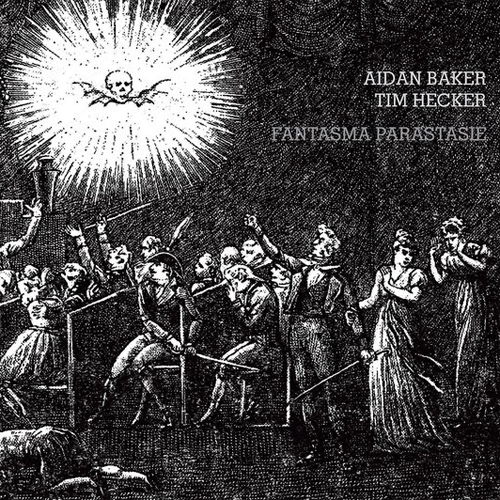 Toronto based Aidan Baker and Montreal based Tim Hecker pair up to deliver an abstract and experimental ambient piece on a Canadian Alien8 Recordings. Hecker is not a stranger to a noise-prominent label, having previously released Mirages (Alien8, 2004), and a re-issue of Radio Amor (Mille Plateaux, 2003). In addition, his ambient recordings have already graced quality labels like Force Inc, Staalplaat, Fat Cat and Kranky. This is, however, his very first collaboration. Baker, on the other hand, is known for his work with Leah Buckareff, together cooking up ambient drone metal under the Nadja moniker. Baker's discography is immense, and mostly consists of live improvised long pieces. His ability to churn out guitar heavy drone soundscapes can be overwhelming, but together, with Hecker's luscious synth work, they pull out a whole different beast.
The overdriven guitars combined with hiss, crackle and static, vibrate feverishly across the frequency spectrum, occasionally revealing a hidden pattern, a loose structure, and a graceful melody. The paced slow-core riffs, rolling at a speed of a sleeping giant, are fed back into themselves and split through a harmonic meat grinder. All this is again mashed up, tweaked out, and faded in through a torrent of bit-crushed digitally violated audio waves that give your speakers (and ears) a massive workout. Fantasma Parastasie is a relaxing fatigue – it cradles you gently by screaming its head off. Thus, together, Backer and Hecker, define an oxymoron of ambient noise or shoegazer metal.
This should be a special treat for those with a taste for Belong, Ben Frost, Fennesz, Jasper TX, and Lawrence English. Where as Baker has a bucket of upcoming albums, too many to fit in a paragraph (see my Two and a Half Questions with Aidan Baker for a full list), Hecker is scheduled to release his seventh studio album, An Imaginary Country, in March 2009 on Kranky.
myspace.com/aidanbakermusic |  aidanbaker.org
myspace.com/rainbowbloodx |  alien8recordings.com
more on headphone commute