Recent advances in technology elevated everyone to a status of a bedroom producer. Our social networking has released a torrent of music bombarding the airwaves with every possible strain. Among the endless mosaic of fragmented sound bytes I notice these gems. I hope you'll agree…
Daniel Mackenzie – Teeth Sleep Under Winking Black Eyelid (self)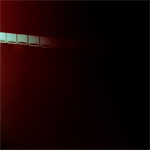 The fifteen-track self-released album by Daniel Mackenzie, titled Teeth Sleep Under Winking Black Eyelid, is a collection of miniatures, vignettes, and long-playing dreamscapes. With piano at the forefront of each composition, Mackenzie composes experimental, yet gentle pieces, that skip over improvised percussion, and occasionally latch onto the loops of placid manipulations. Thick pads slowly build up over the base textures of tender chords and fragile melodies. Although the title of the album suggests a malicious little creature (with words like "teeth" and "black" hinting at a menacing atmosphere), it is nothing more than beautifully rendered abstract musings on the instrument itself – its keys being the "teeth" and the lid being the "winking black eyelid". The piano does not appears to be prepared [correction: Daniel informed me that he used screws, clips, tape, nails, and even screwdrivers to prepare the piano], all parts of the instrument are employed in making the album. Every sound on the record was produced from the recordings of two pianos with "various physical manipulations and post processing". Thus, we hear twisted strings, shuffled pedals, and muffled thumping of the lid, recorded, shaped, and dissected to create an atmosphere of a palatable experimental piece, that easily slips between modern classical and ambient drone. Teeth Sleep Under Winking Black Eyelid is the first release under Mackenzie's real name – the Brighton based musician is mostly known for his Ekca Liena moniker, with output on Dead Pilot Records, Under The Spire, and a possible upcoming album on Ian Hawgood's Nomadic Kids Republic (the artist name has been recently added to the label's roster). This hour-long acquaintance in the company of Daniel's creations is a must for any piano music aficionado!
Ekca Liena – Slow Music For Rapid Eye Movement (Dead Pilot)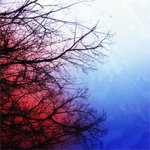 Having just covered Daniel Mackenzie's self released album under his real name, I feel that I must visit his output under the Ekca Liena moniker. Reserved for most of his works, Ekca Liena is indeed an anagram of Mackenzie's name. On Slow Music For Rapid Eye Movement, the music is carried forward by the strumming guitar, ambient drones, and evolving textures that roll up in dynamics until they build up to explosive distortions and drop off into silence. Feeling comfortable in the company of artists such as Stray Ghost, Sleeping Me, Talvihorros and even Tim Hecker, Stars of The Lid and Fennesz, Mackenzie's music is best experienced at louder volumes, even if trying to fall asleep. Billed as music for a natural stage of sleep characterized by the random eye movement behind closed eyelids, the track titles paint a picture of vast lands and dreamscapes: "Fire Emerging From Mist", "We Are Dying Flames",  and "Into The Wind" all convey that soaring feeling of apocalyptic instrumentation characterized by post-rock and drone. And with the music, Liena takes you places, even if you're totally awake – a sign of a timeless album. Slow Music For Rapid Eye Movement was indeed Mackenzie's debut release on Dead Pilot Records back in 2008, but with a limited pressing and critical acclaim, the album immediately sold out. Thus we consider ourselves to be incredibly lucky that the label decided to remaster, repress and reissue. Published as a double disc again in 2011, the release boasts a companion disc featuring remixes by Clem Leek, Aidan Baker, Duncan Harrison and others. Check out Ekca Liena's followup releases on Dead Pilot, Under The Spire, Phantom Channel and Blindsight Records (most available for streaming on his bandcamp page). Recommended for surreal daydreams into unknown.
Lost Trail – Eerie Light, Eerie Woods (self)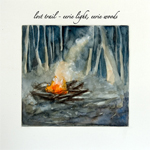 Among a boatload of templated spam I stumble upon a personalized email from a husband and wife duo recording under the name Lost Trail. Zachary Corsa and Denny Wilkerson Corsa create delicate soundscapes utilizing lo-fi and obsolete equipment (reel-to-reel machines, microcassettes and tape recorders) along with antique musical contraptions, to create "a sense of atmosphere and landscape, in both man-made and natural, wild environments." The seven pieces on the album are full of nostalgic guitar drones and old de-tuned piano keys, layered over obscure samples and field recordings. Some of the compositions remind me a bit of the softer side of Godspeed You! Black Emperor – the tracks where a melody slowly soars over an apocalyptic message heard through an old radio. Additional industrial sounds, noise, breaking dishes, and even some World War II sirens, create a collage of avant-garde patches stitched together into a fuzzy blanket for a restless ghost. These monochrome sounds float in the air like confetti of an abstract painting, until they slowly settle down on the creaking wooden floor, and as if by magic, arrange themselves into one solid piece. In his introduction, Zachary tells me about the couple's creative environment – "We record in the darker corners of our 101-year old historic home in Burlington, North Carolina, and the moods of this town and this house very much affect what we create. Common themes include faded industry, manmade decay, suburban sprawl, horror cinema, trains, the forest/mountains, the supernatural, winter, fall, photography, film, and the past/nostalgia." Eerie Light, Eerie Woods is another self-released album on Lost Trail's own label, Wood Thrush Field Recordings. Make sure to dig deeper through Lost Trail's bandcamp discography to discover even darker pieces…