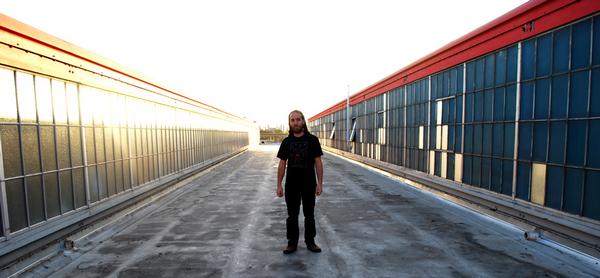 How much of your work is improvised at the time of the actual album recording?
It depends on the nature of the project — some are entirely improvised (or spontaneously composed, as I sometimes refer to it), some partially (as with most of the Nadja recordings), and a few only minimally.
What was unique about collaborating together with Tim Hecker?
The majority of the collaborations I have done have been via trading files through the mail or online, so it was relatively unique to work with Tim in person. Also, Tim has very strong ideas about what does and does not sound good and isn't hesitant about letting you know that — which I found refreshing!
What is your secret behind the massive volume of work that you are able to produce?
OCD
Any musicians that you'd like to work with together in the future?
Perhaps unlikely, but: Caspar Brotzmann… Stina Nordenstam… PJ Harvey… Michael Gira…
Tell us about your upcoming releases.
I've got a number of projects in the works, but the following all have release dates over the course of the year:
Solo:
Liminoid – Alien8 Recordings
Passing Thru (a book/cd release) – Beta-Lactam Ring Records
Noise of Silence (re-issue) – Essence Records
A Picture of a Picture (collab w/ Thisquietarmy) – Killer Pimp Records
Nadja:
When I See The Sun Always Shines On Tv – The End Records (an all covers album)
Primitive North (split w/ A Storm of Light) – Robotic Empire
Under the Jaguar Sun – Beta-Lactam
Autopergamene – Essence Records
White Nights/Drone Fields (dvd) – Beta-Lactam
Whisper Room:
Birch White – Elevation Records
This is a new trio I'm in, the debut album can be previewed here:
virb.com/whisperroom
myspace.com/aidanbakermusic |  aidanbaker.org
more on headphone commute