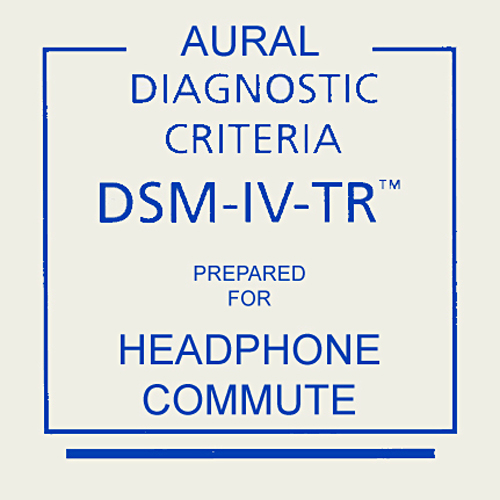 As my mood shifts from one plane to another, and the music bombards my ears with various styles, tones and rhythms, it's hard to stay grounded to just one genre. Today, I feel like glitching along with IDM. Tomorrow, I bop my head to hard pounding techno. In anger, evil drum'n'bass takes over my soul, then collapses in half-time to the vibrations of dubstep. How do I capture all of these swings in one swooping hour?
For over a few weeks I worked on this mix, adding one favorite track after another, regardless of genres, yet always trying to keep my finger on the steady beat, smoothing out the peaking spikes of the transients, fading in BPMs outside of their norm. So is it possible to create one seamless journey across a grab bag of my favorite genres, traversing electronica techno, breakcore, drum'n'bass, dubstep, tech-house, and more? I'll let you be the judge.
The title of this mix, DSM-IV-TR, comes from the Diagnostic Statistical Manual of Mental Disorders, which was republished in the 4th text revision in 2000. If you happen to get your hands on this manual, I suggest that you peak into Chapter V: Mental and Behavioral Disorders, which covers dementia, hallucinosis, schizophrenia, and even sexual dysfunction. I hope you enjoy this trip through the swings of my own moods, even if it is deeply rooted in the Seasonal Affective Disorder, also known as SAD.
~HC
[ S T R E A M ] | [ D O W N L O A D ] | [ P O D C A S T ] | [ i T U N E S ]
Track Listing:
[ S T R E A M ] | [ D O W N L O A D ] | [ P O D C A S T ] | [ i T U N E S ]