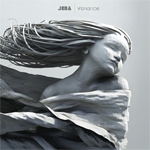 It took almost nine years for Dylan Nathan to return to the scene with his intelligent breaks and glitchy melodies, slapping it across the entire IDM spectrum under his Jega moniker. There were some hiccups in this release – the album leaked back in 2003, and Nathan chose to pull back the tracks, refile the scraps, and rearrange the bits into his third full length, double disk release, Variance. Here and now, Nathan brings back the vigor with which he left us with Geometry, once again selecting Planet Mu as the label of choice for his experimental beats.
It's tough to approach the review of this album, especially since it spans across two discs and 18 tracks! I'll get right down to it, and skip the first volume altogether, which is melodic electronica and light IDM. The only reason I am jumping over the first disc, is because with the amount of great music on this double volume,  I want to get straight to the goodness. Apologies for that, but I do not mean to send a wrong signal. So with your permission I'm moving on to the darker side of Jega, because the second disc is where he truly shines.
Here, the random palette of synth melodies is replaced by the darker strand of electro, that breaks its jagged tooth against  the broken beats. Atmospheric pads still linger in the background, while the front-lines are dominated by impeccable rhythm structures and a heavily processed dose of virtual effects. Synthesis geeks will be proud to hear their brains being tweaked through the naughty twists of Jega's ridiculously time-consuming production.
I have a feeling that it took Nathan nine years to release this album simply because he chose to tweak every possible VST plug-in out there and throw each and every one of them into the mix. Variance is like a detox manual for DSP junkies on a thousand ways to mess up the beat. Listening to Latinhypercube I find myself cringing my nose and going "What in the world was that?" Drilling rhythms decompose into voices, into flashbacks of a bad trip, into sick mental sound too crippled to dance. A few tracks (like Aerodynamic and Kyoto) remind me of  Chris Cunningham's short film, Rubber Johnny, where an erratic and delusional mutant child is dancing in his wheelchair to a spasmodic beat of Aphex Twin's "afx237 v7" track taken off of his album drukqs (2001, Warp). Looks like Cunningham may have a new challenge!
For the full background on Nathan's history, see my Headphone Commute flashback to Geometry where you will learn of his releases on Skam and Matador, as well as his influence on Mike Paradinas (µ-Ziq) and the beginnings of Planet Mu. This album is a must have for fans of Autechre, AFX, Wisp, Squarepusher, Clark and all things juicy erratic. Come and get your fix.
myspace.com/dylanjeganathan | jega.com
myspace.com/childrenofmu | planet-mu.com