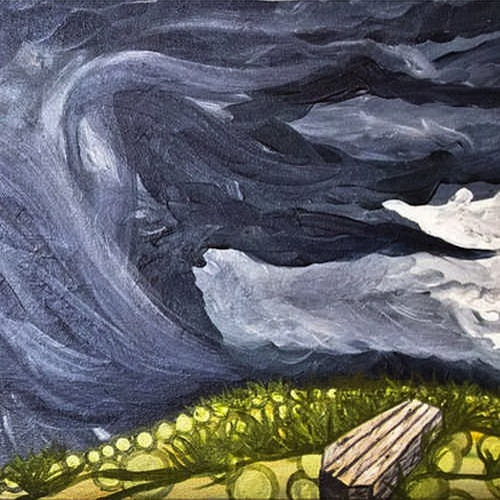 So I've got this new game I play on my headphone commute these days. I put my iPod on shuffle and pretend that my entire music collection is a radio station. As the tracks come on, I must guess the artist and the album. Given that my library is always growing, and that I listen to about a dozen new albums a week, this task is not as easy as it sounds. I'm happy to report that I'm most of the time spot on, and the only time I'm off is when it's an album I haven't yet heard. I do this until I land on a track that I can't recognize OR an album that I haven't reviewed yet. In either case, I queue up the entire album from the beginning, immerse myself with sound, and if I like it, prepare to share these words with you. So if you ever wonder how I decide on what to cover next, this is one of those 'somewhat random' takes, that I use for picking out the next victim of my reviews.
That is how I arrive at the track by The Flashbulb. In fact, whenever Benn Jordan's sounds come up on my rotations I can always pick out his very special musical style, be that from the broken beats, or the guitar, or the slightly de-tuned piano keys. Since more than a few years ago, after my dear friend turned me on to this artist, I have listened to all of Jordan's albums (about a dozen full length releases) numerous times. So when a track from his latest Opus At The End Of Everything came on my playlist I remembered that I haven't had the chance to tell you about this album! As with the last three Flashbulb releases, Soundtrack To A Vacant Life (2008), Arboreal (2010), and Love As A Dark Hallway (2011), as well as the two under his real name, Pale Blue Dot (2008) and Louisiana Mourning (2009), this latest record is published on his very own label, Alphabasic. Of course, besides Jordan's own work, Alphabasic has also released records by Bartel, Phoenecia, and Kettel. And it seems that lately, Jordan tends to stay more and more within his own bubble of music, producing an overwhelming amount of quality pieces, unaffected by any other outside trends.
As is expected with his latest opus, this follow up is a mature piece of work, on which Jordan contemplates and explores numerous ideas through twenty five vignettes. Appealing to my ADHD nature, as soon as one melody is developed, Flashbulb flirts with a few variations and promptly moves on. There are a few pensive piano pieces with beautiful field recordings, intricate guitar work, and never-ending vault of melodies that get stuck in my head, only to be glitched out by Jordan's DSP skills even further. The track titles, such as "Arrival To An Empty Room", "A World I Never Noticed", "Island On An Endless Plane", and "Something That Had Died", reveal a slight hint of melancholia which has recently crept up in Jordan's work, rendering it, in my opinion, solemn, gorgeous and lush. But in an instant the chord progression switches up, and somehow we're in a major chord again, with Jordan's vocoded lyrics singing over an up-beat summer ride.
The overall feel of the album is very thought-provoking, somewhat jazzy and always dreamy. Think of what you expect intelligent electronic music to sound like, and know that _this_ is it. The transition between each track (averaging around 2 minutes in length) is completely seamless, stitching an atmospheric blanket of a cohesive theme. What's important to note here is Jordan's musicality – a trait not so common among the present day electronic musicians, but which is slowly gaining momentum. I'm talking about the musical theory aspect of each composition, and not merely common harmonic progression. There's an element of that acute design in song writing, in which Benn Jordan rises high above the rest. And given my current nostalgic mood of revisiting earlier electronic works from the likes of Orbital, Future Sound of London and Orb, Opus At The End Of Everything comes at a perfect random moment, to tie it all together in a not-so-random way. Highly recommended for fans of Plaid, Boards of Canada, Arovane, Kettel, Secede, and Luke Vibert.