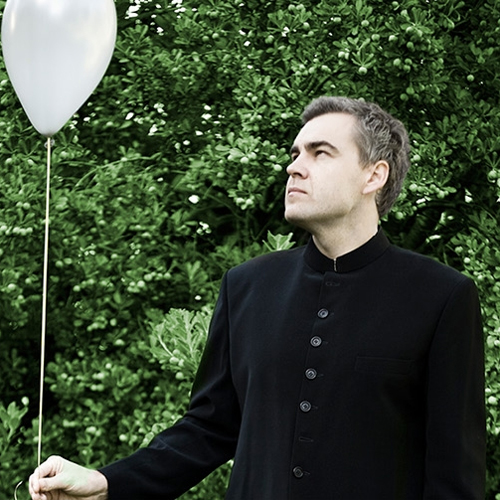 Hey Rhian, I hear it's winter down in New Zealand now. What have you been up to this past weekend?
Well like most of my weekends recently I've had my head down in my home studio working on a soundtrack job. I juggle this and 3 kids, but I did manage to get out with some friends to a local beer tasting festival this weekend.
I really like the cover art by Kieran Rynhart. How did that come about?
Kieran is a very talented individual and also an extremely humble guy. He also lives here in Wellington. I was aware of his work, but I guess around a year ago I stumbled on one of his prints in an art gallery. I bought it immediately. There seemed to me to be some very powerful yet random connection between his work and mine. I approached him not long after about collaborating on the album art for Stories. I had a pretty clear idea of what I wanted the artwork to convey. He sketched out some ideas and the whole process was very fluid. I really love the result.
You've done a lot of work for film and television. How do you go about slotting away a some motivation for personal albums, and how different is it from your 'other' work?
My soundtrack work is very different from my own personal work. I guess the music I make and release is the music that flows out of me in a more natural and organic way. But soundtrack work is an entirely different writing process. You can't be too precious, writing soundtracks is purely about complementing a story line and helping guide the narrative, and often this involves stepping into new musical territory and taking risks. This is what I enjoy about writing music to picture. It's always a challenge, and is a very different art form than writing songs. It's a constant learning experience for me, but it's such a great feeling when you get it right and everything connects.
The music is often described as ambient post-rock and compared to bands like Hammock, M83 and even Coldplay. How would you describe your music to someone not familiar with genres?
Well Hammock are a big favorite of mine. They have an incredible ability to draw the listener in to their musical world, take you to a beautiful place. I guess I enjoy writing music for the same reasons; writing pieces that engage the listener emotionally in some way or another. I'm not a song writer, so for me writing a piece of music is 100% about conveying a feeling; emotional imagery. I don't have the lyrical talent or voice to back up a chord progression, to tell a story, so my lyrics are musical arrangements, my melodies and sonic tinkering. It always becomes apparent to me how difficult it is to define my music as a genre when I see my albums in a music store. One of the largest music stores here in Wellington have all my albums in the "Dance" section which I find strange considering I predominately write and record ambient music made with electric guitars and string sections, but I guess that's because my early pre 2005 releases were on more of an downbeat electronic tip and I haven't been able to escape that pigeonhole with the past 3 releases. American radio producer John Diliberto recently described Stories From Elsewhere as "ambient chamber music" which I think fits pretty well.
I believe that Stories From Elsewhere is also cinematic in nature. What is the story of the protagonist of your album? What is his world like?
The album is all about escapism. There is a certain playful naivety to some of the tracks. I liked the idea of making children's musical toys sound like they were gaining consciousness and coming alive. But there is also a more sensitive, ethereal and filmic nature to the album which I really enjoyed writing. It is by far my most experimental album to date, and I mainly used real world instruments or objects rather than computer generated sounds.
Not counting all of the instruments you played yourself, the album features quite a few performers – how do you know all of them, and how did the recording come together.
I sketched out pretty much all of the ideas myself. Once I had most of the parts down and some pretty good rough mixes I worked on some tracks with Jeff Boyle (of post-rock instrumental band Jakob) and my wife Raashi. Another friend of mine Andy Hummel played some additional guitar textures on a few tracks, and I worked with Lee Prebble on mixing the core of the tracks. We ran all of the sting section parts through his old 1960's plate reverb which seemed to help get that nostalgic idea across a little more.
I'm always curious about geographic music boundaries and their effect on music propagation. How would you say your audience has changed since New Zealand based LOOP licensed the album to the American Darla Records?
I've been with LOOP since the release of my first album. They're not just a record label, but also promoters, so the relationship is one that extends to live shows and the media that needs to happen around them to get people sitting on seats. They're very good at what they do. The new album is actually released on 3 different labels around the world. Darla in the US and UK and Preco Records in Japan. I self released my 2011 EP Seven Tales of The North Wind which Preco then released as a beautiful box set including my 2009 album Standing in Silence. The response in Japan for the new album has been amazing. The larger music chains, as well as the boutique stores in Tokyo were extremely supportive of the release and fronted it in their stores on listening posts etc, support I'd be hard pressed to find here in New Zealand. I'd love to take my live show there at some point. We are actually performing the new album live for the first time here in Wellington on November 2nd at the Opera House with a 16 piece string section. I enjoy playing live immensely, but unfortunately it doesn't happen nearly enough as the shows are large setup and cost money to put on.
Anything specific that you're currently working on at the moment and would like to share?
I'm currently deep into writing and recording a soundtrack for a UK/US produced Planetarium Dome show. This is the 6th Planetarium film I've written the score for, but by far the most challenging. I'm recording real orchestral element, including a full string section. The soundtrack is big and emotive. It has been a real learning curve, but exciting to step up to the challenge. I'm a big astronomy and space nut, so working on these projects is a real dream job for me. I've also just been offered a feature length film which should happen this year all going well. Oh, and Stories From Elsewhere will be released on 2xLP vinyl soon with some bonus tracks and remixes, so I'm gearing up for that.
Be sure to read Headphone Commute review of Stories From Elsewhere