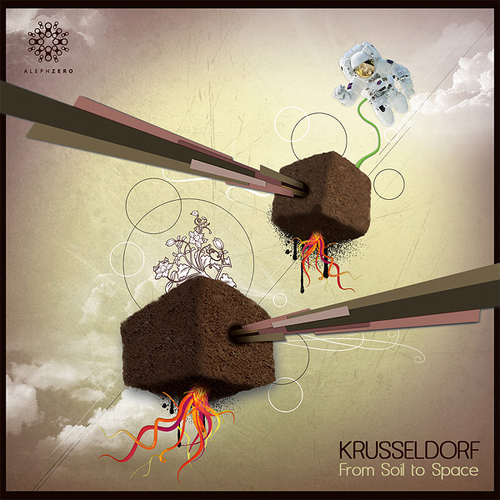 As another year begins, I race to catch up on missed albums from my favorite labels. Israeli Aleph Zero Records has consistently put out some of the most interesting psychedelic, downtempo and IDM albums to date. Previous releases have captured the [hopefully coveted] spot on our Best of the Year lists, with Eitan Reiter's Places I Miss That I Haven't Been To in 2010 and Fredrik Öhr's Falling Through The Earth a year prior. I have been loyally following the releases by the label since Shulman's In Search of a Meaningful Moment (2003), and am always interested in discovering their latest offering.
For their eighteenth album catalog release, Aleph Zero  signs a veteran musician and prolific artist, Simon Heath. Recording under the moniker Krusseldorf, Heath has released numerous albums and EPs on Sofa Beats, Beats & Pieces and Iboga; and that's not counting half a dozen albums released under his Atrium Carceri alias on Cold Meat Industry; and yet another eight albums in collaboration with Simon Kölle as Za Frûmi on Waerloga Records. A track by Krusseldorf has also previously appeared on Aleph Zero's last compilation, Dark Room Beats (2010), so I was prepared for the best…
Throughout the album, Heath implements glitchy percussion, processed synth melodies and plenty of IDM elements to craft psybient atmospheres from another world. Listening closely reveals digital structures of spacial textures full of many rewarding moments for fans of stripped down, intimately complex, and micro constructed rhythms. Listening from a perspective of a casual observer, the music takes on a futuristic spacey feel, apt for a science fiction story where planetary spheres slowly revolve around their orbit in a never-ending gravitational fall. The music invigorates your imagination and triggers the retired synapses exercised in fantasies and lucid dreaming.
"The outer reaches of our fragile mind always strive to explore new places both inner and outer. This album was made using a large number of techniques to reach the other side of the looking glass and we greet any listener with open arms that would delve deep enough into our collective psyche to connect and dance with us in the plummeting caves of humanity's cradle." (from the liner notes)
Some tracks remind me of the dearly missed music of early-to-mid 00's, with acts like Neo Ouija's Geiom, Bauri, Sense, and Seven Ark, with a bit of psychill flavor from Bluetech, Aes Dana, and, of course, Aleph Zero's own Shulman. This is a great album to chill out (and warm up) to, full of sonic and intelligent delights. Recommended for fans of early morning chill out beats and sparkling psychedelic vibes… Another wonderful release to land on our Best of 2011, Music For Awakened Spirits And Open Minds.
Check out Interview with Krusseldorf