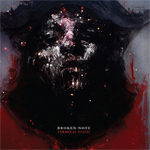 For those of us who have been forced to stem our vinyl intake, it's nice when a label like Ad Noiseam swoops in and neatly collects a slew of great dubstep 12″s from multiple sources. Terminal Static, featuring tracks released on Ruff, Damage as well as Ad Noiseam, is such a collection — a near-comprehensive taste of London producers Eddie (aka Kidnappa and one half of 16 bit) and Tommy, together known as Broken Note.
Imagine dubstep strung up and gutted by space marine rastas, with tense atmospheres, roaring bass lines and raging tempos that can go neck-and-neck with the likes of Excision, Rotator and DJ Hidden, and you come somewhat close to nailing the sound. Pigeonholing it as "darkstep" does a disservice to its unhinged nature. Each track is its own mechanized beast. A rogue unit. Halfway through "Meltdown" the gears noisily shift from a tribal deathmarch to frenetic drum'n'bass warfare. "Pyrotek" machineguns its way into breakcore/gabber territory. The grime of "Dubversion" (which Hecq later re-calibrates in a chop-shop fashion) is caked on so thick, it's a wonder its tank treads still move. Everywhere is the reek of corpses and napalm.
This isn't a stealth mission. This is an all-out, take-no-prisoners invasion, chainguns and flame throwers blazing. Were you to send "Zealot" back in time, Terminator style, to anyone listening to Bloody Fist Records or Digital Hardcore Recordings, they'd immediately surrender… after soiling themselves. The future is frighteningly advanced. Broken Note has seen to it. Stop crying and get up, soldier.
Terminal Static is the debut release by the duo on Ad Noiseam. In addition to the above mentioned Hecq remix, the CD contains a rework by Enduser appearing on the album as I Am The Sun. Check out Broken Note's previous 12″, Let 'Em Hang / Meltdown (Ad Noiseam, 2009), War In the Making / No Struggle (Ruff, 2008), and  Fueling The Fire EP (Damage, 2008). In addition to the above mentioned names, this release is recommended for the likes of Reso, Innasekt, King Cannibal, and Hektagon.
– – – – – – – – – – – – – – – – – – – – – – – – – – – – – – – – – – – – – – – – – – – – – – – – – –
Review prepared by Autodestruct exclusively for Headphone Commute
See also Two and a Half Questions with Broken Note
myspace.com/brokennoteuk
myspace.com/adnoiseam | adnoiseam.net