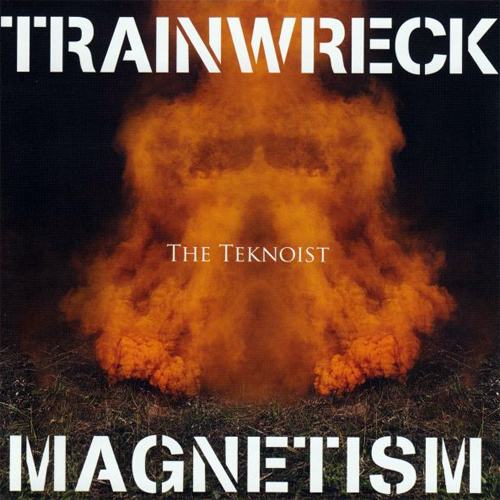 I suppose it's that time of the day when it's appropriate to think about Dead Unicorns, My Sugar Ape, Tears And Fruit Cocktail. Just from the track names, let alone the title of the album, Trainwreck Magnetism, Mike Hayward, aka The Teknoist, sets up the stage for the dark trip into his twisted mind. If breakcore was a dish, Hayward would be the culinarian, serving up a hot casserole of oldskool kick, grime and breaks. If breakcore was a ride, Hayward would be the conductor, punching holes in your ticket and stuffing it back in your mouth. But alas, breakcore is only a genre, and The Teknoist is only its king.
No, Trainwreck Magnetism is not an ambient, minimal or modern classical album. It's kind of on the other spectrum of the genre line. Falling somewhere between hadcore, hardstep, and drill'n'bass, Mike's pristine production techniques crystallize the floating dust particles in your cranium into ball-and-stick amphetamine molecules ready to deceive your dopamine receptors. Forget the stimulants, nootropics and adenosinergics – give me something from The Teknoist instead! How to properly describe Trainwreck Magnetism? Take the word "hard", heat it to 300˚C, then quench, temper and sharpen it, now polish the remaining descriptor and thrust it with great force through your skull! Yesss, that's better…
On his second full length album for Ad Noiseam, Hayward collects solo tracks, collaborations and remixes, featuring appearances by some of my favorites, such as Mu-Ziq, King Cannibal, Drumcorps, Hecq & Exillon,  and many others. But unlike the title of the album may suggest, the selection of tracks is not a trainwreck at all. Instead the album features a cohesive selection of pieces showcasing this Manchester-based sound manipulator's skills. Check out The Teknoist's numerous 12″ and digital EPs on a handful of  hardcore, gabber, and breakcore labels, including Death$ucker, Deathchant, and Nekrolog1k. Hmm… thoughts of 'death', anyone?