Here's a set of great mini-albums and EPs that should get any IDM-head twitching… What's more exciting is that two of these releases are available 100% for FREE for your listening pleasure! And you know you can't go wrong with that! So grab your restraining jacket, 12-pack of Red Bull, and a vial of smelling salts, then sit back and … er… enjoy… I'll be back with more later!
Poordream – Living Now (33 Recordings)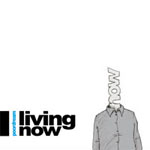 Following his debut single, Immaterial Monarch, released by Spectraliquid back in 2009, John Valasis, recording under the pseudonym Poordream, returns with his first full length album, Living Now. With Spectraliquid now defunct (as unfortunate as it is), Valasis found an outlet in another Greek label, Athens based 33 Recordings [which also co-released the single]. The assembly of ten tracks on Living Now is a culmination of numerous live performances around the country, which later received studio treatment and glossy production to achieve a glitchy IDM trip through experimental soundscapes and melodic electronica. Featuring his own voice on a few tracks, as well as a few remixes of his own, the album traverses a continuous journey reminiscent of Trentemøller's downtempo meets Subheim's cinematica meets Shpongle's psychedelia. It's easy to lose yourself in the bass dropping, synth sweeping, rhythm pulsating beat. A delicious blend of smoky flavors in a bubbling cocktail of spicy scents. Released in a beautiful limited handmade "expressor" box with 2 CDrs, sticker, and a poster, the album is available directly from poordream.com. It's also available as a FREE download from 33 Recordings. Did you get that last bit? It's FREE!
Frank Riggio – Texturtion EP + Distosolista EP (DeepVast)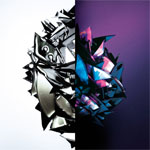 Well, well, well… Frank Riggio managed to release not one, but two EPs, both clocking in a bit under half an hour, with eight tracks each, conceptually planned to be released on a single CD, on his very own label, DeepVast. On my last review of  Frank Riggio's album, Anamorphose (which, was also released by the earlier mentioned Spectraliquid), I drew direct parallels between him and Amon Tobin. And it seems that with this double EP, Riggio was able to perfect that formula, and, more importantly, find his very own sound. Elements of electronic instrumental hip-hop (think Brainfeeder's dirty lo-fi sound mixed with Glitch Mob's head bopping beats) permeate through IDM distorted, textured bricolage, with just a pinch of dub roaring flavah, and DSP-rich crisp production. Riggio drips with creativity. It oozes from every bit-crushed filter, leaving no knob unturned, no [brain/prison] cell unhinged. From Texturtion (a morph between "texture" and "distortion") to Distosolista (a morph of "distortion" and "solista" ['solo' in Italian]) and back, in whichever order you prefer, the duo of EPs is a special treat for all the members of the triple-A: an Anarchist's hymn, an Audiophile's delight, and an Addict fix. Grab your digital copy directly from Frank Riggio's bandcamp. Don't forget to read Two and a Half Questions with Frank Riggio.
Access To Arasaka – Orbitus (Tympanik)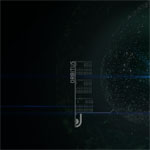 Enter the futurescapes of Access To Arasaka. His endless capacity for synthetic engineering of sound, mixed with a deep tool-chest of effects and aural bending techniques brings a smile to any audio-geek, and especially this one. I'll plug my adapter into the interface for direct memory access, and let AtA manipulate the bits in lock-free circular array. As long as I keep chasing his input, we shouldn't have to catch a buffer under-run exception. The new Orbitus EP, released on the beloved Tympanik as a FREE download, is based on the themes from Richard K. Morgan's science fiction novels featuring Takeshi Lev Kovacs: "'Orbitus' references Martian orbitals that shoot down anything that flies over a specific height, save for one gap near the planet's equator, and how the characters try to figure out how to bring them down; symbolic of the limitations we place on ourselves and our attempts to overcome them." Here's everything you can expect from top-notch IDM production. Endless elements of jittery percussion, and full saturation of DSP. Amazing spectral stereo field, and beautifully revealing atmospherics, perfectly occupying large studio spaces, as well as a quality pair of headphones. With Orbitus, Access To Arasaka may have birthed a child from a hurried affair between dark ambient and synthetic glitch. Another frontier for future music has been broken. What's next? Be sure to check out Headphone Commute's review of Oppidan and of course, Two and a Half Questions with Access To Arasaka.
Kaneel / Lackluster – Split EP (Awkward Silence)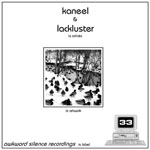 And finally, before I sign off from this installment of Sound Bytes full of amazing music for your enjoyment (I hope you agree), here's a short but sweet, 4-track split EP from Kaneel and Lackluster.  Awkward Silence Recordings is a small independent label based in Kent (south-east of England), releasing mostly on 3″ CDs, short-run vinyl, and now digitally via bandcamp and bleep. The label has put out splits from many makers and breakers of the IDM genre, including Arovane, Accelera Deck, ISAN, Christian Kleine, Lilienthal, Lowfish, Lusine ICL, Maps and Diagrams, Skanfrom, Yellow6 and many others. For their 33rd release, Awkward Silence compiles two tracks from Guillaume "Kaneel" Richard (see his album I've Sketched It A While Ago on Apegenine) and Esa Juhani Ruoho, also known as Lackluster (see his many releases on Monotonik, Psychonavigation, Kahvi Collective, U-Cover and of course, Merck). The 3″ split continues to evolve on the favorite formula behind so many early IDM releases from the beloved Merck, that cranium pleasuring brain dance that since has settled down a bit and turned into a cerebral mind meditation. There's still plenty of elements to tickle your ear drum, and hopefully get your clicker over to the bandcamp to purchase the split. I really miss music like this… and I want MORE!